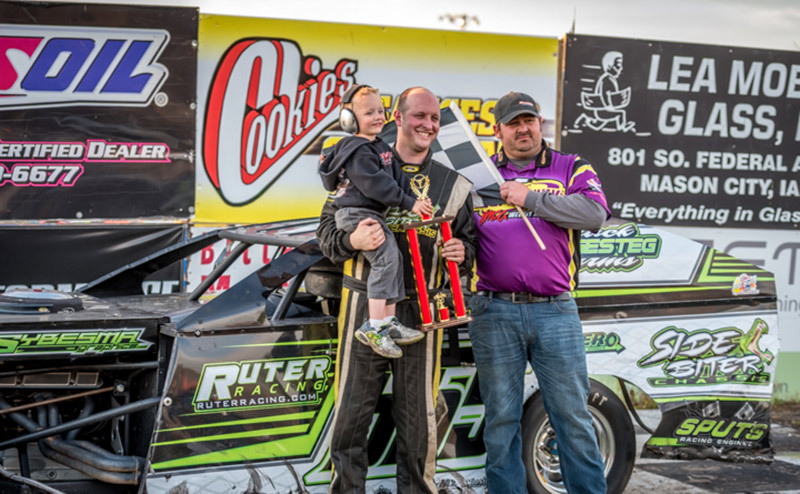 MASON CITY, Iowa (May 31) – Ryan Ruter raced to another $1,000 payday ay I-35 Speedway, topping the Xtreme Motor Sports IMCA Modified feature in Sunday's rescheduled Skip Rose Memo­rial.
Ruter started the 20-lapper from the fifth spot and had the lead when the third circuit was scored.
The race stayed green until a car spun and came to a stop in the first set of turns, forcing a green, white, checkered finish.
Ruter pulled away to beat Jesse Hoeft to the finish by five car lengths.
"We knew we had to get to the lead pretty quick," said Ruter, who'd swept Frostbuster specials at Hancock County Speedway and I-35 in April. "Everything worked out for us."
Kelly Shryock started 11th and finished third. Rose Rose and Jeff Dolphin completed the top five.
Travis Shipman also pocketed $1,000 for his IMCA Sunoco Stock Car feature win, in front of Chad Palmer, Derek Green, Jesse Brown and Kevin Opheim.
The third-starting Shipman took the lead in the first set of turns and stayed in front to the finish.
None of Shipman's competition was able to capitalize on either of two restarts and he pulled away from the field on the dry slick oval, winning handily for the second time in three I-35 outings this season.
Shipman was just into lapped traffic at the checkers.
Levi Chipp was fastest in the Karl Chevrolet Northern SportMod field, ahead of Greg Sidles, Cody Knecht, Austin Schrage and Nick West. Chasing Chanse Hollatz to the IMCA Sunoco Hobby Stock checkers were Weston Koop, Cody Nielsen, Andrew Borchardt and Scott Dobel.
The top two drivers in national point standings ran 1-2 in the Mach-1 Sport Compact feature, with Dalton Kron getting the win in front of Jay DeVries. Steve Fields was third.
The Skip Rose Memorial had been postponed due to inclement weather during the Memorial Day Weekend.
Feature Results
Modifieds – 1. Ryan Ruter; 2. Jesse Hoeft; 3. Kelly Shryock; 4. Rob Rose; 5. Jeff Dolphin; 6. Tim Ward; 7. Aaron Benson; 8. Clint Wendel; 9. Levi Nielsen; 10. Rich Lewerke; 11. Josh Ruby; 12. Bryce Carey; 13. Mark Noble; 14. Logan Brown.
Stock Cars – 1. Travis Shipman; 2. Chad Palmer; 3. Derek Green; 4. Jesse Brown; 5. Kevin Opheim; 6. Luke Sathoff; 7. Joe Willier; 8. Kellie Schmit; 9. Kyle Rose; 10. Harold Schaer; 11. Blake Cole.
Northern SportMods – 1. Levi Chipp; 2. Greg Sidles; 3. Cody Knecht; 4. Austin Schrage; 5. Nick West; 6. Nick Meyer; 7. George Nordman; 8. Jeremy Grantham; 9. Nate Whitehurst; 10. Kyle Germund­son; 11. Brian Schrage; 12. Dustin Enabnit; 13. Dan Tenold; 14. Andrew Inman; 15. Alex Zwanziger; 16. Autum Anderson; 17. Colby Fett; 18. Nate Chodur; 19. Zack Smidt; 20. Dan Drury.
Hobby Stocks – 1. Chanse Hollatz; 2. Weston Koop; 3. Cody Nielsen; 4. Andrew Borchardt; 5. Scott Dobel; 6. Derek Hodges; 7. Matt White; 8. Zac Smith; 9. Jason Asbe; 10. Micah Lavrenz; 11. Cory Gansen; 12. Ruben Stanbrough; 13. Blaine Hanson; 14. Spencer Cole; 15. Joel Showalter; 16. Derek Willert; 17. Dan McCullough; 18. Darin Johnson; 19. Travis Johnson; 20. Tanner Green.
Sport Compacts – 1. Dalton Kron; 2. Jay DeVries; 3. Steve Fields; 4. Devin Jones; 5. Kaytee DeVries; 6. Oliver Monson; 7. Sam Winkowitsch; 8. Ken Winkowitsch; 9. Taylor Fields.