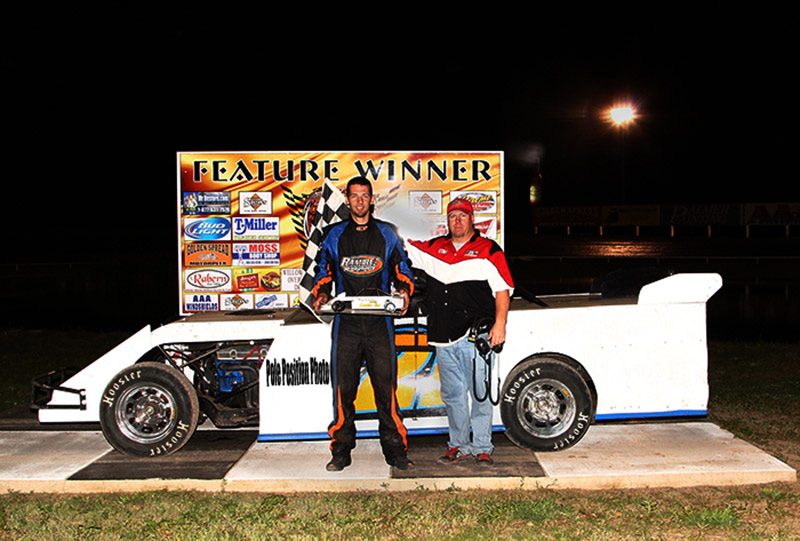 AMARILLO, Texas (May 30) – Brandon Kenny couldn't have picked a better night for his career first Scoggin-Dickey Parts Center Southern SportMod feature win.
Kenny led every lap of Route 66 Motor Speedway's topless special Saturday evening, earning $5,000 for his main event efforts.
The win came in a Ramirez Race Car he and Modified driver Cole Traugott built in his hometown of Woodward, Okla. RRC teammate Mike Roach finished a straightaway off the pace, taking runner-up honors despite a broken right front shock.
More than 70 Southern SportMods vied at Amarillo.
"I knew we had a chance to run 1-2 because we've been running good so far this year," said Kenny, who came into the night with five top-five finishes in as many IMCA starts at Longdale Speedway and Elk City Speedway. "I was ecstatic to win and when Mike pulled up alongside and held up one finger, then two fingers to tell me we ran 1-2, it made it even better."
Cody Smith, Randy Timms and Kelly Cross completed the top five finishers.
Kenny was second in his heat after starting eighth, then topped the $500 to win pole dash.
The only caution of the 30-lap feature came on the seventh circuit. Kenny stayed on a rail, lapping a couple cars before taking the big money checkers.
"We made some minor stagger adjustments after the heat and couldn't have asked for a better track for the feature," Kenny said. "I won in the first Southern SportMod we built and Mike was second in the second one. We were the only two Ramirez Race Cars there so that was special."
Saturday's win came in Kenny's second visit to Route 66.
He'd finished fourth there in a Modified "seven or eight" years ago.
Feature results – 1. Brandon Kenny; 2. Mike Roach; 3. Cody Smith; 4. Randy Timms; 5. Kelly Cross; 6. Bo Day; 7. Nick Clinkenbeard; 8. Brock Hall; 9. Jeffrey Abbey; 10. Kale Westover; 11. Robby Carter; 12. Doug Gillespie; 13. Robert Elliott; 14. Landon Parsley; 15. G.W. Egbert; 16. Michael Maraschick; 17. JoJo Paige; 18. Zack Gossett; 19. Eddie Marufo; 20. Wally Reeves; 21. Trevor Egbert; 22. Jimmy Day; 23. Jeff Autry; 24. Greg Frazier.