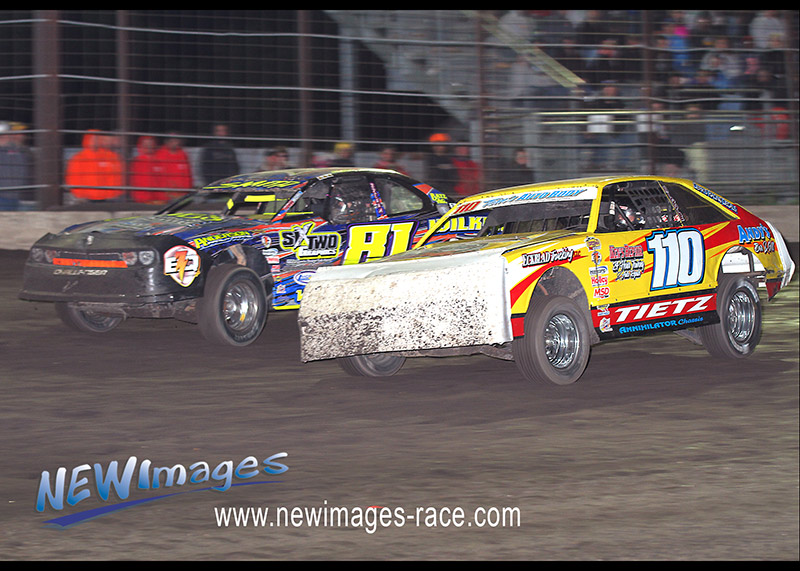 JACKSON, Minn. (May 30) – Ken Tietz started his trek toward a third career Dominick Bruns Memo­rial Challenge Cup Chase crown with the Saturday checkers at Jackson Speedway.
The IMCA Sunoco Stock Car victory was Tietz' first this season and was good for $1,000. Devin Smith, Shaun Bruns, David Wickman and Jason Mickelson completed the top five.
"I was very thankful to get this one," said Tietz, who topped Challenge Cup Chase point standings in 2011 and 2013. "There were some very good drivers up here."
Tietz had started third in the field of 26, then fell back to fifth behind Wickman, Smith, defending Chase champion Jim Larson and Dustin Larson.
After using multiple lines to work his way to the front midway through the 20-lapper, he moved up on the track and stayed in front to the finish.
Smith earned runner-up honors after starting ninth.
Challenge Cup Chase events paying $1,000 to win are July 17 at Murray County Speedway and July 26 at Redwood Speedway. The champion earns a $1,000 share of the $2,000 point fund.
IMCA driver Shaun Bruns and his wife Becky founded the Dominick Bruns Memorial Foundation in 2008 after losing their son to Sudden Infant Death Syndrome. The series point fund is gener­ated by the sale of T-shirts and racing shirts by the foundation along with contributions from area sponsors.
Feature results – 1. Ken Tietz; 2. Devin Smith; 3. Shaun Bruns; 4. David Wickman; 5. Jason Mickel­son; 6. Luke Sathoff; 7. David Reisdorfer; 8. Jake Bruns; 9. Adam Klocke; 10. Dan Veenstra; 11. Jesse Olson; 12. Gary Mattison; 13. Shane Bruns; 14. Terry Klocke; 15. Andy Alten­burg; 16. Levi Feltman; 17. James Richert; 18. Derek Voehl; 19. Kevin DeBaere; 20. Josh Telecky; 21. Roger VerDoorn; 22. Devin Kuehne; 23. Jim Larson; 24. Dustin Larson; 25. Derek Green; 26. Michael Bruns.