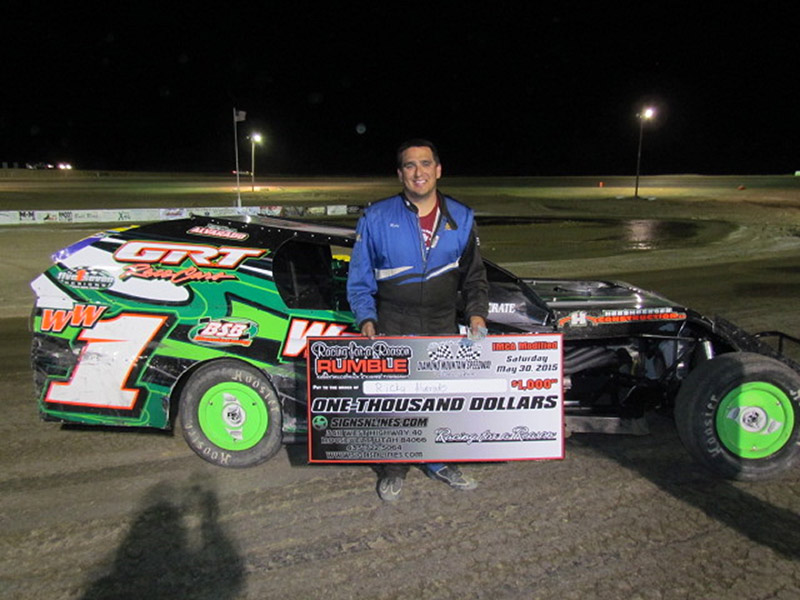 VERNAL, Utah (May 29-30) – The success Ricky Alvarado enjoyed at Diamond Mountain Speed­way over the course of his Wild West Tour career carried over to a pair of weekend Racing For A Reason Rumble victories.
IMCA Xtreme Motor Sports Modified victories Friday and Saturday at Vernal were each worth $1,000 plus lap money.
"I don't know what it is about Diamond Mountain," admitted Alvarado, a six-time winner when the Wild West Tour visited. "It's a fun little track that fits my driving style."
Alvarado started outside pole in Friday's 20-lapper and had the lead before sliding high and fall­ing back to fourth.
He found the line at the top of the track, ran side-by-side with Justen Yeager for two circuits and then eked ahead on the last lap, winning by a car length.
Yeager, Brian Ungaro, Chase Hansen and Casey Delp rounded out the top five.
Despite a late restart, Saturday's 25-lapper wasn't as close.
Alvarado started fourth, passed Dusty Safley for the lead on the fourth lap and pulled away on a surface that stayed smooth fast all night.
Casey Delp was a distant second. Yeager, Hansen and Kelly Smith ran third through fifth, respec­tively.
The wins were the fourth and fifth in eight starts this season, and the 87th and 88th of his career for Alvarado.
Scott Gray topped both $500 to win IMCA SportMod features.
The inaugural Racing for a Reason Rumble helped raise approximately $2,700 for six-year-old Kaden McCormick of Roosevelt, Utah, who is in need of another kidney transplant.
May 29 Feature Results
Modifieds – 1. Ricky Alvarado; 2. Justen Yeager; 3. Brian Ungaro; 4. Chase Hansen; 5. Casey Delp; 6. Dusty Safley; 7. Kelly Smith; 8. Braxton Yeager; 9. David Peterson; 10. Bryan Wordel­man; 11. Mickey Stubbings; 12. Josh Anderson; 13. Bert Beech.
SportMods – 1. Scott Gray; 2. Travis Gray; 3. Steve Gray; 4. Jason Reese; 5. Wayland Duncan; 6. Chipita Rowley; 7. Wayne Hansen; 8. Morris Duncan; 9. Gauge Smith.
May 30 Feature Results
Modifieds – 1. Alvarado; 2. Delp; 3. Justen Yeager; 4. Hansen; 5. Smith; 6. Dylan Hatch; 7. Wordel­man; 8. Peterson; 9. Anderson; 10. Braxton Yeager; 11. Stubbings; 12. Safley; 13. Beech.
SportMods – 1. Scott Gray; 2. Reese; 3. Steve Gray; 4. Hansen; 5. Rowley; 6. Waylon Duncan; 7. Josh Pate; 8. Travis Gray; 9. Terrie White; 10. Coltin Jackman; 11. Morris Duncan.