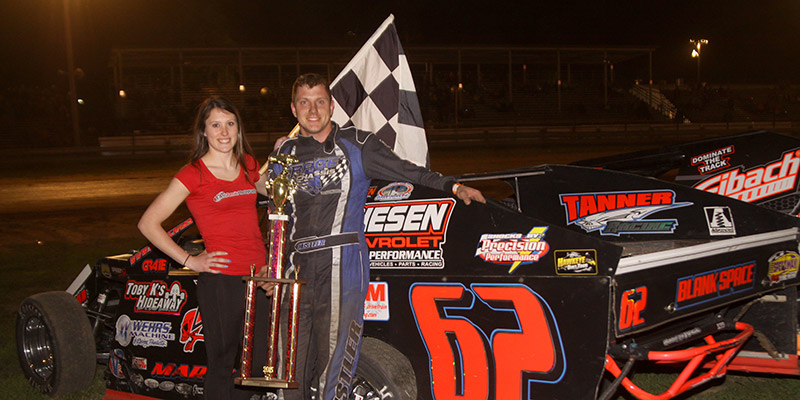 MAQUOKETA, Iowa (May 23) – A first-time visitor to Jackson County Speedway wheeled his way to the top prize in Saturday's Open Wheel Challenge.
Hunter Marriott took the lead from Richie Gustin following a lap 23 restart and led to the end of the 50-lap, $2,000 to win main event for IMCA Xtreme Motor Sports Modifieds.
"I've won a 40-lap race before but this was the first time I'd won a 50-lap race," said Marriott, who had to work his way from 12th starting through a field filled with heavy hitters. "Lapped traffic actually helped me because I was able to get through it OK,"
Gustin, Brian Irvine, Brian Mullen and Jeremiah Hurst completed the top five.
Marriott, now a qualifier five times over for the Fast Shafts All-Star Invitational ballot, got a quick feel for the track while winning his heat.
He made the most of the top groove, getting faster in his preferred line as the laps counted down.
The third and final caution came on the 27th circuit. Marriott pulled away during the long green flag session that followed, winning by nearly a straightaway.
Feature results – 1. Hunter Marriott; 2. Richie Gustin; 3. Brian Irvine; 4. Brian Mullen; 5. Jeremiah Hurst; 6. David Brown; 7. Bruce Hanford; 8. Milo Veloz Jr.; 9. Dakota Hayden; 10. Jeff Larson; 11. Jon Irwin; 12. Tyler Madigan; 13. Dusty Kraklio; 14. Ryan DeShaw; 15. Jake Strayer; 16. Kelly Meyer; 17. Todd Dart; 18. Kyle Brown; 19. Scott Powell; 20. Ray Cox Jr.; 21. Jason Buss; 22. Jake Bowman; 23. Steve Johnson; 24. Ben Chapman.