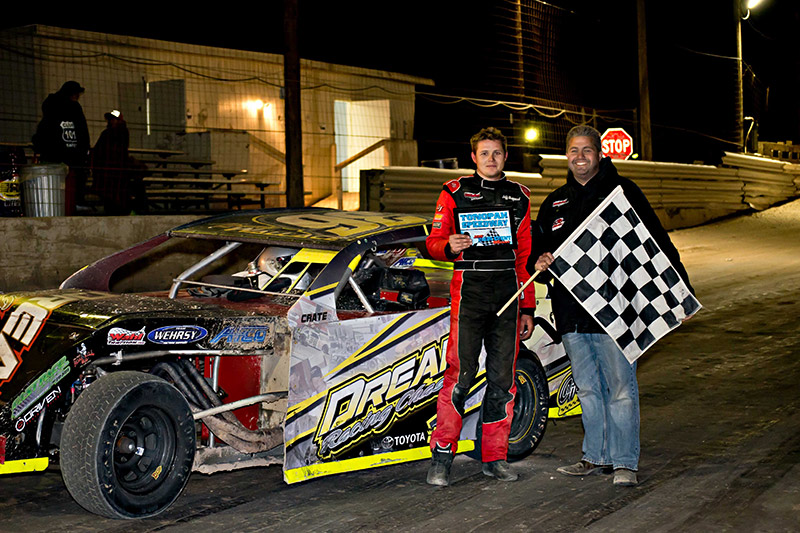 TONOPAH, Nev. (May 23) – Jeff Sheppard Jr.'s second visit to Tonopah this season turned out a lot like his first.
The difference was that Saturday's Jim Butler Day Classic feature for IMCA Xtreme Motor Sports Modifieds paid $1,000 to win and landed the Arizona long tow on the ballot for the Fast Shafts All-Star Invitational.
Piloting a house car as part of the Dream Racing Chassis house program, Sheppard won both his heat race and the dash for cash, then started from the pole and led all 25 laps of the main event.
Cautions kept the field close throughout the feature. James Thibodeaux stayed closed after a re­start with two to go but couldn't reel in Sheppard.
Completing the top five were Jerry Buesig, Bryan Wulfenstein and Justin Miller.
"It's nice when you travel 5-1/2 hours when you can win that much money," said Sheppard, who had also scored heat, dash and feature wins in sweeping the May 9 program at Tonopah in a Dream ride. "My regular track will be closing for the summer so I'm thinking about running for points at Tonopah now."
The holiday weekend checkers were Sheppard's third of the season. His March 31 win, at Mo­have Valley Raceway, also came in a borrowed car.
Feature results – 1. Jeff Sheppard Jr.; 2. James Thibodeaux; 3. Jerry Buesig; 4. Bryan Wulfen­stein; 5. Justin Miller; 6. Dan Snowden; 7. John Laughlin; 8. Scott Pike; 9. Jeff Talley; 10. Billy Anderson; 11. Rick Durica; 12. Charlie Pike; 13. Duffy Otteson; 14. Clifton King; 15. Sterlynn Ot­teson; 16. Tony Kinkade; 17. Steve Stringer.