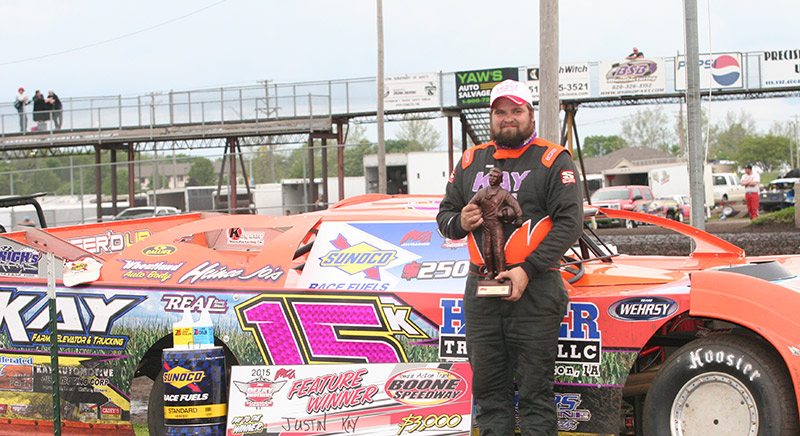 BOONE, Iowa (May 25) – Justin Kay became the first repeat winner this season in the Deery Brothers Summer Series, on the night Richie Gustin nearly raced to his first IMCA Late Model tour victory.
Gustin caught the defending series champ on the white flag lap Monday at Boone Speedway and had the edge as the front pair charged down the backstretch.
The yellow flag was thrown for a spun car in the upcoming set of turns, however, and Kay got the front spot back for the restart as the leader of the last scored lap. Jeff Aikey caught Gustin for second but couldn't challenge Kay, who topped the green, white, checkered finish by two car lengths.
The $3,000 win was the series career 11th for Kay, who also banked the $250 Sunoco Race Fuels feature qualifier drawing prize. Tyler Droste and Ray Guss Jr. completed the top five and point leader Andy Nezworski ended in sixth.
Scott Fitzpatrick started on the pole and led the first 10 of 40 circuits in the Memorial Day event. Kay took charge following a restart on lap 11 and was running in traffic with Gustin and Aikey close behind when the yellow came out with three to go.
Gustin was a faster line up from Kay coming to the white flag and appeared headed to his first Deery win before the final yellow came out.
The sixth Deery Series event of the season is Tuesday, June 2 at Marshalltown Speedway. That main event also pays $3,000 to win and a minimum of $300 to start.
Feature results – 1. Justin Kay, Wheatland; 2. Jeff Aikey, Cedar Falls; 3. Richie Gustin, Gilman; 4. Tyler Droste, Waterloo; 5. Ray Guss Jr., Milan, Ill.; 6. Andy Nezworski, Buffalo; 7. Ryan Dolan, Lis­bon; 8. Tyler Bruening, Decorah; 9. Jeremy Grady, Story City; 10. Jason Hahne, Webster City; 11. John Emerson, Waterloo; 12. Darrel DeFrance, Marshalltown; 13. Joe Zrostlik, Long Grove; 14. Curt Schroeder, Newton; 15. Charlie McKenna, Clear Lake; 16. Jerry King, Waterloo; 17. Daulton Maassen, Avoca; 18. Joel Callahan, Dubu­que; 19. Todd Malmstrom, Silvis, Ill.; 20. Gabe Umbarger, Garner; 21. Scott Fitzpatrick, Wheatland; 22. Corey Zeitner, Omaha, Neb.; 23. Todd Cooney, Des Moines; 24. Jason Rauen, Farley; 25. Jonathan Brauns, Muscatine.
1st heat – 1. Guss; 2. Cooney; 3. Kay; 4. Grady; 5. Aikey; 6. Hahne; 7. Zeitner; 8. Umbarger; 9. King.
2nd heat – 1. Gustin; 2. Dolan; 3. Droste; 4. Nezworski; 5. Maassen; 6. Schroeder; 7. Rauen; 8. Zrostlik;
3rd heat – 1. Malmstrom; 2. DeFrance; 3. Fitzpatrick; 4. Bruening; 5. Callahan; 6. McKenna; 7. Emerson; 8. Brauns.