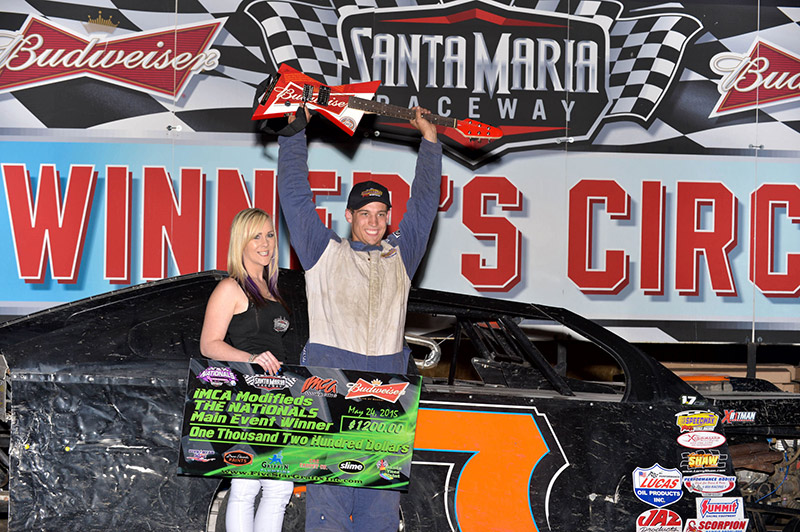 SANTA MARIA, Calif. (May 23-24) – Duane Cleveland led every lap on Saturday, Christopher Crompe got the lead back on the last lap Sunday and both drivers earned $1,200 for their IMCA Xtreme Motor Sports Modified feature wins at Santa Maria Raceway's Budweiser Spring Nationals.
Cleveland made the long tow from northern California worth his while, starting from the pole and avoiding a late-race hiccup when a lapped car got sideways just ahead of him.
Josh Vogt made up ground as Cleveland ran in traffic but had to settle for second. Roger Holder completed the top three finishers on opening night.
Another 25-lapper on Sunday saw Crompe in and out of the lead before the final circuit heroics.
Crompe led the first seven laps before giving way to Danny Lauer.
He stayed close behind, running the inside line and saving his tires, before regaining the front spot on the white flag lap.
"This was my first win at my home track," the new Fast Shafts All-Star Invitational ballot qualifier said. ""This was a big one. It meant a lot to me to win this race."
Lauer was the runner-up and Ethan Dotson took third.
Sunday's $1,000 to win Karl Chevrolet Northern SportMod feature went to Levi Kiefer, who took the lead following a lap one restart and stayed in front the last 19 circuits.
Kiefer had started fourth. After a long green flag run ended by a lap 18 yellow, he took the checkers ahead of Nick Spainhoward and Brenda Kirby.
Forty-plus Modifieds were entered each day. Twenty-nine Northern SportMods ran on Sunday.
May 23 Feature Results
Modifieds – 1. Duane Cleveland; 2. Josh Vogt; 3. Roger Holder; 4. Cody Burke; 5. Jimmy Reeves; 6. Ethan Dotson; 7. Mike Kirby; 8. Danny Lauer; 9. Bobby Hogge IV; 10. Brad Pounds; 11. Justin Crockett; 12. Austin Burke; 13. Robby Sawyer; 14. Cody Laney; 15. Logan Drake; 16. Austin Rodarte; 17. Nick DeCarlo; 18. Josh Combs; 19. Alex Wilson; 20. Brian Clark; 21. Bill Bartels; 22. Bill Egleston; 23. Alex Stanford; 24. Tony Toste.
Heat winners were Kirby, Vogt, Toste and Dotson. "B" feature winners were Combs and Burke.
May 24 Feature Results
Modifieds – 1. Christopher Crompe; 2. Lauer; 3. Dotson; 4. Holder; 5. Cody Burke; 6. Sawyer; 7. Stanford; 8. Vogt; 9. Hogge; 10. Laney; 11. Chett Reeves; 12. Logan Drake; 13. Austin Burke; 14. DeCarlo; 15. Crockett; 16. Kyle Wilson; 17. Karl Rose; 18. Alex Wilson; 19. Chad Reichenbach; 20. Ryan Lauer; 21. Cleveland; 22. Pounds; 23. Clark; 24. Randy Brown.
Heat winners were Cleveland, Pounds, Sawyer and Crompe. "B" feature winners were Laney and Reichenbach.
Northern SportMods – 1. Levi Kiefer; 2. Nick Spainhoward; 3. Brenda Kirby; 4. Rick Childress Jr.; 5. Michael Johnson; 6. Billy Simkins; 7. Jordan Hagar; 8. Michael Black; 9. Cale Kanke; 10. Nick Sylvester; 11. Tina Pounds; 12. Matt Mayo; 13. Elton Shaffer; 14. Brendon Frye; 15. Aaron Farrell; 16. Anthony Giuliani; 17. Wayne Dotson; 18. Austin Frye; 19. Gary Rayburn Jr.; 20. Keith Brown Jr.; 21. Aaron Cervantes; 22. Kevin Johnson; 23. Austin Ruskauff; 24. Matt Hagio.
Heat winners were Ruskauff, Frye, Sylvester and Kiefer.  Michael Black won the "B" feature.