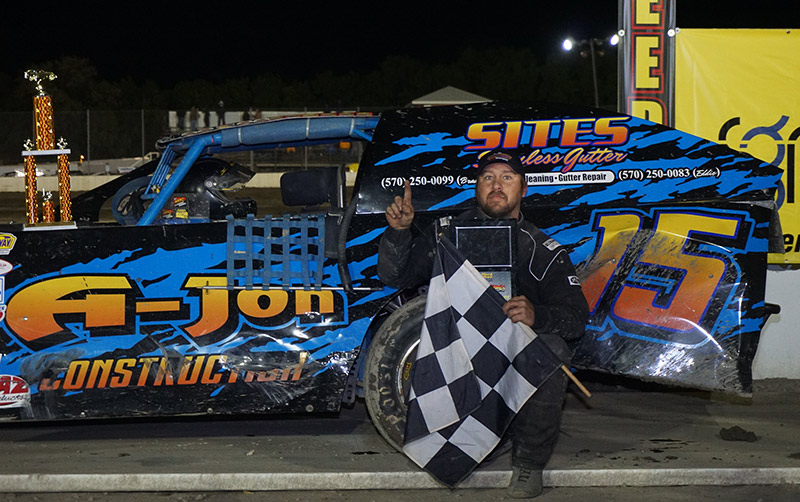 By Steven Ovens
DUNDEE, N.Y. (May 22) – With increased pay on the line, Eddie Sites made the most of his run Friday night to pick up the Empire State Series checkers at Black Rock Speedway.
The two-time IMCA Xtreme Motor Sports Modified tour champion led the last 11 of 25 circuits in earning $500, plus lap money, and his career seventh series victory.
Chris Fleming, another former Empire State Series champion, set the fast pace the first three laps, restarted at the back of the field and charged through the field to finish second.
Fleming and rookie Sparky Hills brought the field to the green flag. Fleming led before very uncharacteristically spinning in turn three but heads-up driving allowed the 23-car field to avoid him.
Fleming went to the tail of the field and Harry Ely took the lead from Hills on the ensuing restart.
Ely led through lap 14 but the man on a mission was Sites. He drove up on Ely, made the pass for the lead on lap 15 and never looked back.
"We just picked them off one by one and once I got to the lead, I backed it down a little bit until I saw someone's nose," said Sites, the 2011 and 2012 tour king and current series point leader. "Apparently, Chris was coming pretty good, so I was trying to save my tires."
"We've got the points lead right now so we're just trying to maintain these top five finishes," he added.
Fleming and Brad Sites battled hard for second with Fleming ultimately taking the runner-up spot at the line. Ely was fourth and Jake Maynard completed the top five. Hills' great run ended late in the race in a spin off the back bumper of Sites as he charged through the field.
"I just told dad that was probably the stupidest thing I've ever done.  This was the best car I've ever had and we've won here in the past," Fleming said of his early spin. "I wish we had about three more laps because I felt we had something for Eddie."
Brad Sites was disappointed to not make it a Sites 1-2 finish but felt positive about their run.
"I wish I could have made it a 1-2 finish but Chris got us at the end. It is what it is," Sites said before joining taking the top three finisher's photo in victory lane.
Robert Wilcox from M&M Auto Sales & Service, the IMCA weekly division sponsor, recruited lap sponsorships.
Feature results – 1. Eddie Sites; 2. Chris Fleming; 3. Brad Sites; 4. Harry Ely; 5. Jake Maynard; 6. Keith Lamphere; 7. Rich Karlnoski; 8. Jason Benjamin; 9. Matt Cole; 10. Will Ward; 11. Ken Buck; 12. Brandon Smith; 13. Scott Sebring; 14. Rodney Morgan; 15. Ray McClure; 16. Gary Smith; 17. Bobby Maynard; 18. Sparky Hills; 19. Brad Smith; 20. Tyler Stoddard; 21. Craig Ward; 22. Mike Stoddard; 23. Tony Harris.