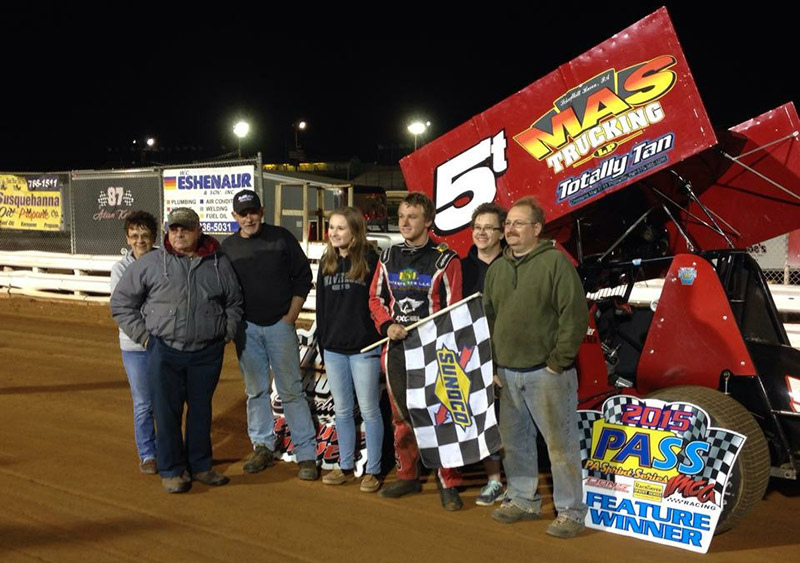 MECHANICSBURG, Pa. (May 22) – Tyler Reeser picked up his first-ever Williams Grove Pennsylva­nia Sprint Series win Friday night, in a race complete with three-wide action for the lead.
The IMCA Eagle Motorsports RaceSaver Sprint Car feature took several tries to get started as first-lap incidents slowed competition. Reeser took the lead following one of those restarts.
Reeser then took the lead and was in command as Zach Newlin and 10th starting Daren Miller closed in. The trio was in a close race when the rookie Miller took the lead from Newlin and Reeser.
The race ended as it began with several restarts and as tires wore down. Miller was unable to dominate and Reeser again took the lead. Newlin came home second followed by Steve Storrie, Ken Duke and Miller.
Feature results – 1. Tyler Reeser; 2. Zach Newlin; 3. Steve Storrie; 4. Ken Duke; 5. Darren Mil­ler; 6. Tom Worrick; 7. Stephanie Stevens; 8. Scott Ellerman; 9. Colby Dice; 10. John Martin; 11. Jon Haegele; 12. Mike Alleman; 13. Ron Aurand; 14. Drew Ritchey; 15. Ian Detweiler; 16. Bill Jones; 17. Nathan Gramley; 18. John Bott; 19. Terry Schaeffer; 20. James Pryde; 21. Jake Wa­ters; 22. Erin Statler; 23. Donnie Hendershot.