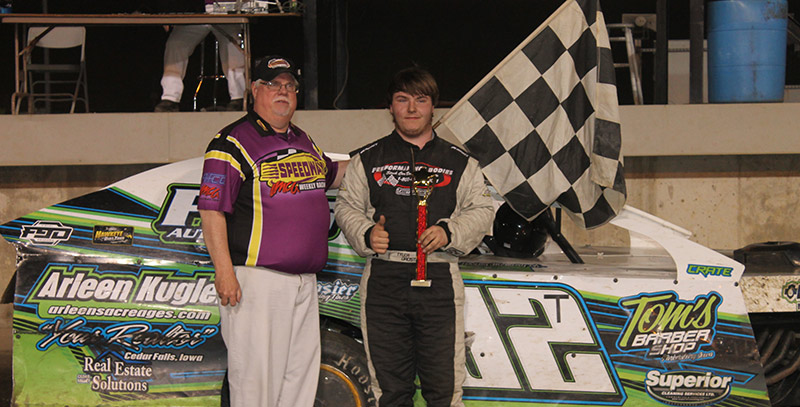 By Mike McGuire
DAVENPORT, Iowa (May 22) – The IMCA Modified Madness 50 was the big show Friday night at Dav­enport Speedway. When the checkered flag fell, the spotlight was on Tyler Droste.
Making his first visit to Davenport with an IMCA Xtreme Motor Sports Modified, Droste topped the $2,000 to win feature after swapping the lead and a little paint with Milo Veloz.
"There were a lot of good cars here and a lot of very good drivers in the feature," said Droste. "It helped having been here once before this year (in a Late Model) because every track is just a little bit different."
The main event started with 2012 race winner Veloz on the pole. Veloz jumped out to the early race lead but was in and out of first before Droste took over for good on the 46th of 50 circuits.
Wisconsin's Todd Dart, running the high side, took the lead briefly on lap seven but Veloz re­gained the top spot in the next corner.
Lap 30 saw Jeremiah Hurst take his shot at the lead. Veloz returned the favor on the following lap and got back in front.
Droste forced his way to the front on lap 37. Again Veloz came back to regain the lead. On lap 46, Droste went back to the lead for good, taking the win by two car lengths over Veloz in second.
Hurst was third. Dart took fourth while Richie Gustin came from 16th to finish fifth.
"This year has been really good to us," said Droste, already a Fast Shafts All-Star Invitational bal­lot candidate. "We've got a Modified and a Late Model that have worked right out of the box. We haven't struggled half the season like we did last year."
Winner of Friday's IMCA Late Model main event was Justin Kay. Due to the length of the pro­gram, the Karl Chevrolet Northern SportMod feature will be made up next Friday.
Feature results – 1. Tyler Droste, Waterloo; 2. Milo Veloz, Colona, Ill.; 3. Jeremiah Hurst, Dubu­que; 4. Todd Dart, Algoma, Wis.; 5. Riche Gustin, Gilman; 6. Hunter Marriott, Brookfield, Mo.; 7. Brian Irvine, Oelwein; 8. Bob Dominacki, Bettendorf;  9. Tony Von Dresky, Long Grove; 10. Greg Durbin, Silvis, Ill.; 11. Brian Mullen, Seymour, Wis.; 12. Cayden Carter, Oskaloosa; 13. Matt Wer­ner, Colona, Ill.; 14. Jeremy Marquette, Davenport; 15. Kurt Kile, Nichols; 16. Kyle Brown, State Center; 17. Darin Duffy, Urbana; 18. Bruce Hanford, Davenport; 19.  Steve Johnson, Camanche; 20. Mitch Morris, Long Grove; 21. Joe Beal, Milan, Ill.; 22. Dakota Hayden, Wilton; 23. Jacob Mur­ray, Hartford; 24. Chris Zogg, New Liberty.
Heat winners were Durbin, Droste, Carter, Marriott and Werner. "B" feature winners were Gustin, Morris and Mullen.