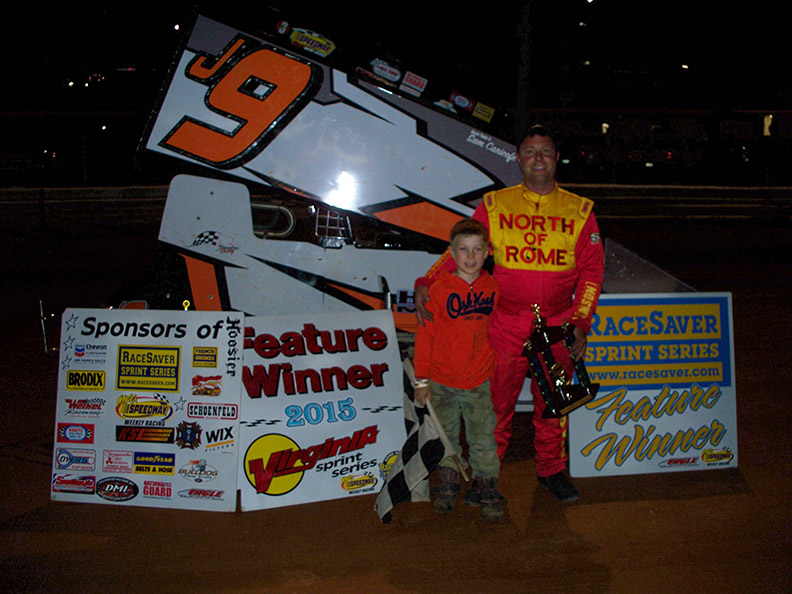 By Jim Haines
NATURAL BRIDGE, Va. (May 2) – Jerald Harris sped to his first Virginia Sprint Series victory of the season Saturday at Natural Bridge Speedway.
Chris Ware and Anthony Linkenhoker paced the IMCA Eagle Motorsports RaceSaver Sprint Car field to green with Ware out first. Linkenhoker, however, swept around to the top spot the next time around.
By lap five, Harris was all over the leader and was in first when the next lap was scored.
Linkenhoker and Ware stayed close as laps went by while Tom Humphries was moving up. With five to go, Humphries had made it to second with the front four close and flying high.
Lapped traffic was in play on the run to the checkers, slowing Harris and giving Humphries one last shot, but they went under the checkered flag nose to tail with Harris out front.
Next week it's back to the pavement at Shenandoah Speedway on Saturday, May 9.
Feature results – 1. Jerald Harris; 2. Tom Humphries; 3. Brian Lawson; 4. Anthony Linkenhoker; 5. Chris Ware; 6. French Grimes; 7. Troy Severin; 8. Daren Bolac; 9. Eliah Omwake; 10. Tony Harris; 11. Glenn Worrell; 12. Mike Keeton; 13. Glenn Poore; 14. Chad Worrell; 15. Ryan Price; 16. Charlie Ware.