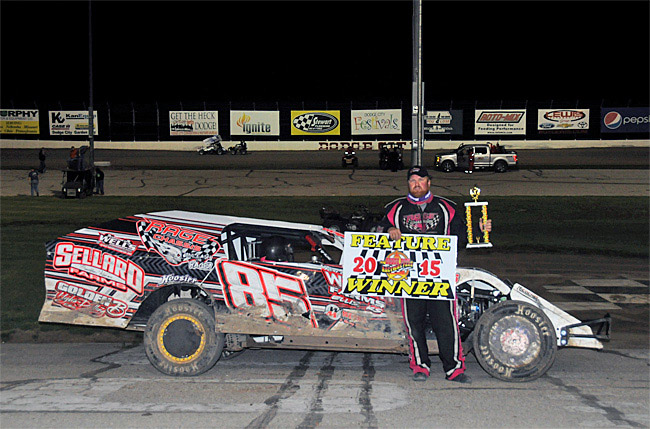 By Lonnie Wheatley
DODGE CITY, Kan. (April 25) – Clay Sellard doubled up by winning not only the makeup IMCA Modified feature event from April 11 but then the regularly scheduled feature as well Saturday at Dodge City Raceway Park.
The evening began with the postponed event with Sellard racing past early leader Austin Allen on the opening round en route to his first of two wins on the night.
Allen paced the opening eight rounds ahead of Joel Lane and Sellard, with Sellard racing past Lane for second on the eighth lap and then disposing of Allen for the lead the next time around.
Allen battled back on the 12th round, only to have a caution negate the move. Sellard took full advantage of the reprieve, keeping has chasers at bay the rest of the way even with an unhinged hood blocking his view.
Mired six rows deep in the night's regularly scheduled Modified feature, Sellard needed just a handful of laps to charge into third and then took the lead way from Jack Kirchoff two rounds later.
Sellard opened up a full straightaway advantage in short order, only to have it erased by a wild six-car melee exiting turn four on the 12th lap.
With Sellard setting the pace, Allen was on the march from 24th after crossing the scales light in his heat race. Sixth on the lap 12 restart, Allen made a quick move to third and then found himself in second behind Sellard when Kale Beavers pulled to the infield with front end woes after a lap 14 tangle that brought out the race's final caution.
Sellard kept Allen a handful of car-lengths back the rest of the way to post the win as it was another Sellard-Allen one-two finish.
In other action, reigning IMCA SportMod champion Jeff Kaup captured his first win of the year, Michael Pepper made it two-for-two in IMCA Sunoco Stock Car action and Matt O'Hair made a last-corner pass to take IMCA Sunoco Hobby Stock honors.