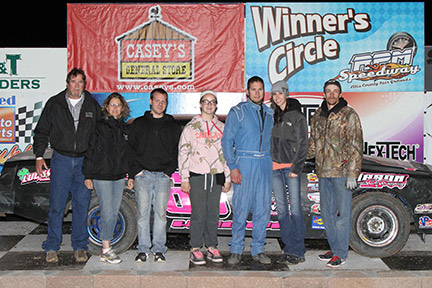 By Mike Hughes
HAYS, Kan. (April 25) – Hometown driver Garrett Hager won his second feature in a row at RPM Speedway Saturday evening.
Brady Bencken led the first 11 laps of the 20-lap IMCA Sunoco Hobby Stock event when Robert Leonard slowed to bring out a caution. While under caution, Bencken went to the pits with a flat tire.
That handed the lead over to Shay Simoneau when the green flag returned, but he was passed by Hager on the following lap. Hager held on through two more cautions to make his return appear­ance in the winner's circle. Duane Wahrman finished in the runner-up spot.
The most emotional feature win of the night went to Casey Woken. He took the lead on lap seven from Nick Tubbs and drove away for the victory in the Advantage Glass Plus IMCA Stock Car main event.
Woken and girlfriend Chelsey Calvin had lost their house and belongings, including their family pet, in a fire several days prior to Saturday night's races. Jason Rogers chased Woken but had to settle for second.
Nate Moore led the first five laps of the S & W Supply IMCA Modified main event until the lights blew out on the back straightaway to bring out a caution. The lights came back on shortly and racing resumed.
On the restart, Kyle Rohleder powered past Moore and drove on for the win. Mike Petersilie worked his way up to finish second.
C.J. Pfannenstiel led the first two laps of the Golden B Hydra Drilling IMCA Northern SportMod feature. Blaine Walt took over the top spot as Pfannenstiel got high in turn four and continued to lead through a lap 18 caution when polesitter Eric Pfeifer spun.
On the restart Walt drifted high in turn two and let Austin Carter, Nate Ginest and Jake Krone drive by. Carter held on to the checkers, followed by Ginest.
Hometown driver Kiowa Higdon picked up where he left off last season at RPM Speedway. Higdon won 8 features last year and got his first win this season in the Cutting Edge Collision IMCA Sport Compact division. Higdon led all 12 laps to score the win. Art Herzog finished se­cond.
The evening's program was dedicated to Cody Younger. More than 110 race cars checked into the pits at Hays.