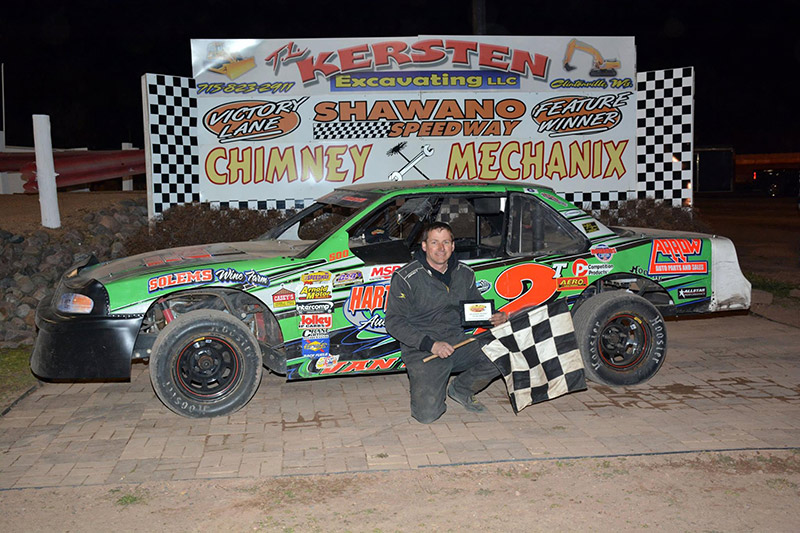 By Scott Owen
SHAWANO, Wis. (April 18) – Defending track champion Travis VanStraten raced to the IMCA Sunoco Stock Car win on opening night of the 53rd year of racing at Shawano Speedway.
Mike Schmidt held the lead for the first four laps of the race until VanStraten took over the point. He began to pull away from the rest of the pack while Brandon Czarapata raced to second.
The race went green to checkered. VanStraten picked up where he left off last year, in victory lane. Czarapata took second and Steven Stewart finished third.
At the start of the IMCA Xtreme Motor Sports Modified feature, it looked as though defending track champion Marcus Yarie would run away and hide. Yarie started outside row one and quickly put distance between himself and Chris Engels.
After a lap four restart, Lance Arneson moved to second while John Berna and Matt Oreskovich battled for third. On lap seven, Oreskovich passed Berna to take third. With Yarie still leading, Oreskovich ran down Arneson and made the pass to move into second place on lap 13.
Oreskovich then set his sights on Yarie. Entering turn one on lap 15, Oreskovich snagged the lead. Oreskovich held the lead the rest of the race. Yarie finished second. Eddie Muenster made a late-race pass to take third from Arneson.
After a caution-plagued start, Brock Saunders put himself into the lead of the Karl Chevrolet Northern SportMod feature. Saunders quickly asserted himself as the driver to beat while Wyatt Block, Lucas Lamberies, and Tracy Wassenberg battled for second and third.
The race was ultimately cut short due to the time limit with Saunders picking up his second career win at Shawano Speedway. Block held off Lamberies to take second.