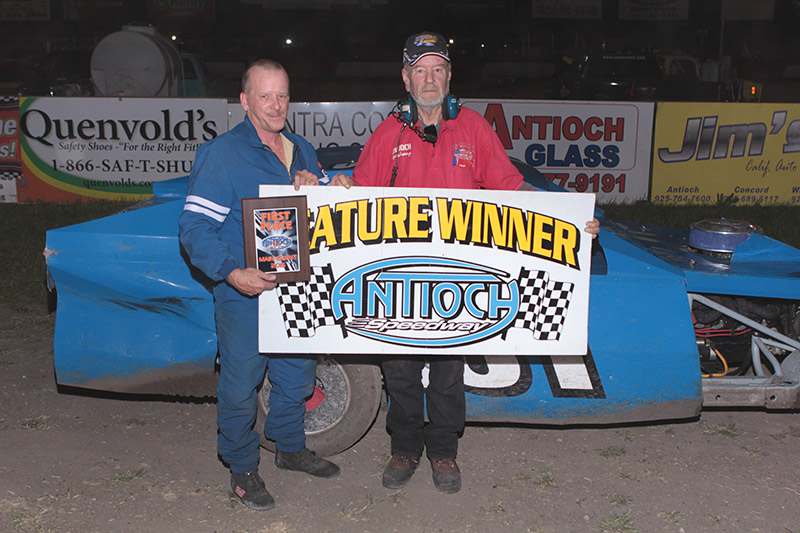 ANTIOCH, Calif. (April 18) – It was a long road to the Antioch Speedway's victory lane for Bobby Motts.
After four years behind the wheel of his IMCA Xtreme Motor Sports Modified, Motts steered to the checkered flag in Saturday main event.
"I'm shaking like a leaf," were the first words out of Motts' mouth when he got out of his car in vic­tory lane. "All these years of trying, and it finally paid off."
Motts' car is a collaboration of personal time and money of crewmembers Mike Ferry, Bill Garrell and Steve Cunningham.
"The guys have been with me for 18 years," explained Motts, who won the speedway's super stock championship back in 2004.
The feature event unfolded with the twists and turns of an action movie. Defending champion Carl Ber­endsen looked to be in route to the win. Then, halfway through the feature, a tap in turn two from Scott Busby spun out Berendsen and sent both he and Busby to the back of the lineup.
Sean O'Gara looked to be heading for the win, but he was sidelined with engine problems with five laps to go. As Motts maintained his lead, it was Michael Salazar who charged forward.
"I just drove it as hard as I could," Motts said of the last laps of the race.
Salazar, in his first appearance of the season, had to settle for second.
"My car just started fading away on me near the end of the race – I just couldn't catch Bobby (Motts)," Salazar said. "I'm happy taking second on my first night out."
Berendsen fought his way up to third from the back of the pack.
"You have to break out of the best line to pass, which is a risky move," Berendsen said. "That late in the race I decided to do damage control and be content with third."
Chris Elby was fourth and Dustin Himes completed the top five.