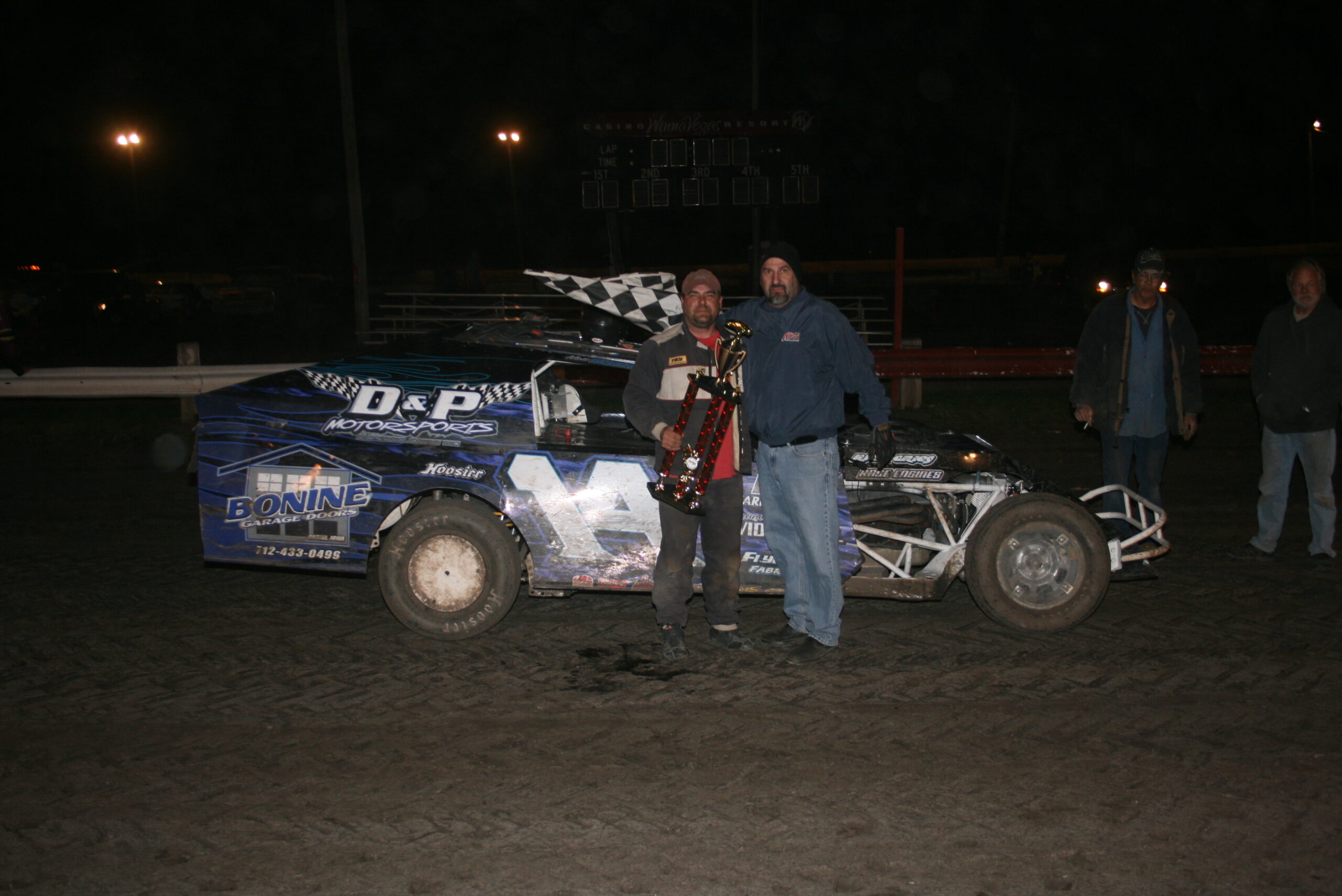 By Bob Coney
JEFFERSON, S.D. (April 11) – After trading some paint, Matt Bonine took home the big check from Saturday's season-opening Spring Nationals at Raceway Park.
Bonine earned $1,000 and a spot on the Fast Shafts All-Star Invitational ballot for his IMCA Xtreme Motor Sports Modified efforts.
Contact with another car resulted in steering issues late in the 25-lapper but Bonine continued to make the most of the lower line in turns one and two and held off Ricky Stephan for the victory.
Bob Moore, Jim Cole and early leader Jim Thies completed the top five.
Shawn Primrose kept five-time defending track champion Jason Ward in check for the IMCA Sunoco Stock Car win. Jim Hall was third.
Karl Brewer dominated the Karl Chevrolet Northern SportMod feature, taking the win over Rusty Montange and Kirk Beatty.
Former IMCA Sunoco Hobby Stock track champion John Cain got his year off to a fast start by powering around early leader Jon Androy en route to the feature victory.
Craig Clift was the evening's hard charger, coming from the back of the field to take third at the checkers in front of Dustin Gulbrandson.
Luke Jackson took home the Mach-1 Sport Compact winner's check after a race-long battle with Scott Spellmeier.
Spellmeier held on for second. Several car lengths behind, Neal Reynolds got the best of Joelle Gustin for third.
Inclement weather forced cancellation of the Friday program. Spring Nationals was sponsored by Winnavegas Casino Resort.
Feature Results
Modifieds – 1. Matt Bonine; 2. Ricky Stephan; 3. Bob Moore; 4. Jim Cole; 5. Jim Thies; 6. Chad Ten Napel; 7. Daniel Loggins; 8. Jim Mathison; 9. Terry Berg Jr.; 10. Justin Sackett; 11. Jay Noteboom; 12. Jason Schneiders; 13. Weylin Bruneau; 14. Sean Barragan; 15. Daniel Woodle.
Stock Cars – 1. Shawn Primrose; 2. Jason Ward; 3. Jim Hall; 4. Josh Ruschmann; 5. Casey Jones; 6. Chris Palsrok; 7. Chad Allen; 8. Ron Pettit; 9. Paul Wenzlaff; 10. Glen Jones; 11. Aaron Guillaume; 12. Les Lundquist; 13. Todd Gereau; 14. Leon Sidney; 15. Chad Bruns.
Northern SportMods – 1. Karl Brewer; 2. Rusty Montagne; 3. Kirk Beatty; 4. Ricky Wynn; 5. Brian Konz; 6. Anthony Boulware; 7. Darin Roepke; 8. Jeremy Smith; 9. Todd Boulware.
Hobby Stocks – 1. John Cain; 2. Jon Androy; 3. Craig Clift; 4. Dustin Gulbrandson; 5. Tony Fetterman; 6. Gavin Gilbertson; 7. Zach Bales; 8. Bill Woehler; 9. David Miller; 10. Russ Specht; 11. Justin Frederick; 12. Zach Ankrum; 13. Gabe Barclay; 14. Steven Pierce; 15. Travis Raml; 16. Ryan Leedom; 17. Dellas Williams; 18. Ryan Cunningham; 19. Lucas Phillips; 20. Andy Hoffman.
Sport Compacts – 1. Luke Jackson; 2. Scott Spellmeier; 3. Neal Reynolds; 4. Joelle Gustin; 5. Caine Mahlberg; 6. Aaron Edwardson; 7. Cody Thompson; 8. Tyler Thompson; 9. Don Tank; 10. Nicholas Peters; 11. Nicholas Peters; 12. Tracy Raml; 13. Travis McDermott; 14. Drew Johnson; 15. Andrew Vogt.