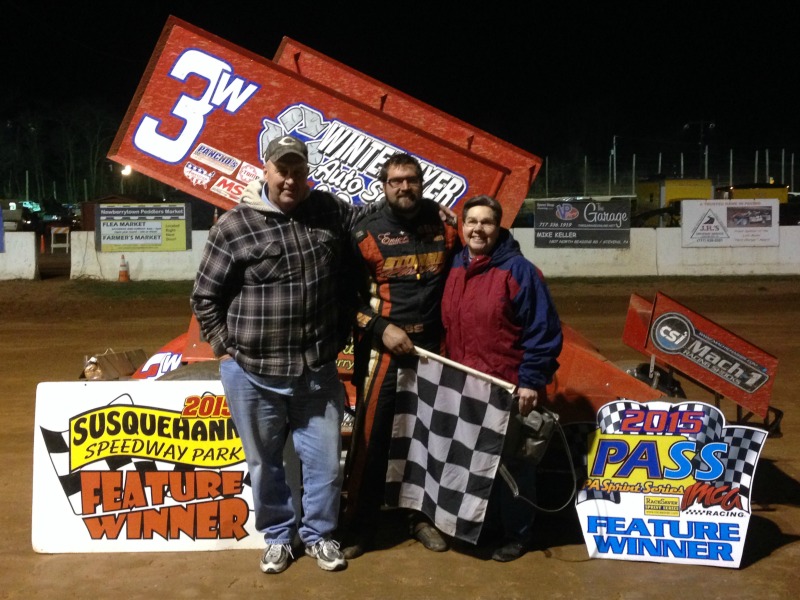 NEWBERRYTOWN, Pa. (April 11) – It was opening night for the Pennsylvania Sprint Series at Susquehanna Speedway Park on Saturday and Steve Storrie picked up the win in the 20-lap feature for IMCA RaceSaver Sprint Cars.
Zach Newlin grabbed the early lead from the pole. On the second circuit, Storrie scooted by Newlin and set the pace en route to the victory by leading the final 19 laps.
Newlin tried every part of the track to try to regain the lead but had to settle for second place at the end. Colby Dice finished strong in third. Ken Duke and Randy Kaylor were fourth and fifth, respectively.
Dice and Storrie won their respective heat races.
Feature results – 1. Steve Storrie; 2. Zach Newlin; 3, Colby Dice; 4. Ken Duke; 5. Randy Kaylor; 6. Sean Kirkpatrick; 7. Billy Ney; 8. Donnie Hendershot; 9. Tyler Lebo; 10. Jaremi Hanson; 11. Cory Thornton; 12. Drew Ritchey; 13. Brandt Cook; 14. John Bordlemay; 15. Terry Schaeffer; 16. Jay Krout; 17. Cody Hockenberry; 18. Erin Statler; 19. Mark Watkins; 20. Scott Ellerman.