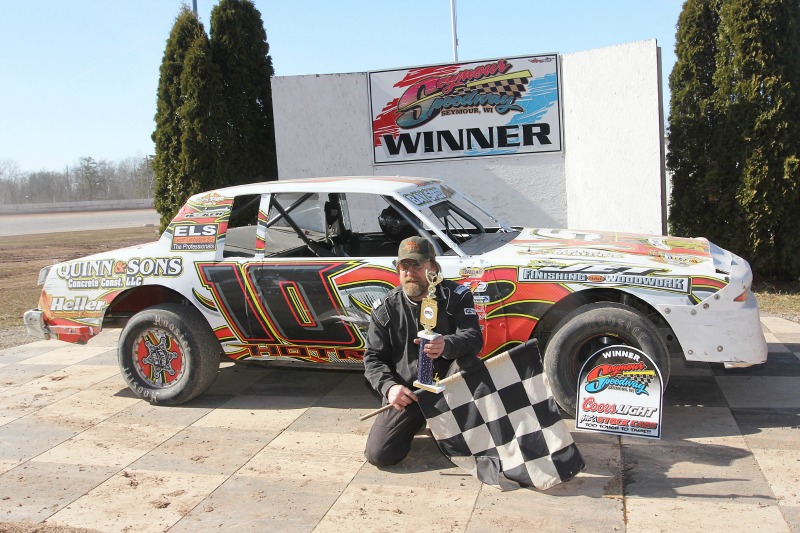 PULASKI, Wis. (April 11) – That big sigh of relief you heard from victory lane at Seymour Speedway came from Rod Snellenberger.
Snellenberger won for the 200th time in his IMCA Sunoco Stock Car career Saturday evening, holding off Brandon Czarapata by the narrowest of margins.
"It was a relief to get it this early in the season. Everyone has been asking me how soon I thought I'd get the win," the Pulaski driver said following his second start of 2015. "My mom and dad got back last week from spending the winter down south and were there to see me win, so that meant a lot to me."
Snellenberger counts the 2008 national championship, seven Allstar Performance State and 14 local track titles among his IMCA achievements. Czarapata, twice a national champion with 100-plus wins of his own, made him work to complete the latest accomplishment.
After starting from the pole, Snellenberger caught Kyle Frederick for the lead six laps in. Czarapata, meanwhile, made his way up from mid-pack to challenge for the front and was scored first at the white flag.
"I could see his nose the last three or four laps," Snellenberger said. "At the end I could see him right beside me. I don't know if I won by a bumper or half that. I don't know if I could have held him off another lap, but we got her done."
Snellenberger's first win in the class came May 9, 1993, in the first-ever sanctioned event held at Seymour. That's also the year his son Devin, who finished 13th in the Stock Car feature on Saturday, was born.
"It's been a lot of fun racing with him," Snellenberger said. "We've had a lot of good times racing together."
The fifth driver in division history to reach 200 career feature victories, Snellenberger followed his 24-win national championship campaign with 25 checkers in 2009.
He won six straight state crowns from 2006-2011 and added a seventh title last year.
"Winning the national championship is quite an accomplishment but that's something that is done in a single year," Snellenberger said. "Winning 200 features was done over 22 years. It's been quite a ride. To still be at this level after all these years is special."