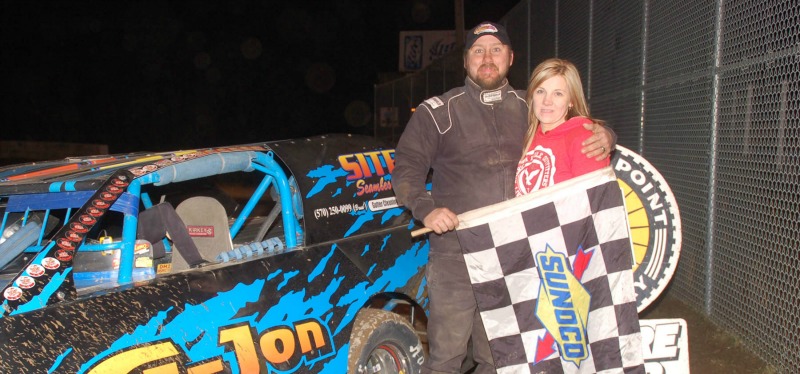 KIRKWOOD, N.Y. (April 12) – Eddie Sites likes the start of his 2015 a lot more than he does his 2013 or 2014 campaigns.
Sites won Sunday's opening event for IMCA Xtreme Motor Sports Modifieds following the Empire State Series at Five Mile Point Speedway.
The victory paid $400 and came ahead of Jared Spalding and Jason Benjamin. Gary Smith and K.C. Cole completed the top five.
Sites had started third, passed Mike Stoddard and Matt Cole on the second circuit, then led to the end of the 25-lapper.
After seeing a comfortable lead erased by a lap 23 caution, he took the checkers two car lengths ahead of Spalding.
"It rubbered up but I didn't have any trouble getting around the track," Sites said. "I had a pretty good car. This was the best race I've had in a long time."
"I won this series two years in a row (in 2011 and 2012) but haven't raced much the last two sea­sons," he continued. "In 2013 we had a lot of parts failures, some motors went sour and then our house burned down five days before Christmas. I only raced a handful of times because we had more important things to do after that."
"We're going to try to follow the series and hit some weekly shows this year," Sites concluded.
The second of nine Empire State Series events this season is Sunday, May 3 when Weedsport Speedway hosts the $2,500 to win Northeast Shootout. That feature pays a minimum of $150 to start.
Feature results – 1. Eddie Sites; 2. Jared Spalding; 3. Jason Benjamin; 4. Gary Smith; 5. K.C. Cole; 6. Bob Maynard; 7. Tyler Stoddard; 8. Harry Ely; 9. Mike Stoddard; 10. Brad Smith; 11. Chris Fleming; 12. Matt Cole; 13. Brad Sites; 14. Justin Slezak; 15. Bob Collins; 16. Keith Lamphere; 17. Craig Ward; 18. Gary Roberts.