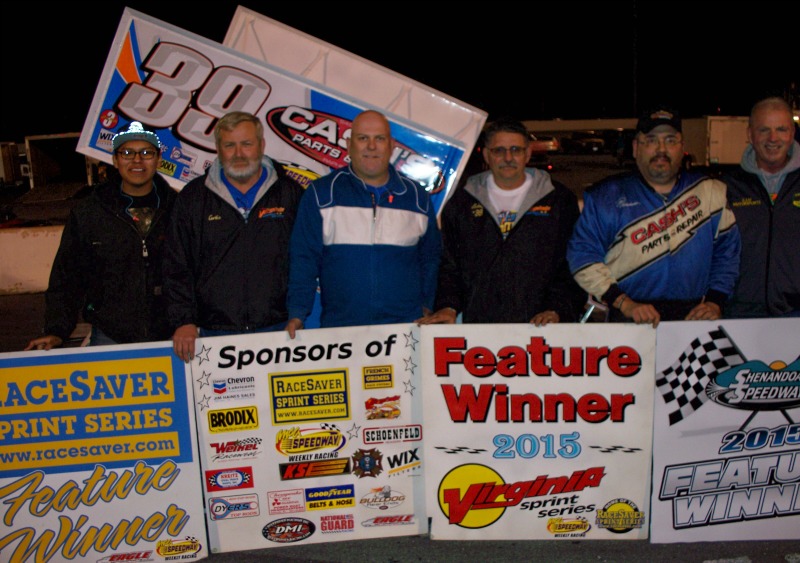 By Jim Haines
SHENANDOAH, Va. (April 11) – Tom Humphries was the opening night winner Saturday, in the Virginia Sprint Series lidlifter at Shenandoah Speedway.
The IMCA Eagle Motor Sports RaceSaver Sprint Car tour started off the way last year ended, with a last corner pass being made for the victory.
Chris Ware and Charlie Ware paced the field to green with Chris out first and Anthony Linkenhoker right behind. Linkenhoker was smooth a lane up and on lap three made his way to the front, bringing Ryan Price along as Humphries with Jerald Harris rounded out the bunch
Laps clicked off as Linkenhoker stayed out front and Price was trying everything to get by and Humphries pressured in third. Halfway flags were shown with Linkenhoker still leading but Price going even lower until he jammed an inside move and got the lead.
Humphries made his way to second with Harris third and lapped cars coming into play as the white flag waved.
Turn three provided the opening for Humphries as they closed up on a slower car. Price took the outside way but Humphries shot the low line and raced to the finish line first.
Harris, Linkenhoker and French Grimes completed the top five.
The Virginia Sprint Series travels to Eastside Speedway in Waynesboro on Saturday, April 25 for the first dirt race of the year.
Feature results – 1. Tom Humphries; 2. Ryan Price; 3. Jerald Harris; 4. Anthony Linkenhoker; 5. French Grimes; 6. Brian Lawson; 7. Tony Harris; 8. Carl Simmonds; 9. Chris Ware; 10. Ron Moyers; 11. Charlie Ware; 12. Mike Keeton.