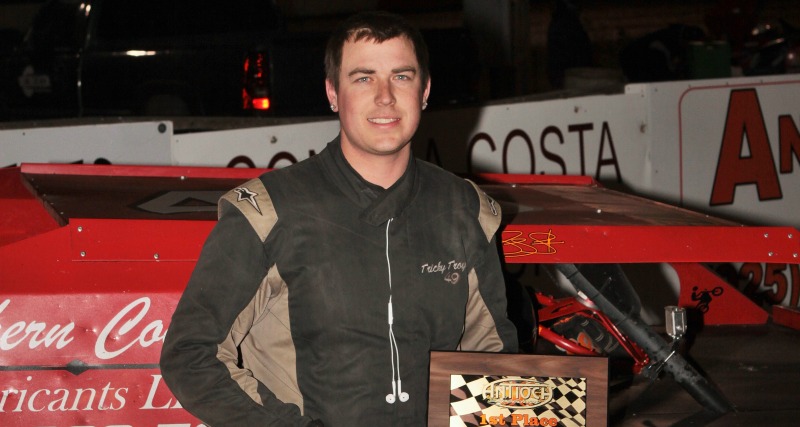 ANTIOCH, Calif. (April 4) – Troy Foulger and Michael Paul Jr. waged a side-by-side battle that lasted half the feature in IMCA Xtreme Motor Sports Modified racing Saturday at Antioch Speedway.
"The track was perfect – with two grooves to make it a great race – I had so much fun," Foulger said after having Paul, Jr. outside his passenger window lap after lap, with no chance to pass him. "I finally figured if I open up the straightaway, it would help me when I entered the corner."
Foulger, who started sixth, got by Paul and went on to the checkered flag.
"It was a good race – but it would have been better if I won," Paul laughed. "My car was loose (handling) and his was better. Troy just got under me and would not let go."
Paul studied the track to maintain his advantage. His car being loose meant he wanted to stay out of the driest groove on the race track.
"I was hunting for moisture, looking for any part of the track that was not shiny," Paul revealed. "The track was so smooth, the grooves were very equal. I found just a little bit of moisture in the middle of the corner and kept hitting that spot to give my car traction."
Foulger seemed to pass Paul lap after lap, but Paul lurched forward in the turns.
"Even though the ins and outs were real equal, he finally got me," Paul said.
Third went to Oreste Gonella. Nick DeCarlo was fourth, followed by Bobby Motts.