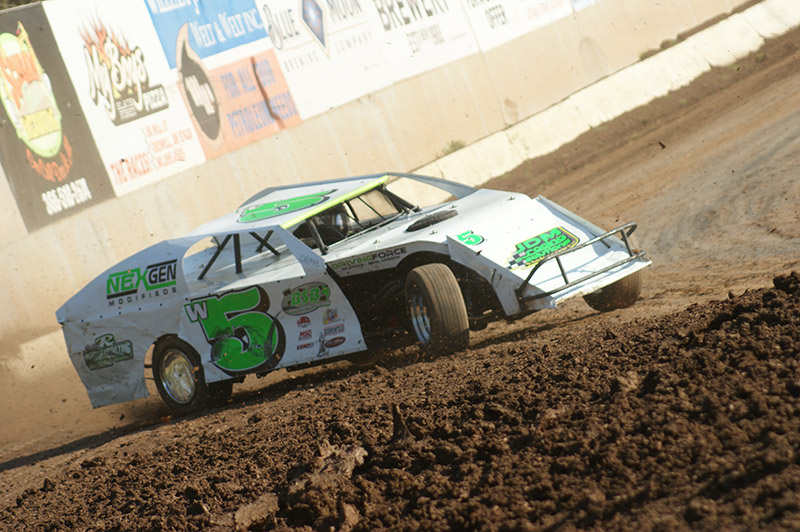 By Ben Deatherage
COTTAGE GROVE, Ore. (April 4) – Jesse Williamson was the $1,100 IMCA Xtreme Motor Sports Mod­ified feature winner in front of a full house on opening night Saturday at Cottage Grove Speed­way.
Hometown chauffeur Curtis Towns seized the lead after two cautions on the initial start.  Towns set a wicked pace before he was overtaken on lap eight by Williamson.
Williamson wasted no time extending his lead and had no trouble working his way through lapped traf­fic as well as the race progressed.
He'd take the checkers in the Fast Shafts All-Star Invitational ballot qualifier ahead of Braedon Hand, Mark Wauge, Towns and Collen Winebarger.
Additional purse money was contributed by Crocker's Cars.
Feature results – 1. Jesse Williamson; 2. Braedon Hand; 3. Mark Wauge; 4. Curtis Towns; 5. Collen Winebarger; 6. Bricen James; 7. Craig Hanson; 8. Steven Sturdevant; 9. Kinzer Cox; 10. Curt Coggins; 11. Albert Gill; 12. Brett James; 13. Dustin Cady; 14. Brad Martin; 15. Craig Cas­sell; 16. Jeff Lovell; 17. Austin McTaggart; 18. Jake Mayden; 19. Jesse Bailey; 20. Duane Ors­burn.