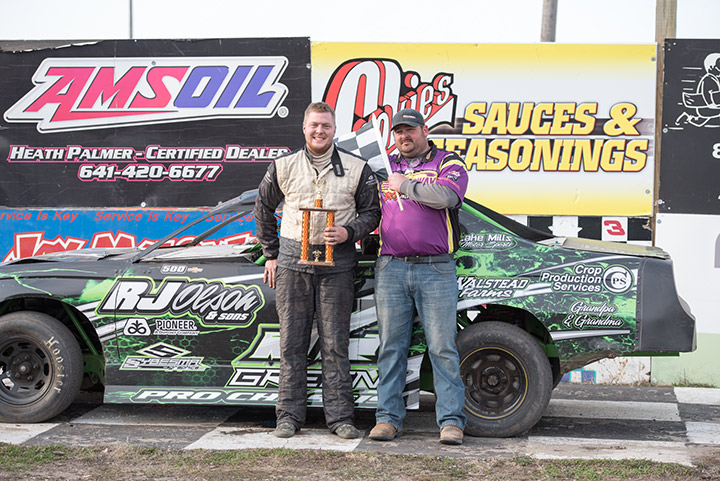 By Greg Grabianowski
MASON CITY, Iowa (April 5) – Ryan Ruter and Derek Green each won for the second time in less than 24 hours to highlight opening night action Sunday at I-35 Speedway.
Both had won Saturday at Hancock County Speedway. Ruter repeated in the IMCA Xtreme Motor Sports Modifieds, earning $1,000, while Green notched another IMCA Sunoco Stock Car Frost­buster victory.
Ruter again drew well, starting on the inside of the second row after drawing the pole at Britt. He held off a late charge by Rich Lewerke, who ended up in second. Josh Ruby, Kelly Shyrock and Alex Hanson completed the top five.
Green passed leader Joe Willier in winning the Stock Car feature from the sixth starting spot.  Willier was the runner-up and Luke Sathoff placed third.
Luck was on the side of Nate Chodur in the Karl Chevrolet Northern SportMod feature. Nick Meyer had built a big lead only to see his No. 2 rig start pouring out smoke late in the race, forc­ing him into the infield.
Chodur cruised to take the win at that point. George Nordman was the runner-up with 18th starting Col­ton Livezel finishing third.
Cody Nielsen used a late-race pass of Andrew Borchardt to win the IMCA Sunoco Hobby Stock feature. He had to hold off Borchardt and Scott Dobel for the victory.
After starting seventh, Lucas Jacobson finished first in the Mach-1 Sport Compact main event.
Danny Sassman Jr. was second and Jacob Kofoot was third.
Feature Results
Modifieds – 1. Ryan Ruter, Kanawha; 2. Rich Lewerke, Mason City; 3. Josh Ruby, Lakota; 4. Kelly Shryock, Fertile; 5. Alex Hanson, Northwood; 6. Todd Stinehart, Waseca, Minn.; 7. Ken Schrader, Concord, N.C.; 8. Clint Wendel, Mason City; 9. Jesse Hoeft, Forest City; 10. Tim Ward, Gilbert, Ariz.; 11. Tyler Droste, Waterloo; 12. Justin Medler, Minot, N.D.
Stock Cars – 1. Derek Green, Granada, Minn.; 2. Joe Willier, Mason City; 3. Luke Sathoff, Jack­son, Minn.; 4. Kevin Opheim, Mason City; 5. Heath Tulp, Belmond; 6. Kellie Schmit, Britt; 7. Terry Coopman, Mankato, Minn.; 8. Tyler Pickett, Boxholm; 9. Blake Cole, Nashua; 10. Jesse Brown, Nashua.
Northern SportMods –1. Nate Chodur, Lake Mills; 2. George Nordman, Mason City; 3. Colton Livezel, Britt; 4. Dan Tenold, Northwood; 5. Nate Whitehurst, Mason City; 6. Shane Swanson, Forest City; 7. Kyle Germundson, Mason City; 8. Austin Schrage, Cresco; 9. Jeremy Grantham, Allison; 10. Zack Smidt, Mason City; 11. Jeremiah LaDue, Trenton, N.D.; 12. Autumn Anderson, Mason City; 13. Levi Chipp, Latimer; 14. Daryl Ruter, Kanawha; 15. Nick Meyer, Whittemore; 16. Chet Ragan, Eagle Lake, Minn.; 17. Alex Zwanziger, Nashua; 18. Ryan King, Montour.
Hobby Stocks – 1. Cody Nielsen, Fort Dodge; 2. Andrew Borchardt, Plymouth; 3. Scott Dobel, Manly; 4. Jeremy Wegner, Graettinger; 5. Chanse Hollatz, Clear Lake; 6. Malik Sampson, Worthing­ton, Minn.; 7. Travis Johnson, Fertile; 8. Derek Willert, Rockford; 9. Spencer Cole, Nashua; 10. Jake Jacobs, Nashua; 11. Blaine Hanson, Klemme; 12. Megan Sandvig, Spencer; 13. Jeremy Ziemke, Janesville, Minn.; 14. Tyler Pospisil, Fulda, Minn.; 15. Cory Gansen, Clear Lake; 16. Bryant Johnson, Graettinger.
Sport Compacts – 1. Lucas Jacobson, Mason City; 2. Danny Sassman Jr., Fort Dodge; 3. Jacob Kofoot, Bode; 4. Dalton Kron, Algona; 5. Steve Fields, Mason City; 6. Trey Anderson, Janesville, Minn.; 7. Nick Hamlin, Garner; 8. Sam Winkowitsch, Mason City; 9. Nikki Taylor, Welcome, Minn.; 10. Taylor Fields, Mason City; 11. Oliver Monson, Clear Lake; 12. Devin Jones, Clear Lake; 13. Nate Coopman, Mankato, Minn.; 14. Ken Winkowitsch, Mason City; 15. Chris Wilson, Britt.