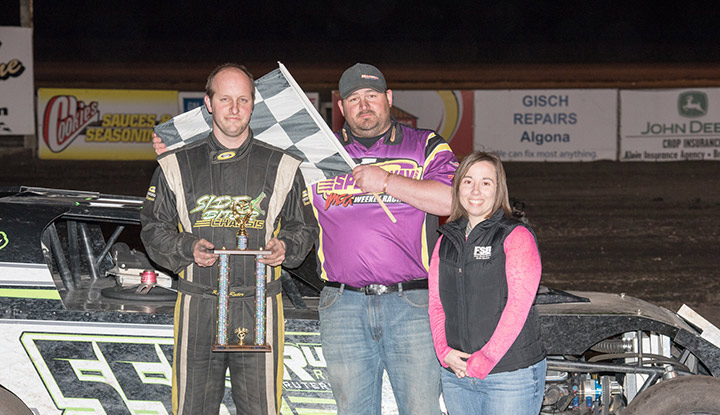 By Greg Grabianowski
BRITT, Iowa (April 4) – Ryan Ruter started what proved to be a very good weekend with a $1,000 fea­ture win at Hancock County Speedway's season-opening Frostbuster.
The Saturday IMCA Xtreme Motor Sports Modified checkers put Ruter on the ballot for the Fast Shafts All-Star Invitational and preceded a similar finish and paycheck the next day at I-35 Speed­way's lidlifter.
Ruter drew a front row start and weathered five early cautions while attrition took its toll on the field. Jeff James, Austin Wolf, Kelly Shryock and Dustin Smith rounded out the top five.
In all, 147 cars saw action at Britt.
Other winners were Derek Green in the IMCA Sunoco Stock Cars, Shane Swanson in the Karl Chevrolet Northern SportMods, Jeremy Wegner in the IMCA Sunoco Hobby Stocks and Jay DeVries in the Mach-1 Sport Compacts.
Green led every lap of the Stock Car main and won in front of Kevin Opheim and David Smith.
"It was a pretty wild ride. You had to dodge some holes in turns one and two but for April 4, I thought the track was in great shape," Green said. "I have had some real good success before both here and at Algona and I hope that continues again this year."
Swanson's victory came in a caution-free feature. He was chased across the stripe by early leader Cody Knecht, Ryan Hiscocks and 17th starting Jared Boumeester.
Weston Koop and Austin Hauswirth went door-to-door for the lead early in the Hobby Stock fea­ture. After a pair of cautions, Wegener took charge and pulled away for an easy victory.
Doug Wickman was second and Justin Nehring took third.
DeVries wrestled the lead away from Danny Sassman following a lap four restart and never trailed again, grabbing the victory after starting ninth.
Dalton Kron and 15th starting Jacob Kofoot were next across the stripe.
Feature Results
Modifieds – 1. Ryan Ruter, Kanawha; 2. Jeff James, Stanton; 3. Austin Wolf, Algona; 4. Kelly Shryock, Fertile; 5. Dustin Smith, Lake City; 6. Troy Cordes, Dunkerton; 7. Josh Ruby, Lakota; 8. Mike Wedelstadt, Fremont, Wis.; 9. Mike Jergens, Plover; 10. Brandon Beckendorf, Danube, Minn.; 11. Todd VanEaton, Orient; 12. Tim Ward, Gilbert, Ariz.; 13. Mat Hollerich, Good Thunder, Minn.; 14. Rich Lewerke, Mason City; 15. Troy Swearingen, Forest City; 16. Logan Brown, Clear Lake; 17. Tad Reutzel, Burt; 18. Jeremy Mills, Garner; 19. Mike Mullen, Suamico, Wis.; 20. Trent Loverude, New Ulm, Minn.; 21. Clint Hatlestad, Glencoe, Minn.; 22. Jeff Dolphin, Britt; 23. Tony Wedelstadt, Fremont, Wis.; 24. Scott Olson, Blairsburg.
Stock Cars – 1. Derek Green, Granada, Minn.; 2. Kevin Opheim, Mason City; 3. David Smith, Lake City; 4. Calvin Lange, Humboldt; 5. Randy Brands, Boyden; 6. Heath Tulp, Belmond; 7. Craig Berhow, Belmond; 8. Elijah Zevenbergen, Ocheyedan; 9. Jake Masters, Graettinger; 10. Matt Shaver, Arlington, Minn.; 11. Chad Palmer, Renwick; 12. Roger Verdoorn, Sibley; 13. Shay Curtin, Cresco; 14. Ned Kalis, Wells, Minn.; 15. Dustin Larson, Worthington, Minn.; 16. Blake Cole, Nashua; 17. Chris Adams, McIntire; 18. Brian Mahlstedt, Ionia; 19. Dan Hanselman, Al­gona; 20. Dan Mackenthun, Hamburg, Minn.; 21. Kellie Schmit, Britt; 22. Devin Smith, Lake City; 23. Brandon Hare, Elma; 24. Andy Altenburg, Truman, Minn. 
Northern SportMods – 1. Shane Swanson, Forest City; 2. Cody Knecht, Whittemore; 3. Ryan Hiscocks, Britt; 4. Jared Boumeester, Waseca, Minn.; 5. Nick Meyer, Whittemore; 6. Austin Schrage, Cresco; 7. Nate Chodur, Lake Mills; 8. Matthew Hanson, Klemme; 9. Colby Fett, Algona; 10. Levi Chipp, Latimer; 11. Benjamin Chukuske, Sherburn, Minn.; 12. George Nordman, Mason City; 13. Logan Swearingen, Thompson; 14. Josh Larsen, Glencoe, Minn.; 15. Charlie Rust­man, St. Peter, Minn.; 16. Ben Kraus, Garner; 17. Greg Sidles, Emmetsburg; 18. Nathan Chukuske, Sherburn, Minn.; 19. John Albrecht, Glencoe, Minn.; 20. Zack Smidt, Mason City; 21. Clay Evans, Paullina; 22. Nate Whitehurst, Mason City; 23. Tracy Wassenberg, Shawano, Wis.; 24. Jerid Ratzke, Williams.
Hobby Stocks – 1. Jeremy Wegner, Graettinger; 2. Doug Wickman, Bancroft; 3. Justin Nehring, Storm Lake; 4. Cody Nielsen, Fort Dodge; 5. Scott Dobel, Manly; 6. Tony Smidt, Britt; 7. Trevor Holm, Chandler, Minn.; 8. Buck Schafroth, Orient; 9. Austin Hauswirth, Laurens; 10. Rod Man­they, Norwood, Minn.; 11. Zac Smith, Mason City; 12. Dennis Theesfeld, Curlew; 13. Weston Koop, Rockwell; 14. Daniel Smith, Lake City; 15. Travis Johnson, Fertile; 16. Jay Sidles, Emmetsburg; 17. Bryant Johnson, Graettinger; 18. Justin Frederick, Cleghorn; 19. Allen Fetch­enhier, Janesville, Minn.; 20. Andrew Borchardt, Plymouth; 21. Cory Gansen, Clear Lake; 22. Kyle Schmauss, Eagle Grove; 23. Derek Willert, Rockford; 24. Drew Barglof, Sioux Rapids.
Sport Compacts – 1. Jay DeVries, Spencer; 2. Dalton Kron, Algona; 3. Jacob Kofoot, Bode; 4. Brock St. John, Arlington, Minn.; 5. Joe Bunkofske, Armstrong; 6. Megan Sandvig, Spencer; 7. Nick Hamlin, Garner; 8. Jeff Carlton, Titonka; 9. Nikki Taylor, Welcome, Minn.; 10. Danny Sass­man, Fort Dodge; 11. Dalton Lewis, Cylinder; 12. Kaytee DeVries, Spencer; 13. Chris Wilson, Britt; 14. Devin Jones, Clear Lake; 15. Daniel Knish, Kilkenny, Minn.; 16. Oliver Monson, Clear Lake; 17. Alex Smith, Algona.