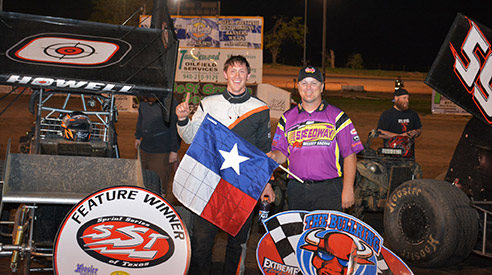 BOYD, Texas (April 3) – The last lap and a half alone were worth the price of admission when the Sprint Series of Texas opened at Boyd Raceway.
Jason Howell passed David Garland coming to the white flag lap, then caught Kenny Venable in the first set of turns to win the Friday tour feature for IMCA RaceSaver Sprint Cars.
The 20-lapper ran caution free; the defending series champion had made his way to the front af­ter starting 12th in the SWAT Firearms sponsored ride.
"The track was real slick from top to bottom. My crew put together a good handling car for me," said Howell. "It was a really good race. Fans definitely got their money's worth."
A two-time series winner last season, Howell will follow the SST as much as possible this year while racing part-time at weekly venues. The win at Boyd came in his second 2015 start.
Venable, Garland, Mark Klis Jr. and Kenny Elwood completed the top five.
Feature results – 1. Jason Howell; 2. Kenny Venable; 3. David Garland; 4. Mark Klis Jr.; 5. Kenny Elwood; 6. Tucker Doughty; 7. Rodney Henderson; 8. Mike Herring; 9. Dustin Woods; 10. Danny Merrell; 11. Jerry Hammock; 12. Drew Wright; 13. Gary Kelley; 14. Trevor Reed; 15. Cody Whitworth; 16. Josh Hanna; 17. Reagan Reed; 18. Adam Barr; 19. Ronnie Henderson; 20. Corey Minor.