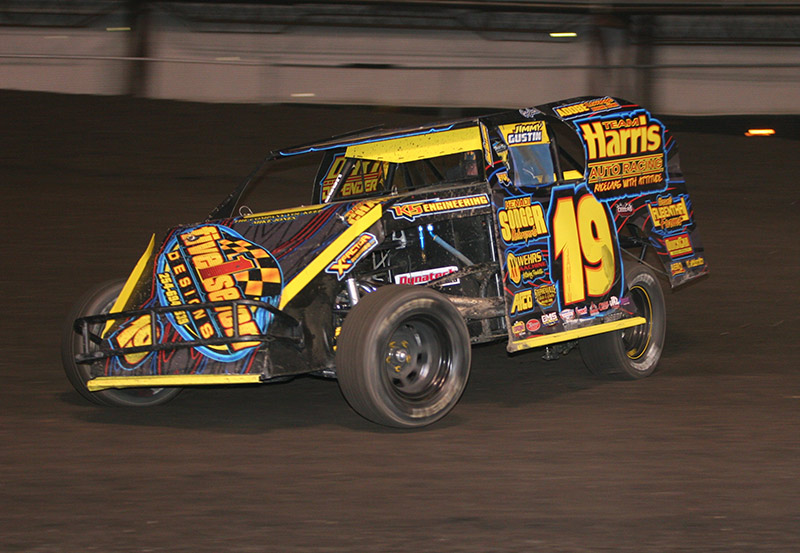 By Jeremy Fox
Boone, Iowa (April 4) – Jimmy Gustin raced to yet another high-profile win at Boone Speedway, on the final night of Frostbuster Week.
Gustin topped the main event for IMCA Xtreme Motor Sports Modifieds, earning $1,000 and a berth on the ballot for the Fast Shafts All-Star Invitational for his Saturday night efforts.
Eric Elliott and Josh Most drew front row starts but Gustin was quickly ahead of the field. He was checking out on everybody and catching the back of the pack when the caution waved on lap 10.
He'd go on to lead the rest of the 25-lap contest and take the win ahead of Mike Van Genderen, Hunter Marriott, Ronn Lauritzen and Most.
The fourth and final Frostbuster Tour event brought 200-plus entries from 11 states and Canada to Boone.
Other visitors to victory lane were Trent Murphy in the IMCA Sunoco Stock Cars, Clint Luellen in the Karl Chevrolet Northern SportMods and Aaron Rudolph in the IMCA Sunoco Hobby Stocks.
Murphy took the lead at the start of the Stock Car 20-lap main and stayed in front through four restarts. Jay Schmidt worked his way to second and challenged but couldn't catch Murphy. Canadian Brendon LaBatte was third.
Lucas Lamberies led the first nine laps of the Northern SportMod feature before the 10th starting Doug Smith worked his way into first.
Smith continued to lead until the caution came out on lap 17. Luellen made his pass for the point coming to the white flag when Smith made a slight mistake in turn four. Luellen took the win over Lamberies and Johnathon Logue, who made his way into the top three after starting way back in 20th.
Rudolph led all 15 laps of the Hobby Stock headliner. Andrew Burg got the best of John Watson in the battle for second.
Jason Wolla (Modifieds), Jay Schmidt (Stock Cars), Austin Luellen (Hobby Stocks) and Lucas Lamberies (Northern SportMods) had top Frostbuster point totals in their divisions and become eligible to qualify for their respective race of champions events at Super Nationals in Septem­ber.
Feature Results
Modifieds – 1. Jimmy Gustin, Marshalltown; 2. Mike VanGenderen, Newton; 3. Hunter Marriott, Brookfield, Mo.; 4. Ronn Lauritzen, Jesup; 5. Josh Most, Red Oak; 6. Jason Wolla, Ray, N.D.; 7. Eric Elliott, Boone; 8. Adam Larson, Ankeny; 9. Jonathan Snyder, Ames; 10. Scott Davis, Boone; 11. Donavon Sorenson, Laurel, Mont.; 12. Justin Medler, Minot, N.D.; 13. Chad Porter, Madison Lake, Minn.; 14. Russ Dickerson, Boone; 15. Justin Sackett, Pierson; 16. Joel Rust, Grundy Center; 17. Nick Roberts, Des Moines; 18. Matt Gansen, Zwingle; 19. Tim Pessek, Hutchinson, Minn.; 20. Todd Shute, Des Moines; 21. Joel Bushore, Boone; 22. Dennis Pittman, Jamaica; 23. Jeff Wiggins, Greenfield; 24. John Logue, Boone.
Stock Cars – 1. Trent Murphy, Jefferson; 2. Jay Schmidt, Tama; 3. Brendon LaBatte, Weyburn, Sask.; 4. Jim Redmann, Lockridge; 5. Robert Stofer, Jefferson; 6. Rod Richards, Madrid; 7. Wayne Gifford, Boone; 8. Chris Pruitt, Stuart; 9. Marcus Fagan, Adair; 10. Rick Mahlberg, Denmark, Wis.; 11. Tyler Pickett, Boxholm; 12. Craig Carlson, Madrid; 13. Matthew West, Kellerton; 14. Les Lundquist, Sioux City; 15. Brandon Pruitt, Dexter; 16. Matthew Munyon, Kellerton; 17. Leon Sidney, Sioux City; 18. Terry Pruitt, Dexter; 19. Beau Deschamp, Bottineau, N.D.; 20. Ben Walding, Des Moines; 21. James Lynch, Kahoka, Mo.; 22. Jason York, Boone; 23. Bret Koehler, Two Rivers, Wis.; 24. Donavon Smith, Lake City.
Northern SportMods – 1. Clint Luellen, Minburn; 2. Lucas Lamberies, Clintonville, Wis.; 3. Johnathon Logue, Boone; 4. Doug Smith, Lake City; 5. Ryan Besaw, Omro, Wis.; 6. Rich Pavlicek, Casselton, N.D.; 7. Tara Longnecker, Woodward; 8. Anthony Onstot, Norwalk; 9. Ryan Wells, Tioga, N.D.; 10. Kevin Bethke, Neenah, Wis.; 11. Zach McKinnon, Antigo, Wis.; 12. Cory Rose, Boone; 13. Curtis Veber, Polk City; 14. Bryan Johnson, Roland; 15. Brandon Williams, Des Moines; 16. Sam Wieben, Dysart; 17. Brian Miller, Grand Junction; 18. Adam Shelman, Ames; 19. Kip Siems, Cedar Falls; 20. Evan Nemitz, Kiron; 21. Jeremy Pittsenbarger, Cameron, Mo.; 22. Taylor Musselman, Norwalk; 23. Dustin Dalton, Madrid; 24. Ryan King, Montour.
Hobby Stocks – 1. Aaron Rudolph, Grand Junction; 2. Andrew Burg, Adel; 3. John Watson, Des Moines; 4. Austin Luellen, Minburn; 5. Matt McDonald, Scranton; 6. Eric Stanton, Carlisle; 7. Jeremy Purdy, Bedford; 8. Jeremy Auten, Clarinda; 9. Ross Marshall, Granger; 10. Joshua Reynolds, Greenfield; 11. Dustin Graham, Colo; 12. Craig Graham, Webster City; 13. Jim Ball Jr., Independence; 14. Kyle Dirks, Roland; 15. Dave Schmidt, Casco, Wis.; 16. Solomon Bennett, Perry; 17. Tim Barber, Story City; 18. Warren Purvis, Boone; 19. Kevin Derry, Indianola; 20. Cody Gustoff, Scranton; 21. Chad LeGere, Des Moines; 22. Sterling Sorensen, Portsmouth; 23. Tyson Overton, Carlisle; Cody Hubbell, Pocahontas.