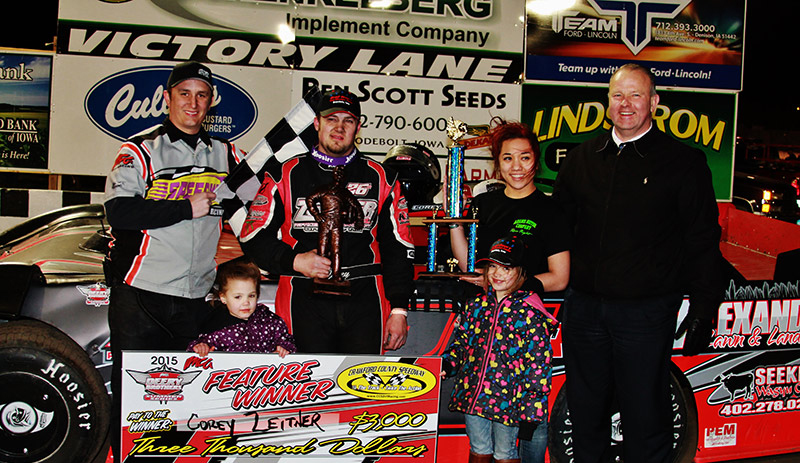 DENISON, Iowa (April 4) – The much-anticipated return of the Deery Brothers Summer Series to Crawford County Speedway ended with a first-time IMCA Late Model tour winner.
Corey Zeitner took charge following a lap 16 restart and led to the checkers in Saturday's 50-lap, $3,000 to win main event at Denison.
"It was definitely one of my biggest wins. It was good to get a win running with these guys," said Zeitner, who had just four career series starts to his credit coming into the night. "There were a lot of big names here and it was good to know we can run with them."
Tyler Bruening, Andy Nezworski, Joe Zrostlik and John Emerson completed the top five. Finishes by Zrostlik and Emerson were the best of their respective tour careers.
Nezworski started on the pole and led the first 10 circuits. Defending champion Justin Kay sped past, led to lap 16 and then pulled into the infield with an overheating engine while under caution.
Zeitner, who'd started fifth, made his move to the front on the ensuing restart. Bruening made up ground when Zeitner was forced to navigate through lapped traffic but couldn't make the race a closer one.
"Once I found the middle, I got faster," Zeitner said. "We've raced here a lot and I know the line."
Samples were taken from Zeitner's tires and results remain unofficial. Nezworski won the $250 Sunoco Race Fuels feature qualifier drawing.
The one previous Deery event at Denison was held on July 28, 1994 and two of the drivers who competed in that event – Jeff Aikey and Darrel DeFrance – were in the Saturday field. DeFrance extended his perfect tour attendance mark to 435 events.
Next up for the series is the Saturday, April 11 show at West Liberty Raceway. Pit gates open at 4:30 p.m., the grandstand opens at 5:30 p.m. and hot laps are at 6:30 p.m. with racing to follow.
Feature results – 1. Corey Zeitner, Bellevue, Neb.; 2. Tyler Bruening, Decorah; 3. Andy Nezwor­ski, Buffalo; 4. Joe Zrostlik, Long Grove; 5. John Emerson, Waterloo; 6. Jeremy Grady, Story City; 7. Jason Hahne, Webster City; 8. Andy Eckrich, Oxford; 9. Charlie McKenna, Clear Lake; 10. Brunson Behning, Davenport; 11. Joel Callahan, Dubuque; 12. Curt Martin, Independence; 13. Kyle Segebart, Carroll; 14. Todd Cooney, Des Moines; 15. Todd Malmstrom, Silvis, Ill.; 16. Brian Harris, Davenport; 17. Darrel DeFrance, Marshalltown; 18. Justin Kay, Wheatland; 19. Scott Fitzpat­rick, Wheatland; 20. Jeff Aikey, Cedar Falls; 21. Ron Klein, Sherrill; 22. Leon Zeitner, La Vista, Neb.; 23. Allen Zeitner, Bellevue, Neb.; 24. Jason Rauen, Farley; 25. Jay Stewart, Blair, Neb.
1st heat – 1. Fitzpatrick; 2. Klein; 3. Zrostlik; 4. Bruening; 5. McKenna; 6. Eckrich; 7. Emerson; 8. Harris; 9. Behning.
2nd heat – 1. Nezworski; 2. Aikey; 3. Martin; 4. Grady; 5. Malmstrom; 6. Allen Zeitner; 7. Stewart; 8. Rauen.
3rd heat – 1. Corey Zeitner; 2. Kay; 3. Cooney; 4. Hahne; 5. Leon Zeitner; 6. Callahan; 7. De­France; 8. Segebart.