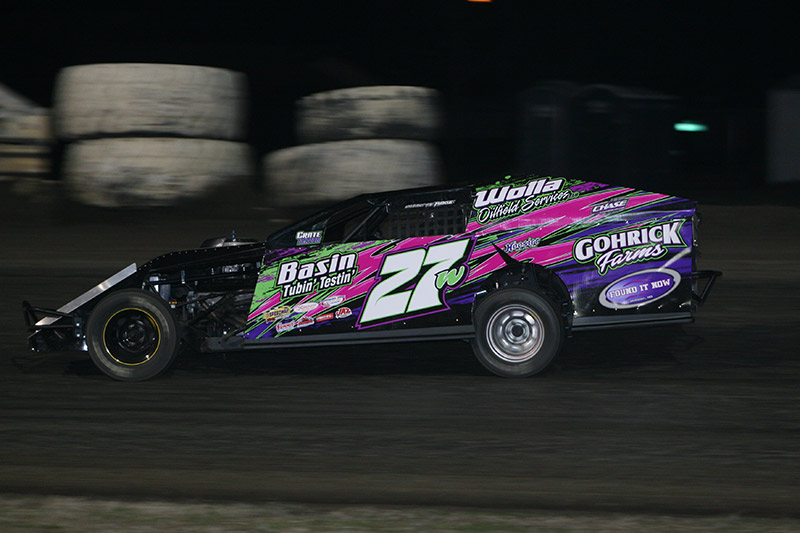 By Jeremy Fox
OSKALOOSA, Iowa (April 1) – Jason Wolla made his way to victory lane after making the 900-mile trip from Ray, N.D., to Southern Iowa Speedway at Oskaloosa for the opening night Frostbuster.
Wolla took the lead at the drop of the green and never looked back in winning the 22-lap IMCA Xtreme Motor Sports Modified feature, collecting the $1,000 checkers along with a berth on the Fast Shafts All-Star Invitational ballot.
"That made the whole trip worth it," said Wolla, who'd finished third at Lee County Speedway's Spring Extravaganza on Sunday. "I know there had to be people asking 'Who's this guy from North Dakota?' It was pretty awesome."
Hunter Marriott ended in second after passing Jimmy Gustin with four laps to go. Todd Shute, Scott Dickey and Cole Ferguson completed the top five after Gustin exited with a flat tire.
Ken Schrader won his "B" feature and finished 12th in the main event. One hundred and sixteen cars from 10 states were on hand at Oskaloosa.
Other winners were Damon Murty in the IMCA Sunoco Stock Cars, Danny Thrasher in the IMCA Sunoco Hobby Stocks and Lucas Lamberies in the Karl Chevrolet Northern SportMods.
After a long stay in second, the persistent Murty was finally successful in passing Jay Schmidt for the lead on the 13th of 20 Stock Car laps. Cayden Carter finished second, Schmidt was third, Justin Temeyer was fourth and Shane Weller was fifth.
The 16 lap Hobby Stock feature ran caution-free and Thrasher was scored first across the stripe on the last 14 of those circuits, holding off challenges along the way from Dustin Griffiths and Jamie Songer. Rounding out the top five were Austin Luellen and Adam Bonnett.
Lamberies led early in the Northern SportMod feature, chased Brayton Carter across the line, then was promoted to the top spot when Carter was disqualified in post-race tech for an illegal distributor.
Jenae Gustin, Curtis VanDerWal, Kip Siems and Jonathan Logue completed the top five.
The same four divisions are in action for the Thursday, April 2 Frostbuster at Benton County Speedway in Vinton. Hot laps are at 6:15 p.m. and racing starts at 7 p.m.
Completing the Frostbuster week are shows April 3 at Marshalltown Speedway and April 4 at Boone Speedway.
Feature Results
Modifieds – 1. Jason Wolla; 2. Hunter Marriott; 3. Todd Shute; 4. Scott Dickey; 5. Cole Ferguson; 6. Mike Mullen; 7. Brian Mullen; 8. Justin Medler; 9. Cayden Carter; 10. Jacob Murray; 11. Troy Cordes; 12. Ken Schrader; 13. Adam Larson; 14. Luke Wanninger; 15. Tyler Groenendyk; 16. 4D Rob VanMil; 17. Tony Wedelstadt; 18. Russ Reinwald; 19. Jimmy Gustin; 20. Josh Most; 21. Kyle Brown; 22. Andrew Schroeder; 23. Carter VanDenBerg; 24. Richie Gustin.
Stock Cars – 1. Damon Murty; 2. Cayden Carter; 3. Jay Schmidt; 4. Justin Temeyer; 5. Shane Weller; 6. Brad Pinkerton; 7. Zack VanderBeek; 8. Jason See; 9. Kris Walker; 10. Donavon Nunnikhoven; 11. Nathan Wood; 12. Derrick Agee; 13. Jeremy Swanson; 14. Todd Reitzler; 15. Jim Lynch; 16. Brendon LaBatte; 17. Randy Killen; 18. Les Blakley; 19. Bret Koehler; 20. Brock Welch; 21. Jerry Miles; 22. Michael Bilyeu; 23. Robbie Merkle; 24. Ryan Fullenkamp.
Hobby Stocks – 1. Danny Thrasher; 2. Dustin Griffiths; 3. Jamie Songer; 4. Austin Luellen; 5. Adam Bonnett; 6. Shannon Anderson; 7. Derek Hodges; 8. Eric Stanton; 9. Steve Allen; 10. Nick Ulin; 11. Jeremy Auten; 12. Mike Kincaid; 13. Tyson Overton; 14. Dave Schmidt; 15. Christian Huffman; 16. Andy Hick; 17. Bobby Greene.
Northern SportMods – 1. Lucas Lamberies; 2. Jenae Gustin; 3. Curtis VanDerWal; 4. Kip Siems; 5. Jonathan Logue; 6. Tracy Wassenberg; 7. Jason McDaniel; 8. Austin Paul; 9. Rich Pavlicek; 10. Clint Luellen; 11. Logan Anderson; 12. Ryan Wolla; 13. Matthew Vangelder; 14. Kurtis Pihl; 15. Shawn Cooney; 16. Kevin Bethke; 17. Brianna Ambroziak; 18. Nate Chukuske; 19. Zach McKinnion; 20. Keagan Scott; 21. Colton Livezey; 22. Logan Scott; 23. Leroy Groenendyk; 24. Brayton Carter.