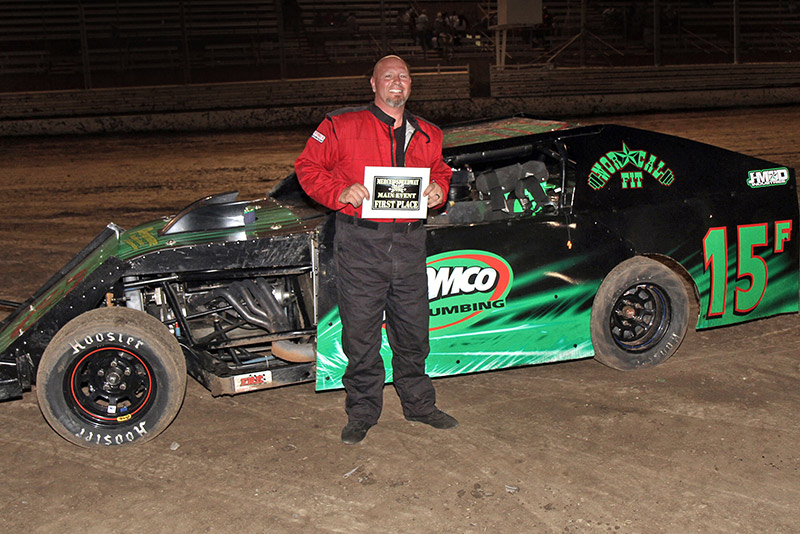 MERCED, Calif. (March 28) – When Les Friend won his first race ever in IMCA Xtreme Motor Sports Modified competition Saturday at Merced Speedway, he had no idea who the driver was that challenged him at the finish line.
"I always dreamed of driving a Modified and racing against the big names – Bobby Hogge, IV, Paul Stone, Scott Busby," said Friend, whose first race was at Merced just two months earlier. "I didn't know who was trying to pass me until after the race."
The driver trying to pass Friend would be Merced Speedway champ and Valley racing legend Paul Stone, driving a friend's car because his was destroyed in Arizona a few weeks earlier.
"I never met Paul Stone, and I knew it wasn't the car he drives that was on my tail," laughed Friend, as he hoisted his trophy at his birthday party the next day. "When he shook my hand I still didn't know that was him."
Stone was invited to drive the car owned by Merced's Jack Mounce and Will Davis. He came from the back of the pack to get behind Friend with five laps to go. That's when the steering box failed on the car and Stone was forced to strong arm the steering wheel all the way to the finish line.
"I was worn out by the last lap, " he explained. "I used every bit of strength I had left to try to make a clean pass going to the checkered flag."
Stone had the fans cheering louder than the sounds of the cars.
"I just couldn't pass him clean and I didn't want to chance wrecking him or me," Stone said. "Bet­ter being second than wrecking."
Friend's birthday party was in full swing with the win.
"I'm pretty stoked. It's my birthday and all my family was able to see me get my first win ever," Friend said. "This is a dream come true. I've raced all kinds of cars and always had the Modified division as my goal. The road to this win took 26 years and it was well worth it."
Fred Ryland and Keith Brown Jr. thrilled the crowd as they battled side-by-side for most of the Karl Chevrolet Northern SportMod feature, with Ryland making his move from the top of the track with two laps to go.
"The bottom of the track was greasy – a real tough place for me to run," Ryland said in victory lane. "Keith was protecting it, so I had no choice but to take him from the outside."