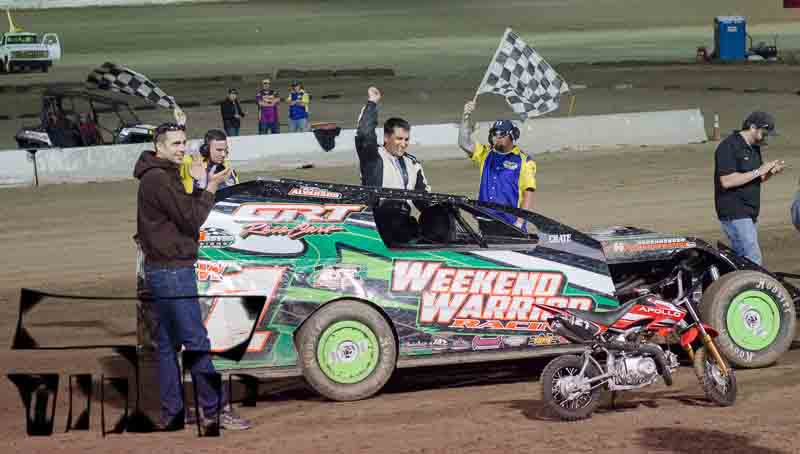 AZTEC, N.M. (March 27-28) – The lower line took Ricky Alvarado to the $1,200 checkers on Friday at Aztec Speedway.
He followed the top groove to a $2,000 payday on Saturday.
Alvarado swept IMCA Xtreme Motor Sports Modified features during the Havoc On the Plains Showdown Weekend. Along with a $3,200 share of the purse he went home with a 70cc dirt bike for winning Friday's dash for cash.
"I've won a lot of races before but I've never won a dirt bike," Alvarado said. "That was pretty cool."
He'd started seventh in the 25-lapper on Friday. After seeing how the track was changing, Alvarado changed gears right before the start of the feature.
Using the low line, he passed Aaron Spangler for the lead on the eighth circuit. Carburetor issues and cautions kept the contest close before Alvarado beat Zane DeVilbiss across the stripe by two car lengths.
Ryan Gaylord, Regan Tafoya and Brody Spangler completed the top five.
Alvarado drove from eighth starting toward the front after struggling with a tight car early in Saturday's 40-lap feature. He again caught Aaron Spangler for the lead, this time on lap 11, and ran the high side on a track that stayed fast to the finish.
Gaylord, DeVilbiss, Aaron Spangler and Tafoya were scored next.
"It was a good weekend for us," Alvarado said following IMCA career wins numbers 84 and 85. "Because of family and work commitments, I'll race every now and then this season, maybe once or twice a month. We won't chase points or win number 100. When that comes, it'll come."
First in $400 to win feature events for IMCA SportMods went to Jordan Eddleman on Friday and to Jesse Baldwin on Saturday.
Eddleman started third, took the lead on the third circuit, stuck to the lower line and stayed in front to the end of the opening night 25-lapper. Multiple cautions prevented lapped traffic from hindering Eddleman's dash to the checkers.
Joey Klemish and Robert Gallegos were second and third, respectively.
Baldwin found the higher line to his liking after starting sixth on Saturday. While most of the rest of the field hugged the infield tires, he worked his way into the lead on the 15th of 20 laps and held off Eddleman and Rex Higgins following a late restart.
Both IMCA Modified and SportMod features were Border States Racing Series and Blood, Sweat and Tears Series events.
Feature Results
March 27 – 1. Ricky Alvarado; 2. Zane DeVilbiss; 3. Ryan Gaylord; 4. Regan Tafoya; 5. Brody Spangler; 6. Garrett Loudon; 7. Michael Hale; 8. Derrall Bradford; 9. Aaron Spangler; 10. Eddie Martin; 11. Beau Speicher; 12. Casey Delp; 13. Shane DeVilbiss; 14. Bryan Wordelman; 15. Joe Miller; 16. Jody Cornell; 17. Wade Taylor; 18. Danny Bradford; 19. Bubba Alvarado; 20. Donald Robinson; 21. Tyrone Yazzie; 22. Chase Ruble; 23. Christian Johnson; 24. Nick Nelson.
March 28 – 1. Ricky Alvarado; 2. Gaylord; 3. Zane DeVilbiss; 4. Aaron Spangler; 5. Tafoya; 6. Hale; 7. Delp; 8. Bubba Alvarado; 9. Charles Felker; 10. Taylor; 11. Johnson; 12. Loudon; 13. Cornell; 14. Danny Bradford; 15. Shane DeVilbiss; 16. Brody Spangler; 17. Rick Spangler; 18. Speicher; 19. Martin; 20. Robinson; 21. Derrall Bradford; 22. Bill Butcher; 23. Wordelman; 24. Eddie Farley.