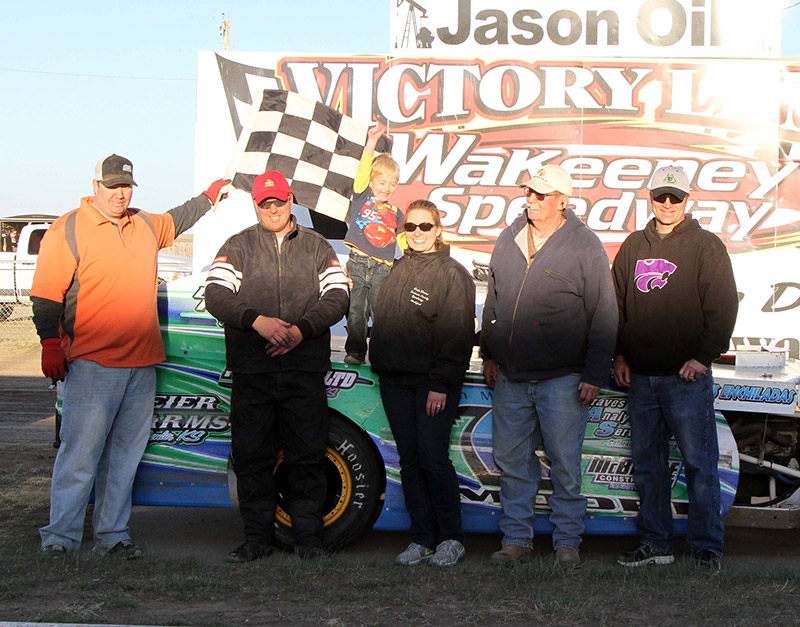 By Mike Hughes
WAKEENEY, Kan. (March 29) – Nate Moore was the $1,000 IMCA Xtreme Motor Sports Modified win­ner when WaKeeney Speedway opened the new season with its fifth annual Spring Fling.
Defending race winner Cody Gearhart started on the pole for the 25-lap feature and took the early lead with Ryan Heger in tow. After a caution on lap 18 when Mike Martin lost his motor, Moore made a pass on Gearhart to take the top spot.
Gearhart left the race later with tire issues. Moore held on to win with Heger, Randy Wilson, Kyle Rohleder and Dylan Sherfick completing the top five. The victory put Moore on the ballot for the Fast Shafts All-Star Invitational.
Drivers from six states competed for extra prize money at the Sunday special.
The 25-lap IMCA Stock Car feature saw its fair share of cautions but had the most exciting finish of the day. Chad Sterling took the lead at the drop of the green but was passed by Jason Rogers on lap 10.
Rogers' lead was short lived as five-time national champion Mike Nichols passed him on the out­side down the backstretch as the field reached the halfway mark. Nichols continued to lead with Rogers glued to the back bumper.
Rogers regained the lead on the white flag lap but Nichols got back past Rogers at the checkers for a trip to the winner's circle. Nick Tubbs finished third, followed by Sterling and Casey Woken.
Blaine Walt took advantage of his outside pole starting spot to take a lead he would not relinquish in the 20-lap Karl Chevrolet Northern SportMod main event. Austin Carter chased Walt most of the race but had to settle for the runner-up spot with Clay Money, Ryan Moser and Daniel Gottschalk rounding out the top five.
Tyrel Smith started pole in the 15-lap IMCA Sunoco Hobby Stock feature and quickly shot out to the lead. Colton Pfeifer assumed command on lap four and led the field at the halfway mark.
Smith was handed the top spot back on lap nine when Pfeifer went pitside with a flat tire. Brock Beeter chased Smith the rest of the distance but could not make a pass. Garrett Hager was third, Colin Heim fourth and Ron Wehling fifth.
Art Herzog led all 10 laps in the Mach-1 Sport Compact feature. A couple early cautions bunched the field but Herzog pulled away for the win. Kiowa Higdon was second, followed by Andrew McClel­lan and Trenton Cantrell.
The event sponsor was Xtreme Motor Sports.
Feature Results
Modifieds – 1. Nate Moore; 2. Ryan Heger; 3. Randy Wilson; 4. Kyle Rohleder; 5. Dylan Sher­fick; 6. Anthony Roth; 7. Tim Watts; 8. Clay Sellard; 9. Nick Link; 10. Jesse Richter; 11. Matt Henke; 12. Jacob Adler; 13. Marty Clark; 14. Brian Calhoon; 15. Mike Petersilie; 16. John Fab­rizius; 17. Danny Keller; 18. Chris Heim; 19. Cody Gearhart; 20. Mike Martin; 21. Brad Keller; 22. Don Geist; 23. Todd Schwarz; 24. Chadd Brown; 25. Jason Schoenberger; 26. Paul Jones; 27. Grant Florence.
Stock Cars – 1. Mike Nichols; 2. Jason Rogers; 3. Nick Tubbs; 4. Chad Sterling; 5. Casey Woken; 6. B.J. Wagoner; 7. Wheat Lippelman; 8. Aaron Gray; 9. Justin Lewis; 10. Dusty Witthuhn; 11. Jeff Tubbs; 12. Josh Crombie; 13. Cody Zimmerman; 14. Tyler Hahn; 15. Eric Kin­derknecht; 16. Shannon Maughlin; 17. Bruce Plumisto; 18. Austin Janousek.
Northern SportMods – 1. Blaine Walt; 2. Austin Carter; 3. Clay Money; 4. Ryan Moser; 5. Daniel Gottschalk; 6. Kaid Calhoon; 7. Jeremy Sigler; 8. Dakota Sproul; 9. Brian Cross; 10. Tyler Watts; 11. Trenton Kleweno; 12. Bentley Pywell; 13. Trevor Geist; 14. Eric Pfeifer; 15. Toby Witthuhn; 16. Kenny Schmidt; 17. Tristen Barton; 18. C.J. Pfannenstiel; 19. Kolton Vogel.
Hobby Stocks – 1. Tyrel Smith; 2. Brock Beeter; 3. Garrett Hager; 4. Colin Heim; 5. Ron Wehling; 6. Shay Simoneau; 7. Kyle Pfeifer; 8. Eric Cross; 9. Al Emmons; 10. Robert Emmons; 11. Irvin Earl; 12. Tom Reed; 13. Andrew Burg; 14. Colton Pfeifer; 15. Duane Wahrman; 16. Cody Wil­liams; 17. Brady Bencken; 18. Cody Graham; 19. Jace Smith; 20. Leon Pfannenstiel; 21. Ja­mie Songer.
Sport Compacts – 1. Art Herzog; 2. Kiowa Higdon; 3. Andrew McClellan; 4. Trenton Cantrell; 5. Nathan Barton; 6. Kirk Pfannenstiel; 7. Ed Jasper; 8. Randy Murphy; 9. Brandon Lobdell.