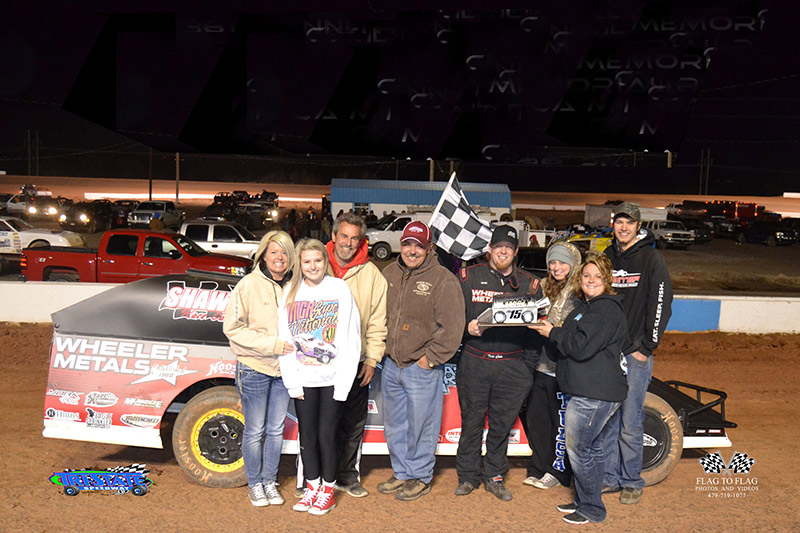 POCOLA, Okla. (March 27-28) – Tate Cole got the answers to a lot of questions Saturday night at Tri-State Speedway.
Cole led all 30 laps of Saturday's IMCA Xtreme Motor Sports Modified Cecil Harlan Memorial Kegger main event.
The victory paid $1,500, put Cole on the ballot for this September's Fast Shafts All-Star Invitational and came in his first start of 2015.
"I was kind of wondering about this weekend because I have a crate motor and this was my first night out because we didn't get to practice on Thursday (because of rain)," he explained. "I converted my open car from last year to IMCA and this was my first time on Hoosiers in that car. I wasn't sure how things were going to work out. They worked out pretty good, though."
Runner-up to Dan Womack in Friday's qualifying feature, Cole started outside row one on Saturday and was ahead in the first corner.
He used multiple lines in staying in the lead and pulled away on each restart, taking the checkers ahead of Ronny Gould, Brint Hartwick, 11th starting Van Gemmill and Steve Muilenburg.
"It was pretty neat because last year was my first full year with IMCA and I won my first night out then, too," said Cole, who piloted a Wheeler Metals-sponsored Shaw chassis. "I had a lot of help getting this win. We'll run here weekly and at Outlaw Motor Speedway whenever we can this season."
Cole was a four-time feature winner and also raced at the IMCA Speedway Motors Super Nationals for the first time last year.
Feature Results
Modifieds – 1. Tate Cole; 2. Ronny Gould; 3. Brint Hartwick; 4. Van Gemmill; 5. Steve Muilenburg; 6. Zane Hunter; 7. Mikey Bell; 8. Daniel Tarmington; 9. Dan Womack; 10. Chuck Bumgarner; 11. Andy Milliken; 12. Allen Owen; 13. Jason Payton; 14. Brandon Henry; 15. Jeff Joldersma; 16. Brandon Wilson; 17. Nick Lawrence; 18. William Gould; 19. Harry Palmer.