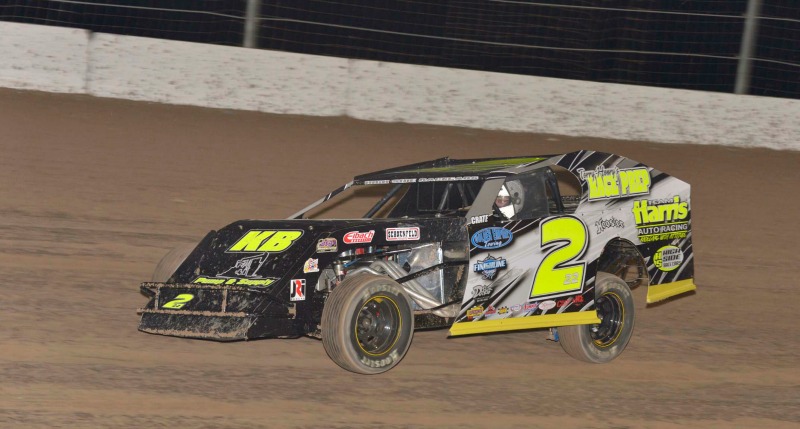 LAS VEGAS, Nev. (March 4-5) – R.C. Whitwell recorded his fourth feature win of the season and Scott Drake got his first when IMCA Xtreme Motor Sports Modifieds ventured to Las Vegas Motor Speedway for a midweek special on the half-mile Dirt Track.
Whitwell proved the fastest of 50 Wednesday night entries. He'd started eighth, battled back and forth with the 10th starting Josh Vogt much of the way and finally locked down the lead with three circuits left in the 25-lapper.
Vogt ended in second, about five car lengths off the pace. Bobby Hogge IV, Scott Drake and Clay Daly completed the top five.
Forty-three Modifieds vied on Thursday. Drake led all 25 circuits after starting outside the front row in the Terry Henry Race Prep-owned ride out of Bakersfield, Calif.
Whitwell made it too close for comfort after Drake got slowed by lapped traffic in the final four laps. He'd trailed by 10 car lengths before catching up coming out of the final turn.
The front pair made contact and Drake got into the front stretch wall while taking the checkers.
Whitwell, Ryan Ruter, Cody Laney and Jason Noll were next across the stripe.
Both main events paid $750 to win.
Kenny Wallace piloted a bor­rowed ride, dropped out of his heat race with transmission woes and was unable to start his opening night "B." He was 17th on Thursday.
Feature Results
March 4 – 1. R.C. Whitwell; 2. Josh Vogt; 3. Bobby Hogge IV; 4. Scott Drake; 5. Clay Daly; 6. Bret Bennett; 7. Tim Ward; 8. Ethan Dotson; 9. Andy Obertello; 10. Rob Sanders; 11. Sean Stewart; 12. Ryan Porter; 13. Troy Morris Jr.; 14. Logan Drake; 15. David Karst; 16. Wade Taylor; 17. Lance Mari; 18. Ryan Ruter; 19. Bert Beech; 20. Charles Davis Jr.; 21. Tony Kinkade Jr.; 22. Jason Noll; 23. Kyle Heckman; 24. Justen Yeager.
March 5 – 1. Drake; 2. Whitwell; 3. Ruter; 4. Cody Laney; 5. Noll; 6. Heckman; 7. Hogge; 8. Vogt; 9. Ward; 10. Daly; 11. Bennett; 12. Roger Holder; 13. Dotson; 14. Obertello; 15. Chris Crompe; 16. Morris; 17. Kenny Wallace; 18. Stewart; 19. Karst; 20. Mari; 21. Jay Marks; 22. Sanders; 23. Trent Guest; 24. Billy Wormsbecker.