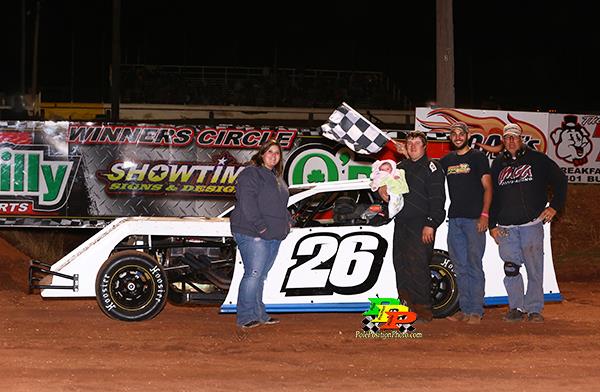 ABILENE, Texas (Feb. 20-21) – An Abilene Speedway special regular and a first-timer aced IMCA Xtreme Motor Sports Modified main events at the season-opening Ice Breaker.
Dean Abbey bested the Friday feature field while Jared Hoefelman topped Saturday's main event. Both races paid $700 to win.
Previously the winner of three Ice Breaker features and a Southern Challenge main event in the Southern SportMod division, Abbey drew the outside front row start on Friday and led all 20 laps. After multiple cautions, he was catching up to the back of the pack with the checkers in sight.
"My car was really good. I didn't think anybody could get by me if I didn't make a mistake," Abbey said. "I don't know if there was anything we could have done to the car to make it better."
New Mexico's Caleb Stone, Nebraska hotshoes Tyler Iverson and Hoefelman, and Oklahoma speedster William Gould completed the top five.
Hoefelman concluded his first-ever visit to Abilene by starting from the Saturday pole and staying in front for the duration of a caution-slowed contest.
"The Thursday practice was the first time I'd ever been on this track," Hoefelman said. "I had Gould behind me for the restarts and I knew he'd be strong. I stuck to the bottom. It was all about keeping the car straight and doing the best you could."
Gould finished four car lengths off the pace. Josh McGaha, Abbey and Iowan Cole Ferguson completed the top five.
More than 160 race teams were on hand for the Ice Breaker, which lost the Sunday program to rain, freezing temperatures and gusty winds in the 25-35 mile per hour range.
Matt Guillaume swept the IMCA Sunoco Stock Car features, driving to the front from 14th after winning his opening night 'B' feature and from seventh on Saturday.
He did most of his passing on the higher line Friday, taking the lead near midway and holding off Dennis Bissonnette following a late caution that resulted in a green, white, checkered finish. Mike Easterwood, Jason Batt and Jason Adcock rounded out the top five.
After busting up his radiator and part of his suspension in his Saturday heat, Guillaume went to the lower line in the main event and was in the lead by lap seven. He'd top that event ahead of David Phillips, Shane Priddy, Nebraska's Kyle Clough and Mark Patterson.
Former national champion Gabe Tucker finally found a way around defending king Chad Hertel for Friday's Scoggin-Dickey Parts Center Southern SportMod honors.
Hertel had drawn the pole and Tucker the outside row one start. Coming up on lapped cars, Tucker threw caution to the wind and went to a higher line to take the lead with two circuits left.
"I went to the outside and it worked," he explained. "We were coming up on lapped traffic, I figured I had to try something and it worked for us."
Third was Jeffry Abbey, Justin Shaw was fourth and J.C. Howell took third.
Bradley Poor was fastest on Saturday, adding a career third Ice Breaker trophy to his collection after catching up with and finally passing Matt Mueller in the late going.
"I don't remember another time in the last 10 years I've passed that guy," said Poor, who'd started third, fell back to fifth and ran much of the way in second. He was chased across the stripe by Mueller, Howell, Doug Easterling and Greg Frazer.
IMCA Sunoco Hobby Stock feature winners were Jeremy Oliver on Friday and another Nebraska traveler, Adam Armstrong, on Saturday.
Oliver started from the pole. Armed with a new engine, transmission and rear gear package, he led every lap of a main event slowed just once by caution. Armstrong, Gerald Spalding Jr., Andy Roller and Rodney Sparks were scored behind him.
"Everything worked really well for me," said Oliver, who won by close to a straightaway.
Armstrong raced to his career fourth Ice Breaker victory on Saturday, gaining the front spot with three laps left after Oliver dropped a cylinder.
"It was a fun track," he said. "It was real slick and smooth. I enjoy racing on those."
Completing the top five were Oliver, Roller, April Phillips and Kansan Duane Wahrman.
Feb 20 Results
Modifieds – 1. Dean Abbey; 2. Caleb Stone; 3. Tyler Iverson; 4. Jared Hoefelman; 5. William Gould; 6. Mark Patterson; 7. Justin Cass; 8. Chris Elliott; 9. Cole Ferguson; 10. John Gober; 11. Mike McCarthy; 12. Joe Spillman; 13. Neal DeBord; 14. Charles Brewer; 15. Ronny Gould; 16. Chris Dawson; 17. Danny Hogue; 18. Josh McGaha; 19. Fred Wojtek; 20. David Davis.
Stock Cars – 1. Matt Guillaume; 2. Dennis Bissonnette; 3. Mike Easterwood; 4. Jason Batt; 5. Jason Adcock; 6. Kirk Martin; 7. Cary White; 8. Michael Tennison; 9. David Phillips; 10. Jody York; 11. Mark Patterson; 12. Billy Wade; 13. Tobie Talk; 14. Kyle Clough; 15. Robert Barnett Sr.; 16. Bill Brzezinski; 17. Scott Kristinek; 18. Joe O'Bryan; 19. Levi Ely; 20. Shane Priddy; 21. Robert Barnett.
Southern SportMods – 1. Gabe Tucker; 2. Chad Hertel; 3. Jeffry Abbey; 4. Justin Shaw; 5. J.C. Howell; 6. Matt Mueller; 7. Dustin Robinson; 8. Shane Priddy; 9. Justin Long; 10. Bradley Poor; 11. Gary Underwood; 12. Clint Pelzel; 13. David Sanford; 14. Chad Hughes; 15. Terry Owen; 16. Mike Watkins; 17. Ronnie Gregory; 18. Lodi Mitchell; 19. Tim Hamilton; 20. Doug Easterling.
Hobby Stocks – 1. Jeremy Oliver; 2. Adam Armstrong; 3. Gerald Spalding Jr.; 4. Andy Roller; 5. Rodney Sparks; 6. Matt Smith; 7. Ryan Wilkerson; 8. Tiffany Bittner; 9. Chase Parson; 10. April Phillips; 11. Clint Day; 12. Kade Ogle; 13. Stephen Adams; 14. Duane Wahrman; 15. Cody Williams; 16. Jeremy Auten; 17. Dale Roys; 18. Gerald Spalding Sr.
Feb. 21 Results
Modifieds – 1. Hoefelman; 2. William Gould; 3. McGaha; 4. Abbey; 5. Ferguson; 6. Elliott; 7. Wojtek; 8. Gober; 9. Iverson; 10. Davis; 11. Brewer; 12. DeBord; 13. Spillman; 14. Vince Ogle; 15. Cass; 16. Ronny Gould; 17. Mike Opatik; 18. Stone; 19. Patterson; 20. McCarthy.
Stock Cars – 1. Guillaume; 2. Phillips; 3. Priddy; 4. Clough; 5. Patterson; 6. Martin; 7. Easterwood; 8. Wade; 9. Cary White; 10. Dustin White; 11. Vince Ogle; 12. Jason Adcock; 13. Joe O'Bryan; 14. Tennison; 15. Malcolm Kill; 16. Brendan Eilts; 17. Bissonnette; 18. Jody York; 19. Lance Shaw; 20. Cody Clark; 21. Batt.
Southern SportMods – 1. Poor; 2. Mueller; 3. Howell; 4. Easterling; 5. Greg Frazer; 6. Nick Clinkenbeard; 7. Hertel; 8. Tucker; 9. Sanford; 10. Priddy; 11. Shaw; 12. Abbey; 13. Robinson; 14. Kyle Wisdom; 15. Long; 16. Underwood; 17. Owen; 18. Pelzel; 19. Watkins; 20. Hughes.
Hobby Stocks – 1. Armstrong; 2. Oliver; 3. Roller; 4. Phillips; 5. Wahrman; 6. Bittner; 7. Smith; 8. Parson; 9. A.J. Dancer; 10. Wilkerson; 11. Aaron Norman; 12. Gerald Spalding Jr.; 13. Adams; 14. Day; 15. Ogle; 16. Roys; 17. Marc Kimbrell; 18. Gerald Spalding Sr.; 19. Auten; 20. Sparks; 21. Williams.