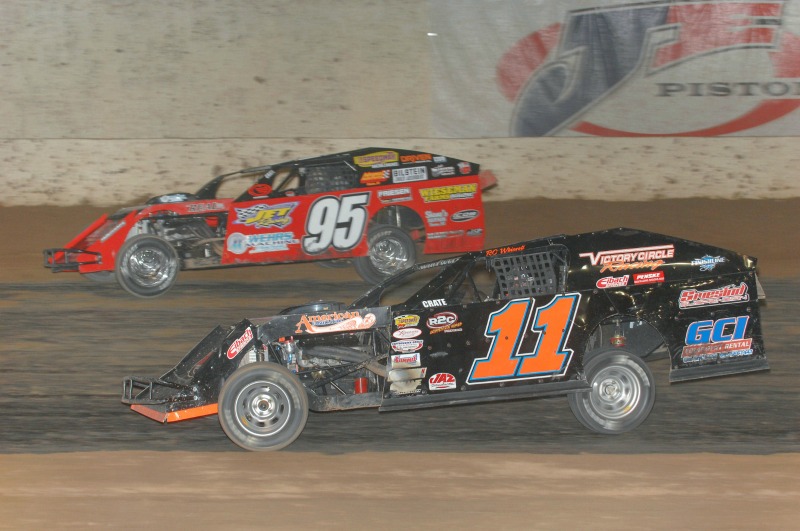 SOMERTON, Ariz. (Feb. 13-14) – A week after uncharacteristic Winter Nationals finishes, Dylan Smith got back in his groove at Cocopah Speedway.
Smith outran R.C. Whitwell for the $3,000 IMCA Xtreme Motor Sports Modified checkers in the fourth and final Winter Nationals show Saturday at Somerton.
The front pair had run door-to-door in the final turn before Smith pulled ahead of Whitwell, the $1,000 Friday night winner. Sixty Modifieds vied on opening night, 57 in the finale.
Smith's victory landed the fleet Nebraskan on the ballot for September's Fast Shafts All-Star Invitational and was his IMCA career 98th win. Four of those earlier victories came in as many Winter Nationals events last February. Smith had run no worse than fifth in nine career Cocopah starts before posting sixth and 11th place finishes on Feb. 6 and 7, respectively.
"We definitely ended the weekend on a high note," Smith said after the 30-lapper. "I started sixth, was able to get up to third real quick and then passed Tim Ward for second. We had a restart on about lap eight, I was able to get by Ricky Thornton Jr. and led the rest of the way. The car was good all weekend and lapped traffic kind of helped me out."
Whitwell qualified for the feature field by winning his 'B' feature and had to work his way up after starting 14th.
Thornton, Ward and Jeff Taylor completed the top five. Smith will return home to the Midwest to chase career wins 99 and 100 at Beatrice Speedway's Spring Nationals and Eagle Raceway's Ice Breaker Challenge before the weekly point season begins.
"Cocopah fits my driving style and it always gets you in a good mood to go down there where it's warm in the winter," he said. "We'd tried some different things (with setup) last weekend and went back to some of the things we'd run before this weekend."
Whitwell jumped out to big leads twice in the Friday show, after the initial start and again following the single caution near midway.
"The car was pretty good," said Whitwell, also winner of the Feb. 6 Winter Nationals feature. "I had a pretty good lead but the caution actually worked to my advantage because it took out the lapped traffic. There were about 10 cars I was trying to work my way through and that put them back behind me."
Shawn Strand, Taylor, Tyler Mecl and Smith were next across the stripe.
Winners of IMCA Sunoco Stock Car features were Andrew Altenburg and Manny Baldiviez. Leon­ard Mason topped both Friday and Saturday IMCA Sunoco Hobby Stock main events while Chris Toth and Nick Spainhoward were the Karl Chevrolet Northern SportMod winners.
Jon Courchaine and Tony Hill rounded out Friday's Stock Car top three. Hill and Jimmy Davy chased Baldiviez to the Saturday checkers.
Leonard Jones ran second in both Hobby mains. Tim Whitehead was third on Friday while Jason Beshears filled the show position on Saturday.
Spainhoward was the SportMod runner-up and Miles Morris was third on opening night. Cody Daffern and Timmy Reese completed Saturday's top three.
Feb. 13 Feature Results
Modifieds – 1. R.C. Whitwell; 2. Shawn Strand; 3. Jeff Taylor; 4. Tyler Mecl; 5. Dylan Smith; 6. Scott Drake; 7. Ryan Ruter; 8. Tim Ward; 9. Kyle Heckman; 10. Ryan Gaylord; 11. Zane DeVil­biss; 12. Hunter Marriott; 13. Alex Stanford; 14. Jeff Sheppard Jr.; 15. Brian Schultz; 16. Collen Winebarger; 17. Bryan Burnes; 18. David White; 19. Lance Mari; 20. Paul Stone; 21. Mike Jergens; 22. Mike Wedelstadt; 23. Chaz Baca; 24. Eric Center.
Stock Cars – 1. Andrew Altenburg; 2. Jon Courchaine; 3. Tony Hill; 4. Manny Baldiviez; 5. Jimmy Davy; 6. Joey Essary; 7. Steven Daffern; 8. Henry Buijnorouski; 9. Rick Hibbard; 10. Kim Hansen; 11. Paul Pilgrim; 12. Race Fisher; 13. Thomas Daffern.
Hobby Stocks – 1. Leonard Manos; 2. Leonard Jones; 3. Tim Whitehead; 4. Mason Morris; 5. Wayne Rebello; 6. Jim Robinson; 7. Scott Shaw; 8. Frank Maisano; 9. Ron Routh; 10. Jason Beshears; 11. Craig Ebers.
Northern SportMods – 1. Chris Toth; 2. Nick Spainhoward; 3. Miles Morris; 4. Sean Callens; 5. Corey Clayton; 6. James Dupre; 7. Larry Wyatt; 8. Steven Kihle; 9. Kyle Smith; 10. Jason Linn; 11. Thomas Harrison; 12. Timmy Reese; 13. Ron Pegues; 14. Joshua Cordova.
Feb. 14 Feature Results
Modifieds – 1. Smith; 2. Whitwell; 3. Ricky Thornton Jr.; 4. Ward; 5. Taylor; 6. Marriott; 7. Heck­man; 8. DeVilbiss; 9. Strand; 10. Cody Laney; 11. Drake; 12. Bobby Horton; 13. Baca; 14. Wedel­stadt; 15. Ruter; 16. Robert Miller; 17. Sheppard; 18. Burnes; 19. Ty Rogers; 20. Bret Bennet; 21. Mike Corning; 22. Lance Mari; 23. Schultz; 24. Randy Brown.
Stock Cars – 1. Baldiviez; 2. Hill; 3. Davy; 4. Pilgrim; 5. Steven Daffern; 6. Hibbard; 7. Cour­chaine; 8. Altenburg; 9. Fisher; 10. Hansen.
Hobby Stocks – 1. Manos; 2. Jones; 3. Beshears; 4. Morris; 5. Whitehead; 6. Shaw; 7. Rebello; 8. Ebers.
Northern SportMods – 1. Spainhoward; 2. Cody Daffern; 3. Reese; 4. Callens; 5. Dupre; 6. Mor­ris; 7. Cordova; 8. Larry Wyatt; 9. Smith; 10. Harrison; 11. Toth; 12. Kihle.