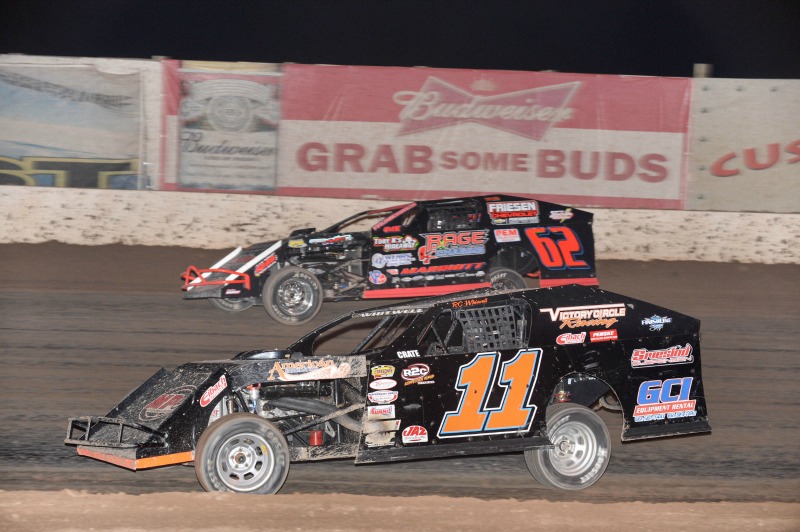 SOMERTON, Ariz. (Feb. 6-7) – R.C. Whitwell and Hunter Marriott proved the fastest in big IMCA Xtreme Motor Sports Modified fields at Cocopah Speedway's Winter Nationals opening weekend.
Whitwell raced from 12th starting to win Friday's main event, which drew 65 entries. Marriott scored the Saturday checkers, which had 54 entries.
Both Modified features paid $1,000 to win; Marriott was already on the ballot for the Fast Shafts All-Star Invitational.
In all, drivers from 18 states and Canada vied at the fourth annual event. Manny Baldiviez and Andrew Altenburg were IMCA Sunoco Stock Car winners, Scott Shaw and Leonard Manos topped IMCA Sunoco Hobby Stock mains and Timmy Reese and Sean Callens topped Karl Chevrolet Northern SportMod features.
Whitwell caught Marriott for the lead with four circuits left in the opening night 25-lapper. Marriott, Scott Drake, 12th starting Brian Schultz and David Murray Jr. completed the top five.
"There was no lapped traffic and the cautions helped me because they bunched the field back up," Whitwell said. "There was a lot of pretty good competition there. It definitely gives you a really good feeling to be able to run with so many of the top IMCA guys."
The Saturday feature ran caution-free. Marriott took the green from outside row one and beat pole starter Christy Barnett to the checkers.
Tim Ward, Marlyn Seidler and the 14th starting Whitwell were next across the stripe.
Baldiviez started outside row one and bested Altenburg and seventh starting Jimmy Davy in the race to Friday's Stock Car checkers.
Altenburg drew the pole and won on Saturday, ahead of Baldiviez and Jon Courchaine.
Pole starter Shaw, seventh starting Jason Beshears and Craig Ebers ran 1-2-3 in the Hobby Stock opener.
Manos was chased across the Saturday stripe by Shaw and Beshears.
Reese outran sixth starting Chris Toth and James Dupre for top SportMod honors on Friday.
Callens took Saturday's initial green from the fifth spot and won ahead on eighth starting Nick Spainhoward and Cody Daffern.
Feb. 6 Feature Results
Modifieds – 1. R.C. Whitwell; 2. Hunter Marriott; 3. Scott Drake; 4. Brian Schultz; 5. David Murray Jr.; 6. Dylan Smith; 7. Spencer Wilson; 8. Mike Corning; 9. Mike Jergens; 10. Jacob O'Neil; 11. Steve McCollough; 12. Zane DeVilbiss; 13. Phil Penney; 14. Bobby Horton; 15. Eric Center; 16. Jeff Sheppard Jr.; 17. David Karst; 18. Duane Cleveland; 19. Mike Wedelstadt; 20. Lance Mari; 21. Jeff Olschowka; 22. Kyle Heckman; 23. Ricky Thonrton Jr.; 24. Jeff Taylor.
Heat winners were Drake, Wedelstadt, Olschowka, Marriott, Corning and Murray. "B" feature winners were Taylor, O'Neil and Thornton.
Stock Cars – 1. Manny Baldiviez; 2. Andrew Altenburg; 3. Jimmy Davy; 4. Race Fisher; 5. Jon Courchaine; 6. Steven Daffern; 7. Joey Essary; 8. Tony Hill; 9. Thomas Daffern; 10. Jordan White; 11. Henry Buijnorouski; 12. Rick Hibbard.
Heat winners were Altenburg and Courchaine.
Hobby Stocks – 1. Scott Shaw; 2. Jason Beshears; 3. Craig Ebers; 4. Mason Morris; 5. Leonard Jones; 6. Frank Maisano; 7. Steve Stone; 8. Jim Robinson; 9. Ron Routh; 10. Tim Whitehead; 11. Brent Wofford.
Heat winners were Beshears and Jones.
Northern SportMods – 1. Timmy Reese; 2. Chris Toth; 3. James Dupre; 4. Miles Morris; 5. Cody Daffern; 6. Corey Clayton; 7. Joshua Cordova; 8. Steven Kihle; 9. Kyle Smith; 10. Schannon Mohamed; 11. Ron Peques; 12. Nick Spainhoward; 13. Thomas Harrison.
Heat winners were Daffern and Spainhoward.
Feb. 7 Feature Results
Modifieds – 1. Marriott; 2. Christy Barnett; 3. Tim Ward; 4. Marlyn Seidler; 5. Whitwell; 6. Schultz; 7. Murray; 8. Drake; 9. Thornton; 10. Ryan McDaniel; 11. Smith; 12. Shawn Strand; 13. Tyler Mecl; 14. McCollough; 15. Ryan Gaylord; 16. Taylor; 17. O'Neil; 18. Heckman; 19. Wilson; 20. Collen Winebarger; 21. Jergens; 22. Cleveland; 23. Robby Sawyer; 24. Lance Mari.
Heat winners were Barnett, Marriott, Mari, Seidler, Schultz and Ward. "B" feature winners were Smith, Whitwell and Thornton.
Stock Cars – 1. Altenburg; 2. Baldiviez; 3. Courchaine; 4. Essary; 5. Steven Daffern; 6. Ty Rogers; 7. Thomas Daffern; 8. Fisher; 9. Buijnorouski; 10. Davy; 11. Hibbard; 12. Duane Rogers; 13. White.
Heat winners were Altenburg and Baldiviez.
Hobby Stocks – 1. Leonard Manos; 2. Shaw; 3. Beshears; 4. Jones; 5. Morris; 6. Robinson; 7. Wofford; 8. Stone; 9. Ebers; 10. Routh; 11. Maisano.
Manos won the heat.
Northern SportMods – 1. Sean Callens; 2. Spainhoward; 3. Daffern; 4. Toth; 5. Reese; 6. Dupre; 7. Cordova; 8. Dennis Gates; 9. Clayton; 10. Smith; 11. Mohamed; 12. Peques; 13. Harrison; 14. Morris; 15. Kihle.
Heat winners were Toth and Kihle.