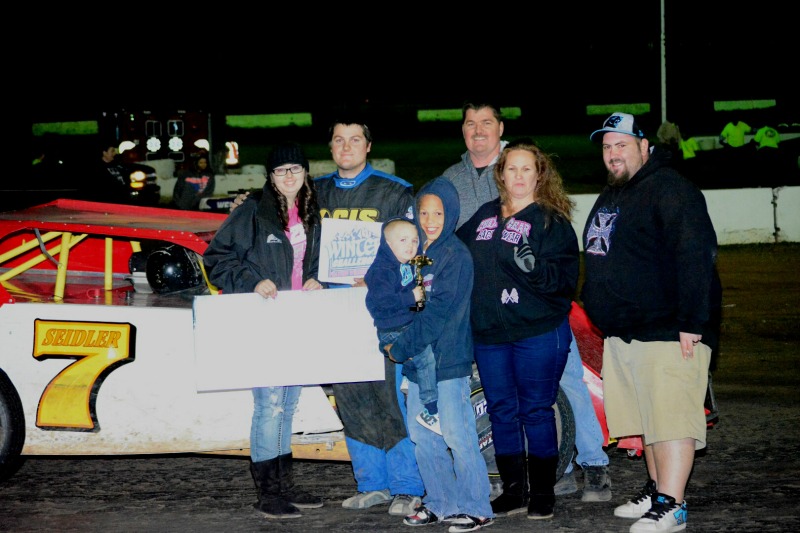 By Lonnie Wheatley
PEORIA, Ariz. (Jan. 25) – Ricky Thornton Jr. picked up his second IMCA Xtreme Motor Sports Modified win in a row on night three of the Winter Challenge at Canyon Speedway Park.
Thornton took advantage of a slight bobble by Zane DeVilbiss to race into the lead with laps left in Sunday's $1,250 to win main event.
Forty-two Modifieds were entered in the third and final Winter Challlenge event of the weekend.
DeVilbiss had drawn a front row start while Thornton worked his way up from eighth and headed pursuit of the defending national champion most of the 25-lapper.
"The longer we ran, the tighter he got and the better my car got," said Thornton, who shot into the lead coming out of turn two and stayed in front the last five times around the track.
His share of the Winter Challenge purse at Canyon came to $3,100.
"It was definitely a good weekend," Thornton said.
Tim Ward charged from 21st starting to capture the show position. Hunter Marriott advanced from 17th to fourth with Brian Schultz racing from 19th to round out the top five.
The five-race Winter Challenge resumes with round four at Tucson's USA Raceway this Friday, Jan. 30 with action going green at 7 p.m.
Feature results – 1. 7-Ricky Thornton Jr.; 2. Zane Devilbiss; 3. Tim Ward; 4. Hunter Marriott; 5. Brian Schultz; 6. Jeff Sheppard Jr.; 7. Mike Jergens; 8. Jay Marks; 9. Trent Gaust; 10. Collen Winebarger; 11. Caleb Stone; 12. Jesse Williamson; 13. Jason Haug; 14. Jim Perkins; 15. Garrett Funk; 16. John Parmeley; 17. Bo Partain; 18. Aaron Spangler; 19. Mark Stewart; 20. Lance Mari; 21. Jerry Schram; 22. Jason Noll; 23. Scott Sluka; 24. Paul Stone.
Heat winners were DeVilbiss, Funk, Sheppard, Thornton and Partain. "B" feature winners were Marriott and Stone.