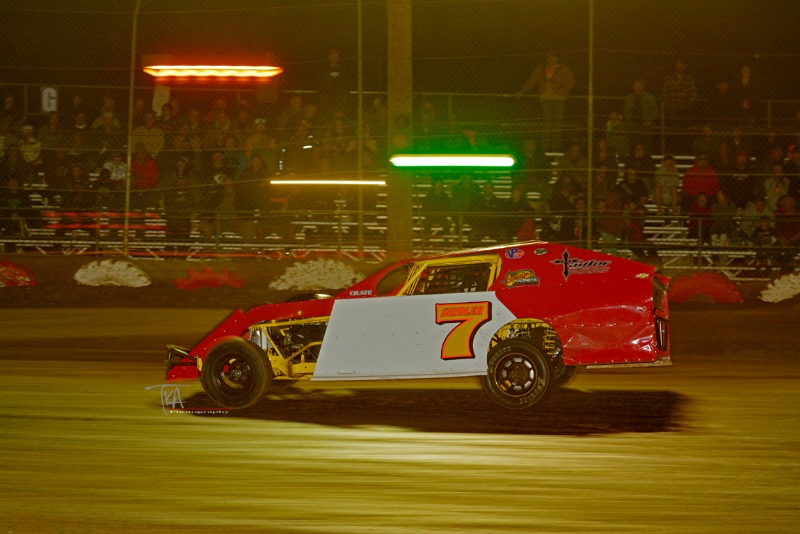 By Lonnie Wheatley
PEORIA, Ariz. (Jan. 24) – A tenth of a second made the difference between first place and second Saturday at Canyon Speedway Park.
Ricky Thornton Jr. beat Tim Ward to the finish line by that blink of an eye margin in Saturday's 25-lap Winter Challenge feature for IMCA Xtreme Motor Sports Modifieds, which drew 46 entries.
The 17th starting Thornton earned $1,250 for his efforts; he was already on the ballot for September's Fast Shafts All-Star Invitational. Ward had scored Friday Winter Challenge honors at Canyon
Winner of the second 'B' feature, Thornton ran multiple lines early on, was in the top four by lap 10 and was second when the 15th circuit was scored.
Ward and Thornton had both taken the white flag before a spun car brought out what proved to be the final caution.
Thornton, in Marlyn Seidler's back-up car, moved off the bottom and higher on the track for the last two laps.
"It was kind of a Hail Mary thing. I've won close races before but never a race that close," he admitted. "I've never won coming out of turn four on the final lap. I had to wait on my RACEceiver to be sure I won."
"He had more momentum than I did coming out of four," said Ward. "I could tell he was a little bit ahead of me."
Pole starter Lance Mari rounded out the Modified podium with Hunter Marriott charging from 22nd to fourth. Jesse Williamson advanced nine positions to complete the top five.
Feature results – 1. Ricky Thornton Jr.; 2. Tim Ward; 3. Lance Mari; 4. Hunter Marriott; 5. Jesse Williamson; 6. Jay Marks; 7. Garrett Funk; 8. Mike Jergens; 9. Zane DeVilbiss; 10. Eric Center; 11. Phil Penney; 12. John Parmeley; 13. Mark Stewart; 14. Bubba Stafford; 15. Paul Stone; 16. Jerry Schram; 17. Steve Stultz; 18. Scott Sluka; 19. Jeff Sheppard Jr.; 20. Scott Eaton; 21. Collen Winebarger; 22. Jason Noll; 23. Caleb Stone; 24. Aaron Spangler.
Heat winners were Marks, Center, Slukak, DeVilbiss and Stone. "B" feature winners were Thornton and Jergens.