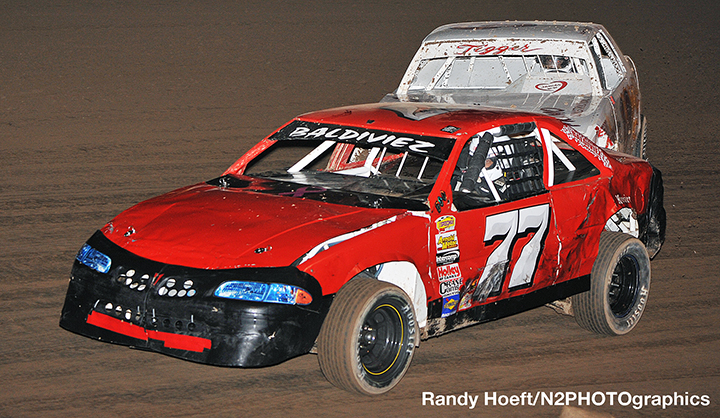 SOMERTON, Ariz. (Jan. 16) – The checkered flag flew Friday for Manny Baldiviez, on a night of firsts at Cocopah Speedway.
Baldiviez won the first-ever weekly IMCA Sunoco Stock Car feature held at Cocopah and in Arizona. The victory was also his first in sanctioned competition and followed an inadvertent 360 degree turn after the race was over.
"The fans enjoyed it," the Chula Vista, Calif., driver reported good-naturedly. "It was a pretty fun race and I really enjoyed it."
Baldiviez started fifth and had the lead midway through the 15-lapper. Nine cars comprised the inaugural field and runner-up honors went to Joey Essary.
Local street stocks give way to IMCA Stock Cars this season at Cocopah. Just two points had separated Baldiviez from the final title awarded in that class last year.
"I'm really going to focus on the championship this season," said Baldiviez, a six-time street stock feature winner in 2014. "This track has been getting better every year. Their name has been getting out more in the racing world, which is great for them."
His wife Andrea and buddy Mike Harlan make up Baldiviez' crew. Largely self-sponsored, he's backed by Discount Tires and Chassis Dynamics, both of Yuma.
"It's tough but we make it work," said Baldiviez, who keeps his Stock Car in a local shop. "What I like best about this class are the racers I race with. They're friendly and they drive clean."
"This is a class you can get into and not have to spend a lot of money," he continued. "I've only got a couple years under my belt so it's a good place for me to start."
Stock Cars join race programs each night of Winter Nationals at Somerton on Feb. 6. 7, 13 and 14.
Cocopah promoter Greg Burgess had announced his intention to sanction his Stock Car division with IMCA this season in April of 2012.