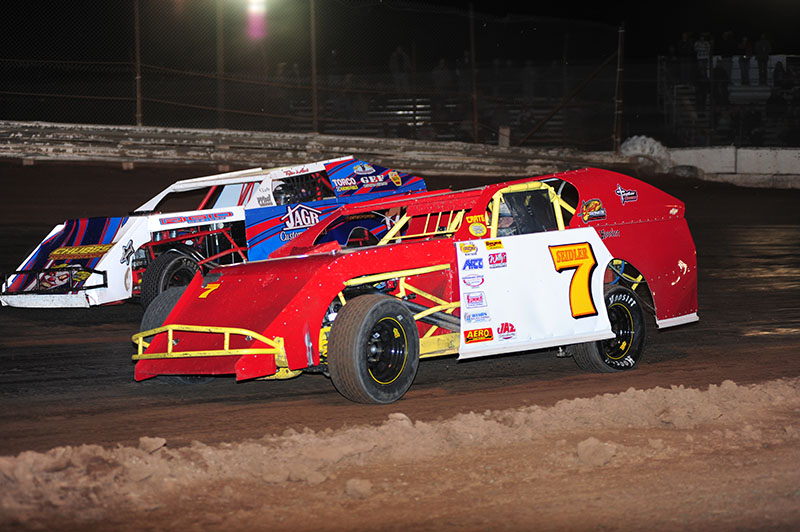 QUEEN CREEK, Ariz. (Jan. 17-18) – Travelers Marlyn Seidler and Hunter Marriott both experienced racing highs and lows over the course of Arizona Speedway's Snowbird Classic.
North Dakota veteran Seidler topped Saturday's IMCA Xtreme Motor Sports Modified main event despite a late-race collision with a lapped car, then fashioned a third-place finish after starting 10th on Sunday with a banged-up ride.
Missourian Marriott cut his right front tire while leading midway through the opening night show and was scored last. He started 16th, charged through the field and passed defending national champion Zane DeVilbiss for the night two checkers.
Both features paid $1,250 to win. Seidler's victory put him on the ballot for the Fast Shafts All-Star Invitational; Marriott was already vote eligible.
An early shakeout left pole starter Seidler in fourth in the Saturday show. Following a caution with 10 circuits left in the 25-lapper, he shot to the front using the middle line and was still in the lead when the white flag was out.
That's when it got exciting.
Seidler was unable to avoid contact and drove over the tires a lapped car trying to pull into the infield with an expired engine. He maintained the lead after the restart, beating DeVilbiss, Tyler Mecl and Don Earven across the stripe.
"Everyting just worked out for us," Seidler said after IMCA career win number 77. "And we still got the car fixed enough that we could start 10th and run third the next night."
After cutting a tire on unlucky lap 13 Saturday, Marriott had his work cut out for him with an outside row eight start Sunday.
"I started passing cars and kept it going," Marriott said after his successful debut weekend in a new Rage Chassis. "The middle and high lines worked best for me. We had a caution with seven laps to go, I passed Zane and never looked back."
His early-season trip to the sunny southwest will be the longest of Marriott's career. With the first win of 2015 in hand, he turned his attention to fixing the hot water heater in the toter Monday morning.
John Morris was fourth on Sunday at Queen Creek. Spencer Wilson had swept Snowbird Classic features last January and finished fifth each night out this time around.
Feature Results
Jan. 17 – 1. Marlyn Seidler; 2. Zane DeVilbiss; 3. Tyler Mecl; 4. Don Earven; 5. Spencer Wilson; 6. Mike Wedelstadt; 7. Tim Ward; 8. Garrett Funk; 9. George Fronsman; 10. Mark Stewart; 11. Shawn Strand; 12. Eric Center; 13. Scott Sluka; 14. Brian Schultz; 15. John Morris Jr.; 16. Jeff Sheppard Jr.; 17. Jason Beaulieu; 18. Jason Briese; 19. Kenny Hawkins; 20. Norman Uptain Jr.; 21. John Parmeley; 22. Lance Mari; 23. Mike Masters; 24. Hunter Marriott.
Jan. 18 – 1. Marriott; 2. DeVilbiss; 3. Seidler; 4. Morris; 5. Wilson; 6. Strand; 7. Schultz; 8. Mecl; 9. Beaulieu; 10. Ward; 11. Sheppard; 12. Earven; 13. Uptain; 14. Funk; 15. Sluka; 16. Brad Whitfield; 17. Cody Miller; 18. Stewart; 19. Center; 20. Parmeley; 21. Hawkins; 22. Wedelstadt; 23. Mike Strobl; 24. Mari.