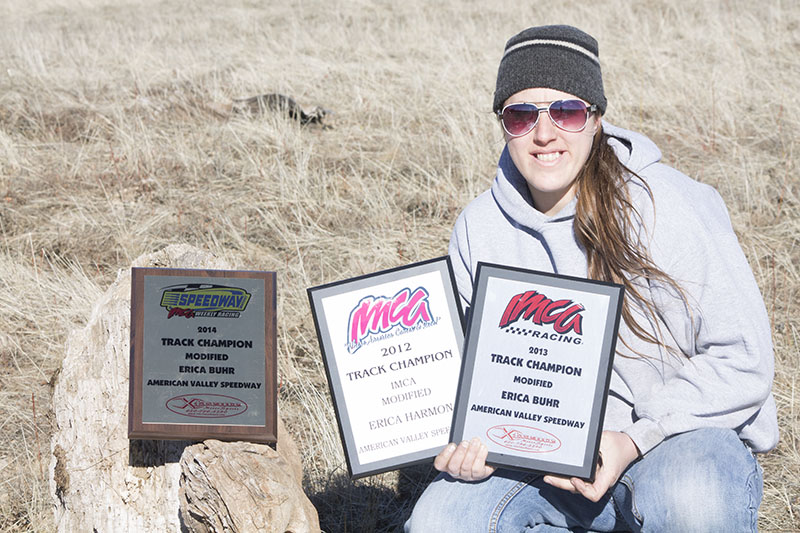 LAKE ALMANOR, Calif. – Her place in the IMCA history book secure, Erica Buhr will race for a fourth straight IMCA Xtreme Motor Sports Modified crown this season at American Valley Speedway.
Boosted by a string of consistent finishes through early August, Buhr won her third straight title at Quincy, an hour to the southeast of her Lake Almanor, Calif., home, in 2014.
She became the first female driver to win three consecutive titles at the same track in the divi­sion's 36-year history. Minnesota competitor Stephanie Forsberg accomplished the same 2012-2014 feat in the Mach-1 Sport Compact division.
"You win championships in the shop," said Buhr, who owns At Your Service Auto Repair and does all the non-engine work on her car. "I don't win a lot of features but I'm consistent. I don't keep track of points. I race my race, do the best I can and lately I've been coming out on top, which is awesome."
Buhr had raced for four years, three seasons in a local stock car class and another in mini-stocks, be­fore seeing her first Modified action and winning a local track title in 2005.
"We were going good in the stock cars and finally got a track championship. A guy from Susan­ville, where I used to race, suggested I get into a Modified," she said. "I hot lapped that car and was hooked. I bought it and won the first night out, and one of the guys I beat was the one I bought it from."
All three of Buhr's track championships came in a 2010 Shaw purchased from Nevada speedster Shawn Natenstedt. Her first IMCA win accompanied her 2012 Quincy title.
"I like the competition there and I like the guys I run with," Buhr said. "I grew up with a lot of the guys who raced these cars, stock cars or mini-stocks. Going to Quincy is like going to a go-kart track with your family. It's fun."
Her six-year-old son Rowdy has raced in the box stock car class since he was three, so Buhr has added crew chief to a racing resume that already includes driver and car owner.
Buhr's crew includes her husband Steve and Eddie Young. Sponsors are At Your Service Auto Repair and NAPA Auto Parts, both of Chester, and A & I Engines in Redding.