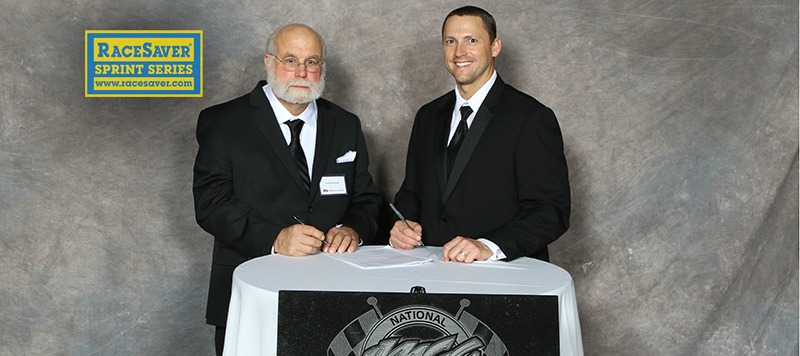 VINTON, Iowa – Christmas came early for Sprint Car drivers across the country, in the form of a new, joint venture between IMCA and RaceSaver.
Under terms of the agreement, RaceSaver founder French Grimes agreed to allow IMCA long-term use of RaceSaver rules for weekly, regional series and special event use.
In return, IMCA will provide administration, support existing sanctions and promote new sanctions for the Sprint Car class that will be known as RaceSaver, a division of IMCA.
"The signing of this historic partnership strengthens RaceSaver and IMCA, and secures our posi­tion as the largest sprint car sanctioning body in existence," Grimes emphasized. "RaceSaver brings more than 1,000 Sprint Cars in 17 states and IMCA brings an organization that has sup­ported local weekly racing with a national structure."
"RaceSaver participants, regions and tracks can now have the benefit of IMCA's national struc­ture, insurance programs for participants, and comprehensive programs for regional and national champions," he continued.
"French has developed one of the most cost-effective and innovative engine packages in Sprint Car racing and it fits well with our philosophy at IMCA for the past 99 years," said IMCA Vice President of Operations Brett Root. "This agreement is great for RaceSaver, it's great for IMCA and it's great for Sprint Car drivers. They will receive the same benefits as 8,000-plus drivers in our other divisions."
Sanctioning and promotion of RaceSaver will now be under the control of IMCA and drivers can compete for the national championship and not have to travel across the country.
A point fund structure is to be announced before Jan. 1.
All aspects of RaceSaver that pertain to rules, record keeping, cylinder heads, tires, engine certifica­tion hard cards, engine sealing and tech officials will remain unchanged and under control of Grimes.
"We will work closely with IMCA to bring all existing regions and tracks into the big tent now pro­vided by this partnership," Grimes said. "The opportunities for RaceSaver to preserve its mission of accessible racing will be enhanced greatly by our association with IMCA and we look forward with great enthusiasm to the years ahead."
"This partnership has the potential to make RaceSaver, a division of IMCA one of the largest divisions in our organization," Root pointed out. "That's a monumental step from where the IMCA Sprint Car division was just three short years ago."
The original partnership agreement between IMCA and Virginia-based RaceSaver was an­nounced in February of 2012.
Weekly tracks in three states sanctioned RaceSaver Sprint Car races this season; sanctioned regional series events were held in seven states.
The second annual Sprint Car Super Nationals brought 76 race teams from across the country to Eagle Raceway during the Labor Day Weekend.
"IMCA has a long history of Sprint Car racing over the last 60 years. French Grimes and RaceSaver also have a proven history," Root said. "This new agreement combines his expertise with our administrative resources. This new relationship makes sense for IMCA and it makes sense for RaceSaver."
Questions about the new partnership can be addressed to Grimes and IMCA staff at booth 3709 during the PRI trade show Dec. 11-13 in Indianapolis, Ind.