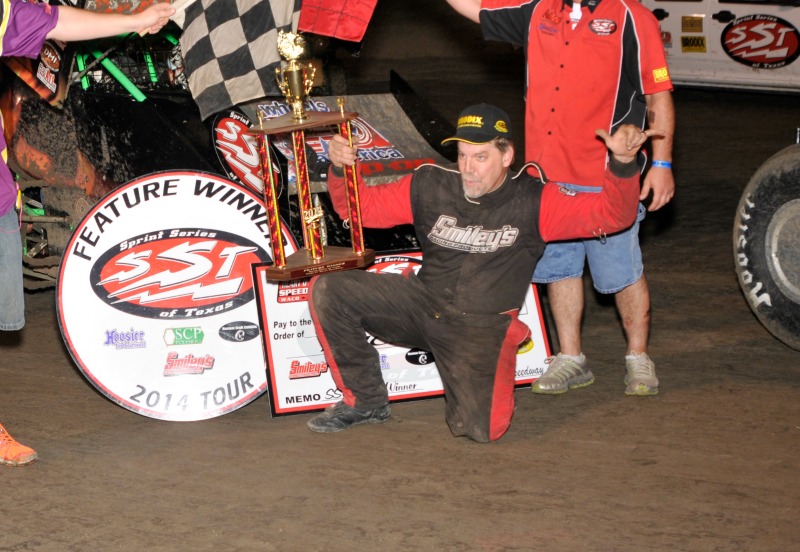 WACO, Texas (Oct. 25) – A low-budget driver raced to one of the biggest wins of his career in the Sprint Series of Texas finale.
David Garland collected the Saturday checkers, his SST first, after swapping the lead with Trevor Reed three times on the final circuit at Heart O' Texas Speedway.
"Whew! What a night!" he exclaimed. "I'd started seventh and had to battle Kenny Elwood for second before I could even try to catch Trevor."
After seeing his motor expire during the Sept. 26 IMCA Eagle Motorsports RaceSaver Sprint Car series show at Mountain Creek Speedway – he and fiancée Renee traded vows in the pit area at Grand Prairie that evening – Garland ran 11th in the Oct. 4 feature at Cotton Bowl Speedway.
His Wheels of America-owned Sprinter was powered the last two nights by a motor borrowed from Sebie Davis, who'd contacted Garland via Facebook after learning of his engine woes.
Reed, Dustin Woods and Jerry Hammock ended second through fourth, respectively, at HO'T. Jason Howell lent a hand with adjustments to the loaned motor and clinched the Sprint Series of Texas title with a fifth place finish that evening.
Feature results – 1. David Garland; 2. Trevor Reed; 3. Dustin Woods; 4. Jerry Hammock; 5. Jason Howell; 6. Gary Kelley; 7. Drew Wright; 8. Ed Keaton; 9. Carl Large; 10. Mark Klis; 11. Kenny Elwood; 12. Rodney Henderson; 13. Kenny Venable; 14. Danny Merrell; 15. Corey Minor; 16. Cody Whitworth; 17. Craig Woods; 18. Adam Barr; 19. Reagan Reed; 20. Matt Etzelmiller.