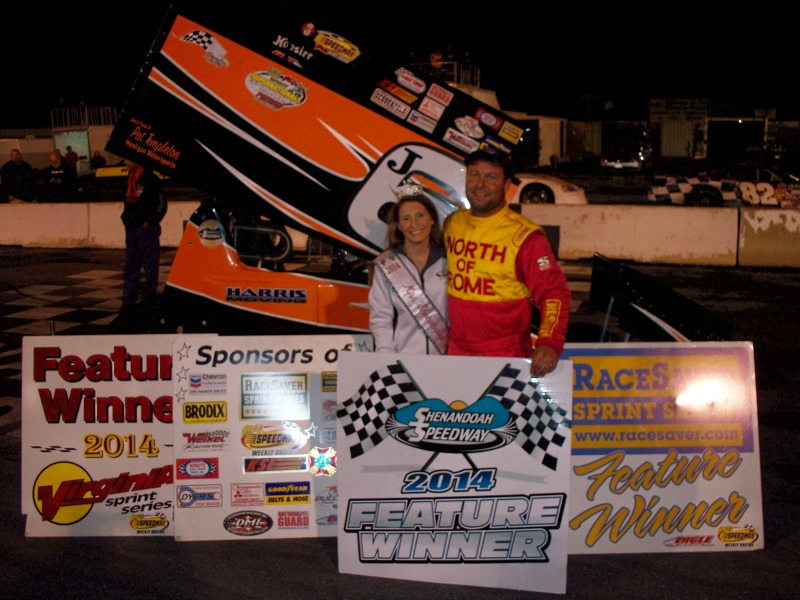 By Jim Haines
SHENANDOAH, Va. (Oct. 11) – Jerald Harris passed Brian Lawson a few feet in front of the checkered flag to win in the closest finish in Virginia Sprint Series history Saturday at Shenandoah Speedway.
The series champion's margin of victory was so slim that the electronic scoring system was needed to decide the winner of the 14th and final IMCA Eagle Motorsports RaceSaver Sprint Car tour event of the season.
Chris Ware and Anthony Linkenhoker paced the field to green with Linkenhoker out first and bringing along Brian Lawson.
The top two were smooth and steady as Linkenhoker continued to lead until lap eight when Lawson got a better run in to turn one and went into the lead.
Harris made his way to the front as Lawson was trying to get away but as the fast paced race clicked by, traffic was coming up and it was getting close with two to go.
Lawson stayed smooth but Harris closed as they took the white flag. When the two rockets entered turn four splitting a lapped car, it became a drag race to the finish with Harris winning by .0015 of a second in a thrilling three-wide finish.
Harris was a five-time series winner this season. Four of those checkers came at Shenandoah.
Feature results – 1. Jerald Harris; 2. Brian Lawson; 3. Tom Humphries; 4. Anthony Linkenhoker; 5. Billy Norfleet; 6. Tony Harris; 7. Chris Ware; 8. Charlie Ware; 9. Ron Moyers