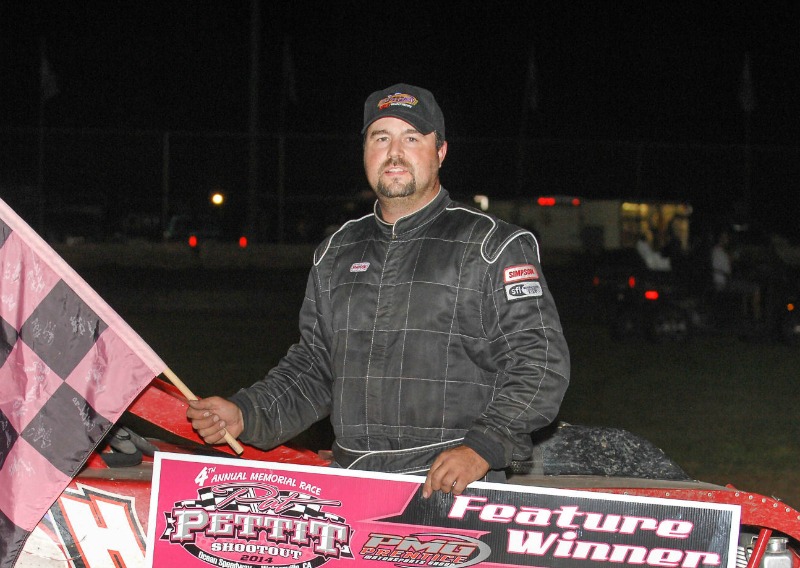 WATSONVILLE, Calif. (Oct. 3-4) – Brad Pounds was in the right place at the right time to win Friday's Pat Pettit Memorial Shootout feature for IMCA Xtreme Motor Sports Modifieds at Ocean Speedway.
A morning spent in the shop put Bobby Hogge IV in Watsonville's victory lane on Saturday.
Pounds earned $2,003 and a berth on the Fast Shafts All-Star Invitational ballot for his opening night triumph; Hogge, already vote eligible, went home from night two with a $3,003 paycheck.
After starting outside Albert Gill on the front row, Pounds fell back in the field and had to work his way back up to second behind Kellen Chadwick.
Just before midway in the 30-lapper, Chadwick pulled off under caution, Pounds inherited the lead and checked out on most of the pack.
Thirteenth starting Alex Wilson, Kenny Nott, Jeff Decker and Austin Burke rounded out the top five.
Hogge had won his Friday heat in a car "that didn't feel right," restarted at the rear of the feature after leaving to fix a flat and then broke.
Repairs were completed the next morning. Hogge started eighth and had raced his way to second before a lap 22 yellow erased Brian Cass's big advantage up front.
Hogge caught Cass and led the last three circuits. Cass ended in second with a left front flat; Jim Pettit, the 16th starting Pounds and Decker were third through fifth, respectively.
Nick Spainhoward topped the $503 to win feature for Karl Chevrolet Northern SportMods on Friday. Ethan Dotson paced Saturday's $1,003 to win main event.
Spainhoward passed Tina McGowan for the lead following an early restart, caught up with the back of the pack and worked his way through lapped cars.
He built a lead of up to a straightaway before winning ahead of Dotson, Rick Diaz, Adriane Desousa and 12th starting Wayne Dotson.
Ethan Dotson led early and led late, but Spainhoward ran in front most of the way on Saturday. A restart with five laps left and a car that spun on the front straight and got straightened out as the front cars were coming to the checkers made for late-race drama.
"This was the most fun race I've ever been in," Dotson proclaimed. "We ran side by side and you didn't know who was going to win. I was lucky enough to come out on top."
Oct. 3 Feature Results
Modifieds – 1. Brad Pounds; 2. Alex Wilson; 3. Kenny Nott; 4. Jeff Decker; 5. Austin Burke; 6. Albert Gill; 7. Brian Cass; 8. Jim Pettit; 9. Cody Burke; 10. Kyle Wilson; 11. Eric Van Hooser; 12. Kevin Fitzgerald; 13. Mike Salazar; 14. Jim DiGiovanni; 15. Robert Marsh; 16. Troy Morris Jr.; 17. Bobby Hogge IV; 18. Kellen Chadwick; 19. Jake Dewsbury; 20. Randy McDaniel; 21. Troy Foulger; 22. Ryan McDaniel; 23. Mark Abouzeid.
Northern SportMods – 1. Nick Spainhoward; 2. Ethan Dotson; 3. Rick Diaz; 4. Adriane Desousa; 5. Wayne Dotson; 6. Matt Mayo; 7. Fred Ryland; 8. Shawn Bryant; 9. Anthony Guiliani; 10. Paul Mulder; 11. Alex Bieser; 12. Jordan Hagar; 13. Robert Gallaher; 14. Jack Hurley; 15. Tina McGowan; 16. Al Johnson.
Oct. 4 Feature Results
Modifieds – 1. Hogge; 2. Cass; 3. Pettit; 4. Pounds; 5. Decker; 6. Chadwick; 7. DeCarlo; 8. McDaniel; 9. Gill; 10. Morris; 11. Chett Reeves; 12. Marsh; 13. Cody Burke; 14. Austin Burke; 15. Kyle Wilson; 16. Brandon Leonard; 17. Foulger; 18. Ryan Porter; 19. Robert Miller; 20. Jerry Movrich; 21. Tim Clark Jr.; 22. Paul Stone.
Northern SportMods – 1. Ethan Dotson; 2. Spainhoward; 3. Wayne Dotson; 4. McGowan; 5. Ryland; 6. Darren Thomas; 7. Diaz; 8. Desousa; 9. Guiliani; 10. T.J. Etchison; 11. Gallaher; 12. Bryant; 13. Hagar; 14. Jarred Tickel; 15. Johnson; 16. Mulder; 17. Hurley; 18. Mayo; 19. Bieser.