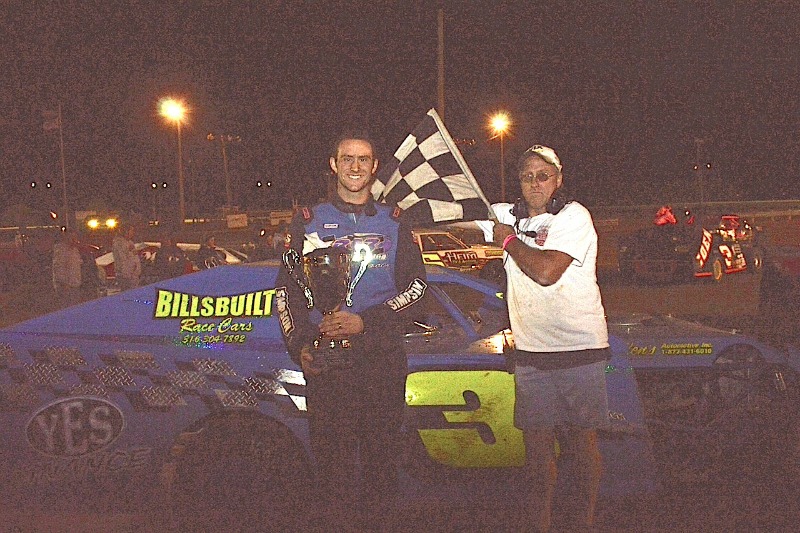 GOODLAND, Kan. (Sept. 26-27) – Long runs at the front ended with Brendon Gemmill and Chris Heim $1,500 richer for their IMCA Xtreme Motor Sports Modified efforts at Sherman County Speed­way's Flatlander special.
Gemmill was scored first on all but the first circuit on Friday night at Goodland despite a souring power plant. Heim, a weekly regular at Goodland, was even more dominating with a flag-to-flag run on Saturday.
Their victories put both drivers on the ballot for the 2015 Fast Shafts All-Star Invitational. A single caution slowed the opening night Modified main seven laps in. Gemmill's motor started missing and it took a couple circuits for him to get his momentum back.
"I thought something was goofy. I thought it was a fuel issue but I was down a cylinder," said Gem­mill, who nonetheless caught up with the back of the pack the last time around. "We've strug­gled a bit this year but made a lot of changes and now I think we're competitive again."
Brady Coen, Clay Sellard, Jeremy Frenier and Bubba Alvarado were next across the stripe.
Heim drew the pole for the caution-free Saturday show. He caught up with lapped traffic near mid­way and scored his fifth feature win of the season comfortably ahead of Frenier.
"There was a lot of good competition here," Heim said. "I ran one groove off the bottom. It just seemed like there wasn't much on the top side. I'd rather run there but you've got to go where it's going to work."
Rounding out the top five were Jeff Hunter, Coen and John Hansen.
IMCA Sunoco Stock Car winners at the 25th annual Flatlander were Nick Tubbs and Justin Bus­sell. Darren Crouch and Chad Dolan won Karl Chevrolet Northern SportMod main events and Colin Heim and Eric Ross were IMCA Sunoco Hobby Stock winners.
Tubbs extended his opening night and two-day overall point success to a fifth straight Flatlander. After starting seventh, he was one of the few drivers to try the high side, had the lead by halfway and beat Wheat Lippelmann across the line by three car lengths.
A Flatlander winner previously in the super stocks, Bussell scored his career first sanctioned vic­tory on Saturday. Tubbs had started 13th and was in the lead when the white flag came out; Bus­sell picked the right line to pass Nick Tubbs and Jeff Tubbs after the front three encountered a lapped car.
"It felt awesome," Bussell said. "I think we've finished in the top four in every Flatlander for five years."
A single caution slowed Friday's SportMod main. Crouch had started third, took the lead on the eighth of 20 laps and was catching up to the back on the field with a couple circuits left. Bryan Herrick closed in before Crouch motored away.
Dolan led every lap of Saturday's caution-slowed contest and won ahead of Eric Munoz.
"This was one of the biggest wins of my career, because it came just after my brother had passed away and because it was the 25th annual Flatlander," he said. "It was pretty emotional. It was just meant to be. Everything that needed to happen happened."
A junior at Hoxie High School, Colin Heim took his Friday night Hobby Stock foes to class in lead­ing every lap of a green to checkered feature.
"It's always to end the season with a win," said Heim, who rebuffed Michael Brunswick for the victory.
Ross needed five trips around the track to race from fourth to first on Saturday, making the most of the middle line.
Kyle Pfeifer passed Heim following a restart with three laps to go but Ross stayed strong up front and won by four car lengths.
Both Modified, Stock Car and Northern SportMod features doubled as Blood, Sweat and Tears Series events. Champions in those respective divisions were Frenier, Angel Munoz and Dolan.
Sept. 26 Feature Results
Modifieds – 1. Brendon Gemmill; 2. Brady Coen; 3. Clay Sellard; 4. Jeremy Frenier; 5. Bubba Alvarado; 6. Jason Brees; 7. David Murray Jr.; 8. Danny Concelman; 9. Will Brack; 10. Jeff Hunter; 11. Eddie Belec; 12. John Hansen; 13. Darren Deloach; 14. Jesse Taylor; 15, Cody Gearhart; 16. Garrett Sporhase; 17. Adam Morris; 18. Bill Brack; 19. Jacob Adler; 20. Greg Gustus; 21. Ryan Gaylord; 22. Kyle Rohleder.
Stock Cars – 1. Nick Tubbs; 2. Wheat Lippelmann; 3. Justin Bussell; 4. Jeff Tubbs; 5. Jason Davis; 6. Tyler Tipton; 7. B.J. Wagoner; 8. John Luck; 9. Lloyd Meeske; 10. Jason McIntyre; 11. Justin Lewis; 12. Casey Woken; 13. Kevin Wagoner; 14. Angel Munoz; 15. Eric Kinderknecht; 16. Keith Stegman; 17. Bruce Plumisto; 18. Cody Williams; 19. Cody Pancake.
Northern SportMods – 1. Darren Crouch; 2. Bryan Herrick; 3. Ryan Wark; 4. Dan Lauer; 5. Tristen Barton; 6. Dustin Daniels; 7. Brian Morris; 8. Ryan Moser; 9. Bryan Harkness; 10. Chad Dolan; 11. Jimmy Jenkins; 12. Trevor Geist; 13. Becky Dechant; 14. Ryan Meisman; 15. Cody DeWester; 16. Eric Pfeifer; 17. Brian Cross; 18. Jake McBirnie; 19. Monty Nordyke.
Hobby Stocks – 1. Colin Heim; 2. Michael Brunswick; 3. Eric Ross; 4. Raymond Dechant; 5. Jeremy Wagoner; 6. Mike Kennedy; 7. Jake Blackhart; 8. Brady Bencken; 9. Marshall Carson; 10. Austin Davis; 11. Joey Snethen; 12. Colton Pfeifer; 13. David Plumisto; 14. Gary Pancake; 15. Tyrel Smith; 16. Curt Kennedy; 17. Emanuel Young.
Sept. 27 Feature Results
Modifieds – 1. Chris Heim; 2. Frenier; 3. Hunter; 4. Coen; 5. Hansen; 6. Alvarado; 7. Belec; 8. Nate Moore; 9. Gemmill; 10. Adler; 11. Murray; 12. Will Brack; 13. Rick Fierro; 14. Sellard; 15. Matt Morris; 16. Beau Speicher; 17. Gaylord; 18. Taylor; 19. Deloach; 20. Bill Brack; 21. Rohleder; 22. Matt Fabrizius.
Stock Cars – 1. Bussell; 2. Nick Tubbs; 3. Jeff Tubbs; 4. Davis; 5. Meeske; 6. B.J. Wagoner; 7. Tipton; 8. Gregory Gutt; 9. Lippelmann; 10. Woken; 11. McIntyre; 12. Plumisto; 13. Kinderknecht; 14. Derek Wendt; 15. Stegman; 16. Justin Lewis; 17. Williams; 18. Munoz; 19. Luck; 20. Kevin Wagoner.
Northern SportMods – 1. Dolan; 2. Eric Munoz; 3. Moser; 4. Lauer; 5. Nordyke; 6. Marlin Farr; 7. Angel Munoz; 8. Herrick; 9. Geist; 10. Morris; 11. Pfeifer; 12. Allen Snethen; 13. DeWester; 14. Cross; 15. Fletcher; 16. Wark; 17. Crouch; 18. Jenkins; 19. Meisman; 20. Dechant.
Hobby Stocks – 1. Ross; 2. Kyle Pfeifer; 3. Heim; 4. Wagoner; 5. Davis; 6. Bencken; 7. Pfeifer; 8. Dechant; 9. Kennedy; 10. Carson; 11. Shay Simoneu; 12. Plumisto; 13. Brunswick; 14. Blackhart; 15. Snethen; 16. Kennedy; 17. Smith.
BST Top 10 Point Standings
Precise Racing BST Series for IMCA Xtreme Motor Sports Modifieds – 1. Jeremy Frenier, Fort Morgan, Colo., 296; 2. John Hansen, Brush, Colo., 290; 3. Jacob Adler, Holyoke, Colo., 239; 4. Bill Brack, Mead, Colo., 233; 5. Ryan Gaylord, Lakewood, Colo., 221; 6. Eddie Belec, Lakewood, Colo., 212; 7. Jesse Taylor, Fort Morgan, Colo., 196; 8. Danny Concelman, Colorado Springs, Colo., 182; 9. Greg Sharpe, Commerce City, Colo., 180; 10. Jeff Hunter, Commerce City, Colo., 168.
Addiction Chassis BST Series for IMCA Sunoco Stock Cars – 1. Angel Munoz, Lamar, Colo., 235; 2. John Luck, Colorado Springs, Colo., 218; 3. Gregory Gutt, Erie, Colo., 206; 4. Lloyd Meeske, Champion, Neb., 197; 5. Justin Bussell, Imperial, Neb., 156; 6. Nick Tubbs, Colby, Kan., 150; 7. Casey Woken, Ogallala, Neb., 132; 8. Keith Stegman, Lamar, Colo., 116; 9. Jeff Tubbs, Colby, Kan., 112; 10. B.J. Wagoner, Colby, Kan., 107.
Leary Racing Products BST Series for Karl Chevrolet Northern SportMods – 1. Chad Dolan, Gibbon, Neb., 306; 2. Ryan Moser, Englewood, Colo., 253; 3. Brandon Clough, Wallace, Neb., 226; 4. Thomas Nelson Jr., Aurora, Colo., 198; 5. Bryan Herrick, Curtis, Neb., 177; 6. Trevor Geist, Brush, Colo., 154; 7. Jacob Fehler, Erie, Colo., 119; 8. Brian Cross, Brighton, Colo., 113; 9. Brian Morris, Lamar, Colo., 104; 10. Henry Henderson, Curtis, Neb., 100.