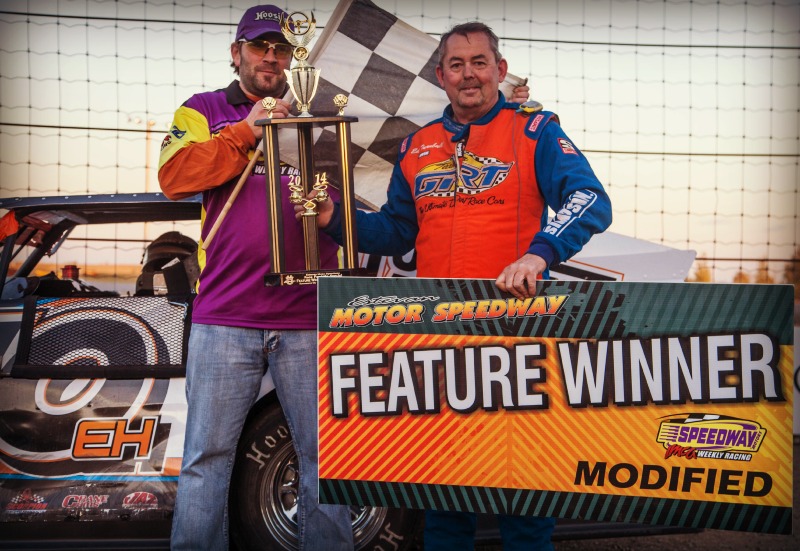 ESTEVAN, Sask. (Sept. 21) – Ed Turnbull banked $3,000 after a mistake-free run to the checkers in Sunday's Race For Life main event for IMCA Xtreme Motor Sports Modifieds at Estevan Motor Speedway.
Turnbull started the 25-lapper from the sixth spot and passed Jett Big Eagle and then Mason Big Eagle for the lead on lap 11.
He led to the finish, putting some distance on Mason Big Eagle in the late going. Steven Pfeifer, Travis Hagen and Jett Big Eagle completed the top five.
"Late in the race I met lapped traffic in my line and went lower to get by," Turnbull said. "Not know­ing how far Mason was behind me, I figured one mistake and the party would be over. It was an interesting race."
He had compliments for Mason and Jett as well.
"They ran a really good race and they ran me clean," said Turnbull. "I kept the car on the high line and gained a little every lap."
Joe Flory earned $1,300 for his IMCA Sunoco Stock Car win at the Airseed Hopper-sponsored event. Darren Schatz took home the $700 prize along with the IMCA Sunoco Hobby Stock victory.
Sterling LaBatte and Mike Swallers were next across the stripe in the Stock Car main. Brad King was second and Leevi Runge third in the Hobby Stock show.
After leading early, Flory had to chase LaBatte for most of a 20-lapper that ran caution-free.
Flory edged closer on the higher groove, then went to the bottom on the final circuit. Coming out of turn four, he got the best of LaBatte in a drag race decided by half a car length.
Schatz had taken the initial green flag for the Hobby Stock feature from way back in 14th place. Up to third before a caution on the 12th of 15 circuits, he passed Runge and then King with two laps left.
His best-ever drive to first from deep in the field was almost spoiled when Schatz came close to getting caught up in an early yellow flag incident.
"It was a great race," he said following his second win of the season. "It was one of the best-paying races for Hobby Stocks in the area so it was a good night to do what I did."
Feature Results
Modifieds – 1. Ed Turnbull; 2. Mason Big Eagle; 3. Steven Pfeifer; 4. Travis Hagen; 5. Jett Big Eagle; 6. Riley Emmel; 7. Mike Hagen; 8. Eric Sinness; 9. Ryan Harris; 10. Les McLenehan; 11. Jamell Wold; 12. Wayne Johnson; 13. Darin Wendt; 14. Kelly Baumann; 15. Richie Mann; 16. Derrick Lisafeld; 17. Chris Fidler; 18. Gregg Feuring; 19. Tim Dignan; 20. Tyler Wagner; 21. Chris Hortness; 22. Brad Lisafeld.
Stock Cars – 1. Joe Flory; 2. Sterling LaBatte; 3. Mike Swallers; 4. Joren Boyce; 5. Dalton Flory; 6. Bob Fuegmann; 7. Rocky Alexander; 8. Jordan Durward; 9. Darin Wendt; 10. Cody Nelson; 11. Geoff Mann; 12. Dave Swallers; 13. Dustin Byler; 14. Alvin Dube; 15. Gary Goudy Jr.; 16. Jake Nelson; 17. Ehren Martin; 18. Gregg Mann; 19. J.J. Barnstable; 20. Scott Yale; 21. Lee Schaff.
Hobby Stocks – 1. Darren Schatz; 2. Brad King; 3. Leevi Runge; 4. Kevin Mattox; 5. Riley Raynard; 6. Gary Goudy Sr.; 7. Chuck Stepp; 8. Cory Evans; 9. Karen Parachoniak; 10. Cole Bourassa; 11. Dylan Mann; 12. Beth-Ann Goudy; 13. Samantha Evans; 14. Kyle Keller; 15. Kruz Wilson; 16. Landon Runge; 17. Mike Wilson; 18. Phillip Keller; 19. Dylan Crozier; 20. Dan Reid; 21. Carl Hanson; 22. Cody Dignan; 23. Blake Penna; 24. Ryder Scholpp.