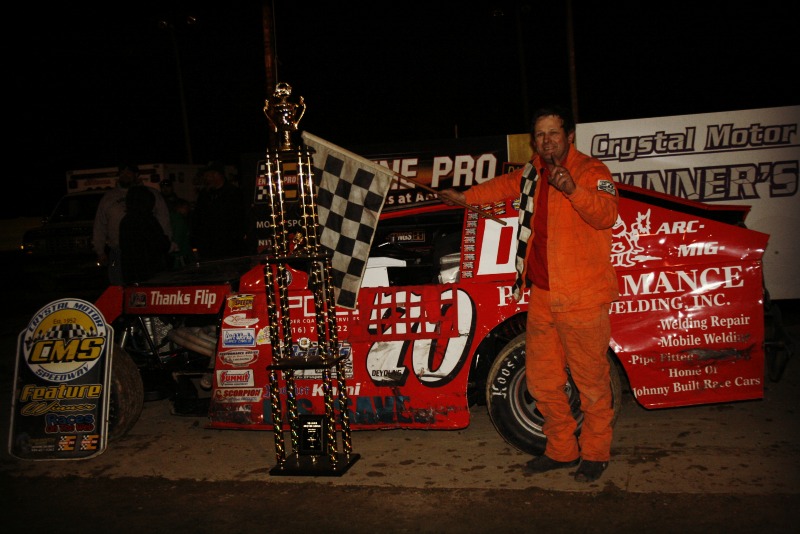 CRYSTAL, Mich. (Sept. 13) – Johnny DeYoung was the first and the final leader in Crystal Motor Speedway's season-ending Great Lakes Nationals.
Saturday's $3,000 IMCA Xtreme Motor Sports Modified victory Saturday night put him on the bal­lot for the 2015 Fast Shafts All-Star Invitational. Chad Wernette was second, a couple car lengths off the pace, and Vern Buskirk, Kenny Playter and Jimmy Hale Jr. rounded out the top five.
"We had a pretty good season to say the least," DeYoung exclaimed, following his sixth check­ered flag run of the year at Crystal. "It was an awesome race and it was awesome to win it."
He'd rocketed from dead last to win his heat race, then drew the outside front row starting spot for the 50-lap main event and led the first four circuits.
That's when DeYoung's brother Myron shot by and set sail. In pursuit of a fourth straight Great Lakes Nationals title, Myron was pulling away from the rest of the field before his car slowed with ignition woes following a restart after midway.
Wernette assumed the front spot with Johnny DeYoung in second. The laps counted down before DeYoung went by his lonesome to the high side on lap 49 to challenge Wernette.
They ran three-wide with a lapped car before DeYoung came out of the final turn with the ad­vantage.
Feature results – 1. Johnny DeYoung; 2. Chad Wernette; 3. Vern Buskirk; 4. Kenny Playter; 5. Jimmy Hale Jr.; 6. Ken Ziegler; 7. Milt Montgomery; 8. Toby Steele Sr.; 9. Mike Shanteau; 10. Tim Sooy; 11. Brooke Ann Brasington; 12. Brenten DeYoung; 13. Glen Moon; 14. Greg Wiles; 15. Brody Bowser; 16. A.J. Ward; 17. Myron DeYoung; 18. Tyson Minier; 19. Jerry Hunt; 20. Rusty Zeigler; 21. Brandon Baylis; 22. Corey Ruesink; 23. Clifford Denman; 24. Brady Hollenbeck; 25. Austin Wonch.
Heat winners were Ward, Johnny DeYoung, Wernette and Buskirk. "B" feature winners were Wiles and Ruesink.