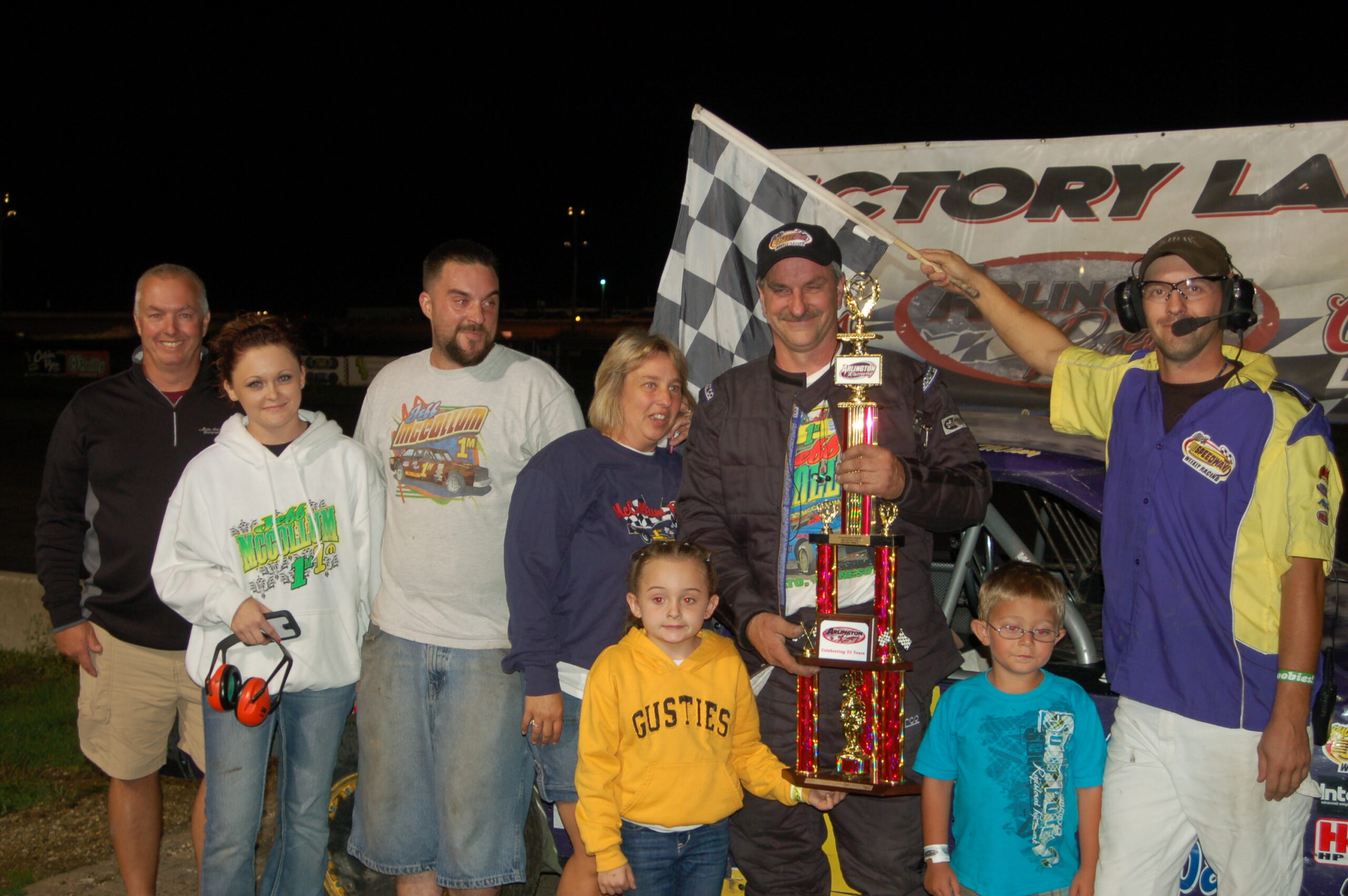 ARLINGTON, Minn. (Aug. 30) – Jeff McCollum made history at Arlington Raceway on Saturday night when he won the B&B Racing Chassis IMCA Stock Car feature.
The victory was McCollum's career 100th in the sanctioned division.
Chris Meyer was the early leader, ahead of Brent Uecker. Lap six saw a yellow flag for a spun car in the first turn. McCollum restarted in the third row and shot through the field to take third place; he was then battling with Uecker, Dan Mackenthun and Shaun Bruns for the lead.
By lap nine, McCollum was the leader with Mackenthun close behind. Uecker fell out on lap 10 but Mackenthun wasn't giving up. Another caution flag came out on lap 16. On the restart Macken­thun got too high in turns three and four, losing two spots.
McCollum was then challenged by Bruns but held on for the landmark win. Bruns took second and Matt Schauer was third ahead of Mackenthun.
Jeff Coon found his way to victory lane in the MN 93 IMCA Modified feature as he led from start to the next-to-the-last lap ahead of Andy Timm.
Timm lost power in turn two, causing a caution flag. On the restart, Jerry Wren and Chad Porter were neck and neck but as they were rounding turn three, Wren spun causing him to lose several spots and giving Curt Lund from second place ahead of Dalton Magers.
Matt Looft started 12th and won the Unhinged Pizza IMCA Northern SportMod feature.
The Eckblad Trucking IMCA Hobby feature was red flagged twice for cars rolling over. Once the race restarted Mike Christensen took over and held on to win.
Twenty Coors Light IMCA Sport Compacts started the feature. Nate Coopman took the lead with two laps to go from Eric Ladner.